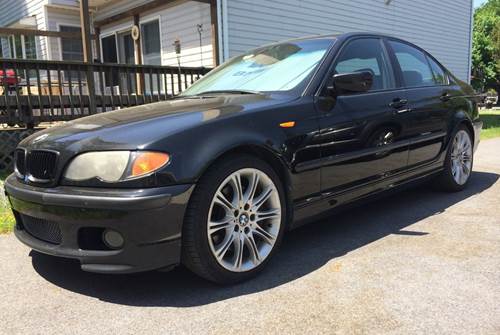 It's always a happy occasion when I come across a ZHP that has been well loved and remains unmolested. In fact I think these cars are more likely to have been left in their original state than an M3 simply because the folks that tended to opt for the ZHP were more "grown up". All I mean by that is while the E36 3 series was in production there was no four door M3 option so if you were a family man who wanted a go fast BMW, this was your car.
The ZHP only got a 10hp increase over the regular 330i but reprogrammed engine management and a close ratio six speed manual made it feel quite zippy. It's stiffer and slightly lower too but from what I've read the ride quality didn't suffer and that's a big plus. I've driven a couple of E46 M3s and while they're fantastic for spirited driving, I don't cruising around in them on city streets. In this era before adaptive suspension setups you had to decide whether you wanted a performance car that was tolerable in day to day life or a sporty car that was OK when you wanted to get after it a bit. The older I get the more I find myself thinking the latter is the right way to go and I think the 330i ZHP is a near perfect choice for the driver who might go to the track a few times a year but mostly enjoys a spirited canyon run.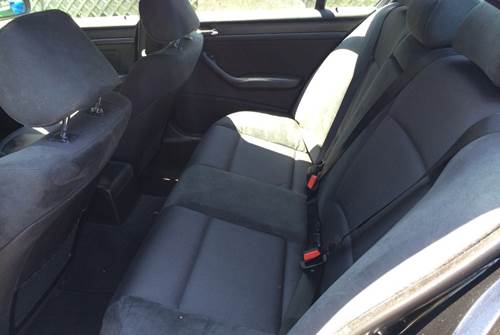 Year: 2004
Model: 330i ZHP
Engine: 3.0 liter inline-6
Transmission: 6-speed manual
Mileage: 141,1xx mi
Price: $8,234.24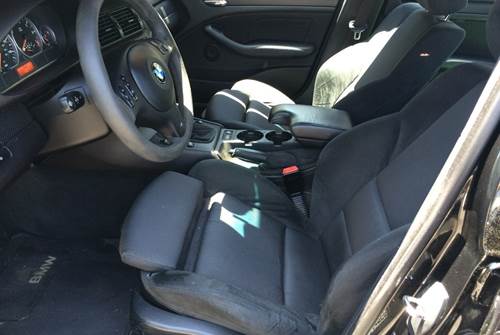 Hi!

I'm selling my 2004 330i ZHP sedan. It has 141,1xx miles (the picture says otherwise but I had to get to work until the new car was registered). It has a six speed. It's black sapphire metallic with a black alcantara interior. I just bought a wagon and really don't want two cars, so I am choosing to sell this one. It's been a fantastic car to own and has never let me down. It's been well maintained and doesn't need much of anything.

Some highlights:

Runs strong

Clutch is great

Well maintained (fluids, fuel, wash/wax, etc.)

New shocks and struts as of last year

New rear tires as of last year

New right rear window regulator as of last year

Front brakes are less than a year old and I don't drive rough

Two new tie rods ready to rock in my garage (they come with the car!)

Comes with a BMW sunvisor

Air conditioning is cold, and the heat is hot. The seat warmers are hot, too.

Radio works great! In fact, whatever you think should work on this car is actually in working order.

I do not smell bad, so my car doesn't, either

I also don't smoke

I'd love for you to come take it for a test drive and make me an offer. Please do not hesitate to contact me – just send me an email and we'll get moving!

Thanks for looking!
Pete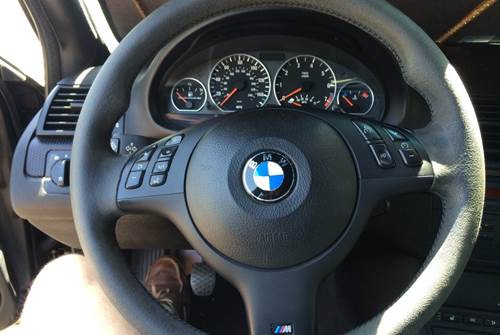 One of the reasons I chose to write up this particular example is that I like the seller's tone in his listing. I get the feeling that "Pete" is a no B.S. kind of guy and genuinely loves this car, just doesn't need it anymore. It looks to have been well cared for overall though I'd go right to work on those headlights if I was to bring it home. The alcantara is in pretty good condition, no rips, some fading and some wrinkles on the drivers seat but certainly not as bad as some examples I've seen. It's pretty easy to re-wrap a steering wheel with fresh alcantara so when the time does come to freshen things up, it won't be a big deal.
The seller mentions that he has recently replaced a number of common problem parts and has new tie-rods that will be included with the sale which is nice of him but I'd look to have those installed before purchasing if I was going to pay his asking price. $8,234 isn't too much for a ZHP but I just have a problem with buying a car that needs something right away. I prefer to ask for the work to be completed and then fairly factored into the asking price. Aside from that the car needs nothing and is ready to be a great daily for someone, maybe that someone is me.
Cheers,
-Andrew