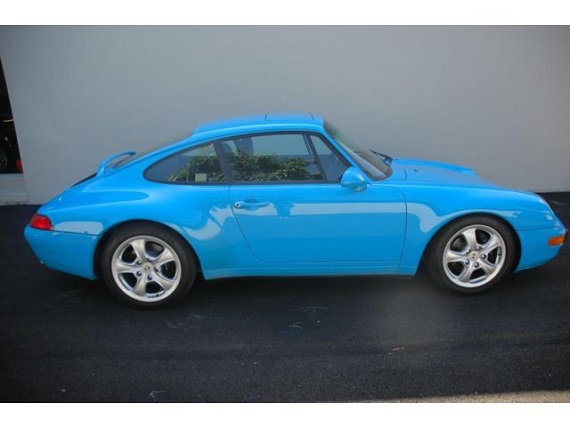 When you really feel the need to stand out it's difficult to find a better way than with a pastel-colored sports car. Of course, there are a wide array of hyper and supercars that will fit that need, which can add an even wilder appearance to that brightly colored exterior. They also come with a very steep price tag. What is the budget-minded shopper to do? Well how about this Riviera Blue 1995 Porsche 911 Carrera Coupe, located in Miami. The mileage isn't terribly high when we consider that this 911 is 20 years old, but at 117K miles it's certainly lead a fruitful life thus far and comes in on the higher end of where we typically see a 993. Riviera Blue is perhaps the most iconic of the 993 colors even if it only made an appearance during the first year of their production, after having been made available for the first time in 1994 for the out-going 964. At the very least it's a color that I first and foremost identify with the 993.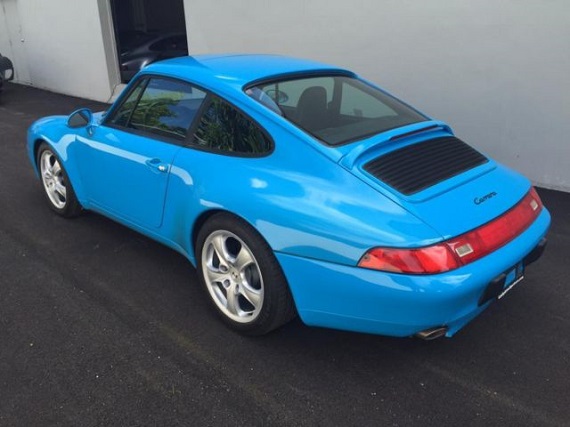 Year: 1995
Model: 911 Carrera
Engine: 3.6 liter flat-6
Transmission: 6-speed manual
Mileage: 117,000 mi
Price: Reserve Auction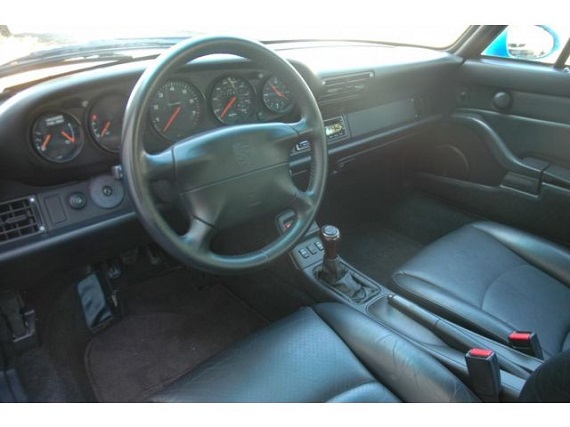 1995 Porsche 911/993 Coupe. Riviera Blue Exterior on Black Leather Interior. Clean Carfax. Manual Transmission. Exterior is In Very Good Condition. Paint Has Great Luster. Interior Upholstery Is In Very Good Condition. No Tears. No Scratches .Door Panels,Dash, Headliner,and Carpeting are all In Very Good Shape. Car Has Very Good Service History .Receipts are Available.New Bilstein Suspension. New Clutch. Car Shifts Smoothly, and Runs 100%.Great Everyday Car. Excellent Investment That Can Be Truly Enjoyed. Factory Options Include: Heated Seats. Sunroof.17 Inch 5-Spoke Wheels. Fresh set of Continental Tires. Porsche Crest Rim Caps. For More Details Call Tony @305-776-8111.Vehicle Sold As Is. Inspections are Welcome. Buyer is Responsible for All Shipping Cost.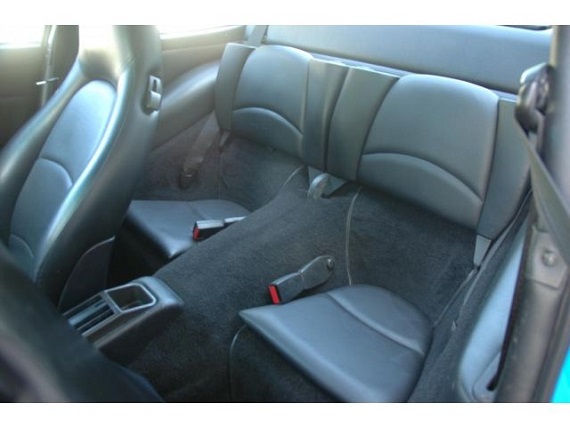 Riviera Blue sometimes can appear beyond bright and in the pictures we see here that seems precisely the case. In the shade, surrounded by a bunch of drab greys and blacks, it stands out so vividly that you almost wonder if the color has been enhanced. That said, this is what Riviera Blue should look like and the brightness of it we see here suggests that this car has been well cared for, even if it does sit with nearly 120K miles. We find a similar situation with the interior as the seats still retain a reasonable level of crispness to them and the carpets show little wear. I've seen a few 993s fitted with the basket-handle spoiler of late and I can't say I understand the appeal of it, but there it is. Anyway, obviously my comment about the "budget-minded shopper" above was said somewhat tongue in cheek as a 993 in good shape will never be a cheap prospect and that's without factoring in the exterior color here. At time of writing, bidding sits at $45,108 with reserve unmet. For a 911 with this mileage that's pretty strong money and a testament to the value being placed on Riviera Blue. This is definitely a 993 that you can spend some time enjoying as the mileage penalty won't get too much more severe and as long as it remains well maintained it should still hold value pretty well. All in all, an excellent proposition for those looking to stand apart from nearly everything else on the street.
-Rob