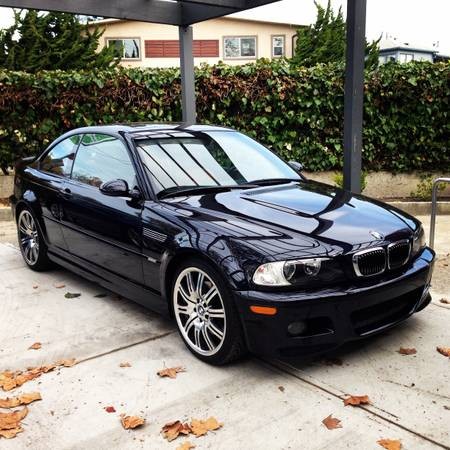 The E46 M3 is a car that truly needs no introduction which is nice because I can get right down to brass tacks. The market for this car is a very curious one to follow. On one end of the spectrum you have high mileage examples with aftermarket parts and evidence of having spent many a weekend at the track. These cars are tempting for many an enthusiast who has always dreamed of hunting apexes with a high revving inline six and doing so with a bit of style. At the other end of the spectrum you have cars like this one that are very clean and are either stock or have been modified with OEM approved parts. These examples come at a premium and I'd say that's fair given how desirable these cars are when well taken care of.
Having covered only 48,000 miles in 11 years on the road, this particular M3 appears to be in fantastic condition. The Carbon Black over Cinnamon Leather combination is a very sharp look for this car, classier than the usual Silver or Grey over Black. I drove an Emerald Green over Cinnamon Leather model earlier this week but the leather had been poorly cared for and had cracked badly in many places. However even in that rough condition, that interior really made it stand out in a sea of other postings, so much so that I drove an hour to go see it. Makes me appreciate the fine job this owner has done maintaining these seats and the interior overall. Almost completely makes up for the bird poop damage on the roof.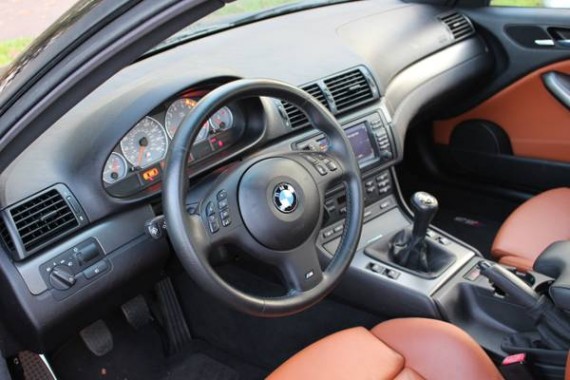 Year: 2004
Model: M3
Engine: 3.2 liter inline-6
Transmission: 6-speed manual
Mileage: 48,000 mi
Price: $31,000 OBO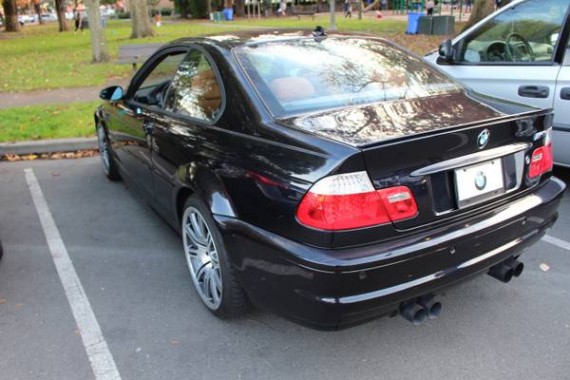 2004 BMW M3 E46 6 Speed Coupe Dinan S2 –Carbon Black on Cinnamon
I am selling my 2004 E46 M3 Carbon Black on Cinnamon 6 speed manual. The car has been upgraded to Dinan S2 engine package. The first owner purchased the parts individually from Dinan and had Harloff BMW install Dinan Intake, Exhaust, Ported Throttle Bodies, MAF Upgrade and the Stage 4 Tune. The car spent most of its life in garage and when it did see the road it was only on a nice sunny California day. The car has all the Dinan installation documentation along with some other service records including Inspection 1. All the paperwork will be supplied to its new owner. Listed below should cover all angles, but if you have any questions or just want to chat about the car I'm in. I am a true M enthusiast and would love to see the car go to a nice home where it will be taken care of.
Miles: 48,xxx I still take it out on the weekends to breath
Ext. Color: Carbon Black
Int. Color: Cinnamon Leather
Options:
Cold Weather Package
— Heated front seats
— Retractable headlight washers
— Ski bag
Premium Package:
— Power glass moonroof
— Power seats w/ driver memory
— Nappa leather upholstery
Park Distance Control: Included
Xenon Headlights
Harma-kardon Sound System
19″ Allow Wheels- No Curb Rash
Sequential M Gearbox
BMW Alarm System

Notes:
-Inspection 1 performed 6-3-2011
– The tires are Michelin Pilot Sport AS which were installed about 3K miles ago
– The last oil change/inspection was 8/25/14 by Dinan-Cambell
– No accidents, clean title.
– The wheels gave no curb rash
-Just performed a 3 stage paint correction the vehicle
-Re-conditioned the Nappa Leather with Swissvax Leather care (Nappa Leather Specific)

The Bad:
-Tried to fix most paint flaws during correction, but the roof still has some etch marks from overlooked bird droppings by previous owner. Got a quote of $500 to re clear the roof.
-The rearview auto dimming mirror has the notorious leak, can be fixed for $99 from (http://radar-mirror.com/Mirror_Repair.html)
-Dinan Badge got stolen, but the car qualifies with Dinan points so I have another one on its way from Dinan
-Navigation screen has some missing cells

Asking Price is $31,000 OBO. I am willing to work with the buyer on all of these things, I just want both parties to be happy and the car to go to proper home.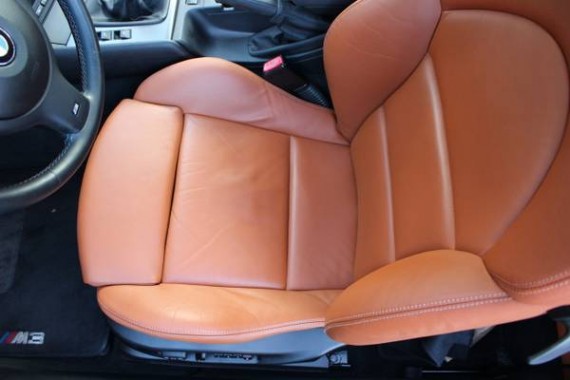 Currently there is no shortage of E46 M3's for sale, I've got a whole folder full of listings for them. The 6 speed models are a little bit rarer but they're the only ones worth looking at. The SMG is an unholy device and I refuse to so much as mention it again after the conclusion of this sentence.
This rig is fully loaded, a very classy E46 M3, the kind that you want to take home to protect from those who would seek to needlessly modify or track it. All the goodies you need are already there courtesy of Dinan so this is truly a turn key two door rocket that also just happens to bring a lot of luxury to the table. There are certainly cheaper examples out there but I think you'd be hard pressed to find one that offers a total package like this one. The only point of contention is the price which I think is a little bit high for where the market is. I'd look to shave at least a couple thousand off the $31k price, citing the scratches on the roof, leaking rear view mirror and dying navigation screen. Sure these are very minor issues but they're issues just the same and in the used German car buyer's everlasting quest to drive the price down as much as possible, minor issues can be very helpful.
Cheers,
-Andrew