Warning!
This post is in our archives. Links in this post may have been updated to point to similar cars available to bid on eBay.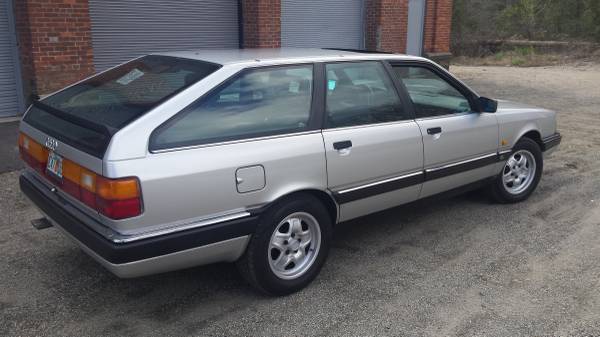 Earlier this week, I wrote up dueling 5-cylinder automatic wagons in the "beige-off" between the 1986 Quantum Wagon and 1987 Audi 5000S Avant. The net result of that write up, effectively, was that if you really want to dive into the ownership pool of one of these wagons, most would prefer the more desirable versions of the car. For the Quantum, that meant the Syncro version, and unsurprisingly for the Audi that meant turbocharging and quattro all-wheel drive. In both cases, that raises the complexity factor a few notches – but there are still examples of these long-lived wagons making their owners happy today. I spent a few years with a 200 Avant, and loved many aspects of it; however, I came away saying there was only one way I'd get into an older Audi Avant again – if it was one of the limited run, 3B 20V equipped 1991 examples. Outwardly, you had to be a sharp eye to spot the differences. Some of them were quite subtle; for example, there were no badges outside of the front and rear rings and a subtle "quattro" grill badge on the '91 200, unlike the previously badged 10V examples. From the roof down, there were no differences other than that until you got to the fenders, which were subtly but notably flared. The wheels were still BBS mesh wheels as they had been in 1989 and 1990, and though they were still 15″ in diameter, they were now 7.5″ wide instead of 6″. Those larger wheels also hid a new brake system dubbed "UFOs" by enthusiasts; the floating rotor design that was engineered to haul the heavy Audi down from triple digit speeds. And triple digit speeds it was now quite capable of, with a healthy 50 horsepower boost over previous 200s thanks to 10 more valves and electronic fuel injection in the new "3B" 20 valve turbocharged inline-5. Mated only to a manual transmission, less than 200 of these coveted Audis were imported at a time when they were both expensive and Audi was nearly on the outs with the American market: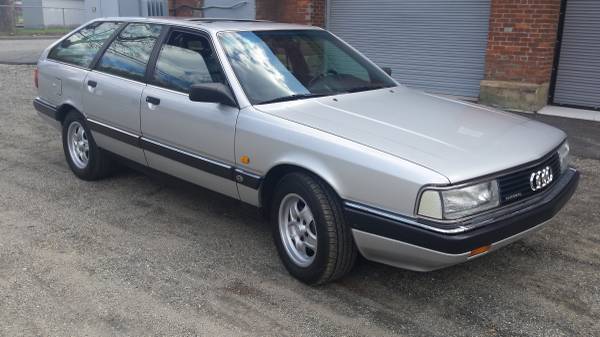 Year: 1991
Model: 200 20V quattro Avant
Engine: 2.2 liter turbocharged inline-5
Transmission: 5-speed manual
Mileage: 69,000 mi
Price: $10,000
1991 Audi 200 quattro avant. 5 speed – turbo. Only 2 adult owners, never wrecked or abused. A rare car only about 150 imported. Enthusiast owned, Very low documented 69K miles, beautiful condition, all maintenance current, everything works, fresh quality repaint, needs nothing. Just drove it to Florida and back this month. Drives perfectly, pulls correct boost, is just plain awesome. I got 9 cars..need to downsize! this is an Investment quality quattro. Located in Connecticut

See http://api3.co/the-api3-collection/audi/ for lots of photos and history of this car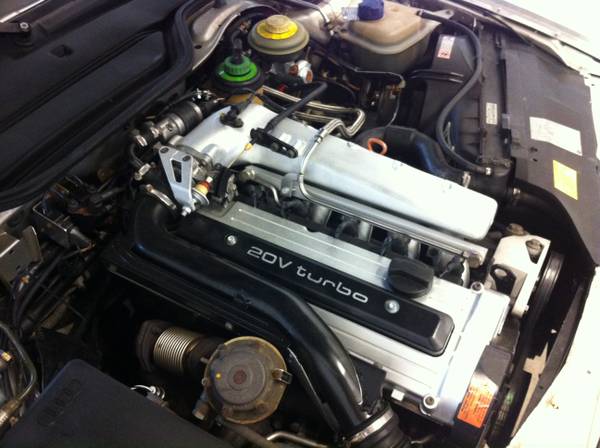 It's pretty clear that now 24 years later, not all of these Avants are still alive. The registry of 200 20V Avants has accounted for 83 of them, but that doesn't mean there aren't more kicking around. I believed that this example was owned by a friend of mine and long time Audi Club instructor in New England; he also had a de-roof railed, de-wipered 200 20V Avant with very low miles. The likelyhood of there being two like that on the East Coast seemed unlikely to me since silver was a more uncommon color. However, a little research proved I was wrong – this website shows the history of the car, including the upgrades to it that aren't listed in the advertisement. The car has gained some forged Fuchs alloys normally associated with the early 5000CS quattro Avant and Quattro models. They're not correct and more narrow than the light BBS RG alloys that were originally equipped, but the look is neat and unique amongst 200s. Under those Fuchs are some rare upgraded V8 brakes, revised suspension and lots of work. The site also shows why the car was resprayed, and it does look well done. Interesting additions include the European headlights and bumpers that were cut and tucked; not something I would think of, but it looks really well pulled off and is very subtle. There is mechanical work shown and the car performs better thanks to an upgraded chip. In short, if you really want to buy one of these cars, this is the one to buy. The low miles, extensive history and documented mechanical work coupled with the rarity, rare parts and condition mean this is likely the best Avant for sale in the U.S. in some time. That means the price is top of the market; but considering the car for what it is, I'd suggest that this Avant is a much better deal than any of the E30 Tourings that people seem eager to fork over the same amount for. To me, the price is spot on for one of the most rare Audis and one of the best fast wagons ever brought to the U.S..
edit: A belated thanks to our reader John for the excellent spot!
-Carter