Part of the allure of the MINI is the level to which one can personalize their car to stand out from the crowd. From roof graphics to wheels, the possibilities for kitting your car out are endless. Along with accessories, MINI has been known for the special edition versions. Variants such as the Park Lane, Mayfair and Mary Quandt editions were offered on the original Mini, and we have seen versions such as the Sidewalk and Camden with the new MINIs. To celebrate Mini's 40th Anniversary of winning the Monte Carlo Rally, the MC40 was released. A limited run of 1,000 vehicles, this edition came in red with a white roof over red and black leather and finished the look with rally lights, 17″ anthracite finished wheels and magnetic graphics that included a 33-EJB number plate on the bonnet and "37" decals on the doors. This particular example also has the British flag roof graphic and tinted windows.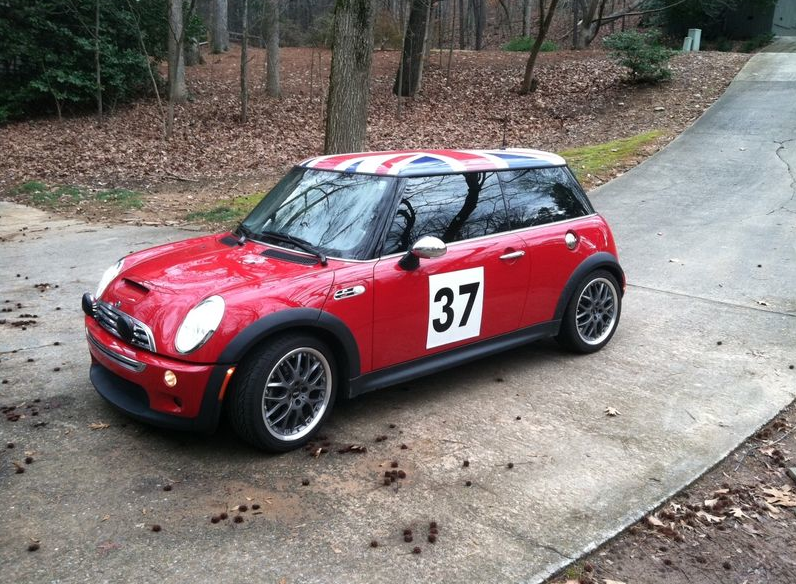 I have my Mini Cooper "S" MC40 PKG for sale that i have owned since 2006 and i am the second owner. The car has always been garaged and driven just 6 K miles since i bought it . It has all factory services done and was just in for a oil service and all checked out just fine. The Car is number 56/1000 being a special limited addition MC40 package to commemorate teh 40th anniversary of mini winning the monte carlo. The car has R90 wheels , two tone leather seats, carbon fiber , Cooper works interior package sport suspension, cooper works cold air box and engine cover,Mini Rally lights, union jack roof decal, windows just tinted and new tired V12's just 1000 K miles ago at a cost of 1250$. This car smells new and looks new as teh paint shines, i have all original book and papers plus all service records , also have the mini number "34" car magnetic door decals. Truely a rare mini combo that has been taken care of and lightly driven and ready to have fun. If you want more info on the MC40 package you can go to www.mc40.com to read all about the car and the package.
The sellers buy it now price is rather realistic, as most Cooper S models of this year, with around this kind of mileage, are bringing anywhere from $10,000 to $13,000 these days. For comparison I paid $15,000 for my 2006 Cooper S with 33,000 miles on the clock one year ago. I've only put 6,000 miles on the car last year, but I could see my car pulling maybe and extra $1,000 to $2,000 versus this example. Limited editions will always garner a little bit more cash and these MC40s are a neat throwback to the event which solidified the Mini's place in competition history.
-Paul