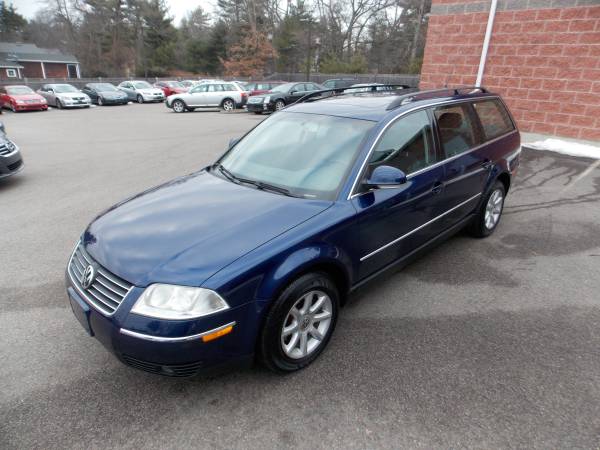 When it comes to rare German cars that came to the U.S., one does not immediately think of the Volkswagen Passat. The B5/B5.5 generation helped to transform the image of Volkswagen from a quirky mid-range also-ran to a more upscale, premium product – effectively, affordable Audis, which is what they essentially were. As such, the 5th generation Passat was pretty popular in North America, with a total of nearly 486,000 models sold here over its 8 year production life. While that's not Camry numbers, compared to where Volkswagen stood in the early 1990s it was positively a blockbuster. But while that production success made the Passat a common sight on most road, there are still some very rare variations of the B5 chassis that could easily slip by most non-enthusiast's eyes as just another example. Obviously, when "rare" and "Passat" come up in conversation, almost immediately "W8" follows. And rare they were, as only a total of 5,361 W8s made the trip across the Atlantic; just over 1% of total Passat production. But even more rare is the car we see here. The all-wheel drive Passat, dubbed "4Motion" though it was the same drivetrain as the Audi quattros, was not a new thing, being available on both the B5 and B5.5 in V6 and W8 form. But in 2004 and 2005, you could also get a 1.8T 4Motion Passat. The 1.8T had previously been available in 4Motion form in 2001, but only in Tiptronic form – by far, the most frequently selected option for transmission. A total of 23,606 1.8T 4Motions were sold between 2001, 2004 and 2005 in Canada and the U.S. in sedan and wagon form. Now, I know what you're saying…"Not particularly rare, Carter!" But let's break it down a bit. If we filter down to Variants, the number drops to 5,962. That number gets even more rare when you see how many selected the manual transmission option; a scant 657 between the U.S. and Canada in both 2004 and 2005. Drop down to this model – a U.S. spec 2004, and it's one of 416 sold. 33 of those were selected in "Shadow Blue Metallic", the color of this example, and of those only 6 were equipped with Anthracite Leather: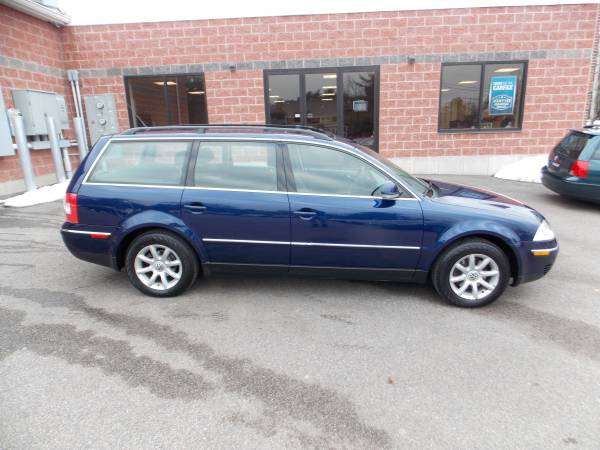 Year: 2004
Model: Passat 1.8T GLS 4Motion Variant
Engine: 1.8 liter turbocharged inline-4
Transmission: 5-speed manual
Mileage: 78,000 mi
Price: $7,995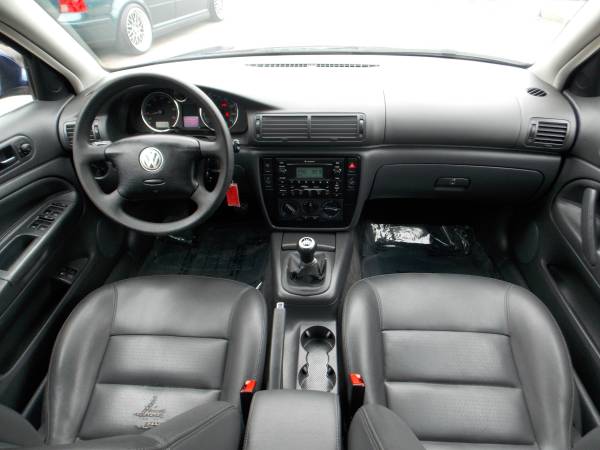 Rare All Wheel Drive with manual transmission, one owner with leather interior, heated seats, sunroof, alloy wheels, AC, CD player. Only 78k miles, timing belt has been done, runs and drives excellent

*Visit our website for more pictures, free CarFax report and other great vehicles @ bespokeauto.com*
*Extended warranty is available up to 4 years / unlimited mileage*
*Financing with competitive rates is available*

www.bespokeauto.com
Tel: (781) 828-1700
158 Turnpike St.
Canton, MA 0202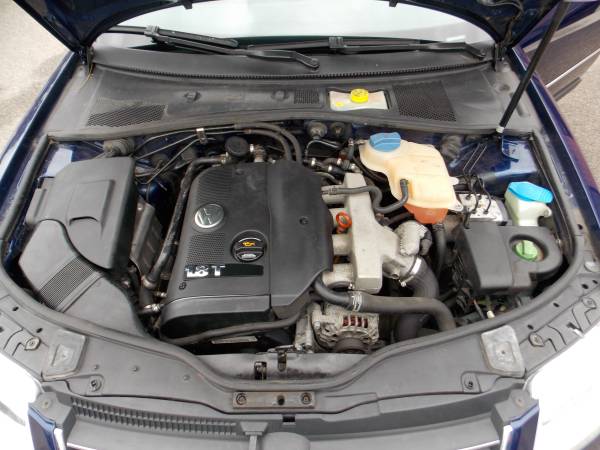 These 5-speed 4Motions are obviously very rare to come by; statistically speaking, you're much more likely to see an Aston Martin or Lamborghini cruising down the road then to run across one. They're also coveted by a very specific subset of Volkswagen fans. The 4Motion was only available in GLS form, meaning you got the nicer BBS-made Michigan alloys, but you didn't get the wood trim and automatic climate control of the GLX models. Now, that said – does the Passat really offer any advantages over the B6 Audi A4 1.8T quattro Avant? No; the interior quality of the Audi is slightly better (if a bit more claustrophobic) and you could get a 6-speed manual in the Audi, which offers no real performance advantage over the 5-speed but sounds cooler. However, usually when these rare Passats come to market they command a premium over the more luxurious Audi. That's especially true of this particular one, since it has far below average mileage and is well above average condition. In fact, this might be one of the nicest condition Passats available right now. Is it worth $8,000? Well, for that amount you could get into a newer and much faster B6 3.6 4Motion Passat. Or you could get any number of Audis, even perhaps an S4 if you really looked and didn't mind a Tiptronic. So from a "does it make sense" standpoint, this car is a firm "no". That said, it's still a lot of car for the money, and I've thoroughly enjoyed both B5/5.5 Passat 1.8Ts I've owned. They're great driving, fun cars with a bit of style, and they're beginning to disappear from the roads. Were this car priced at $6,000, I'd seriously consider selling my front drive model and picking it up.
As a side note, breaking down the sales figures of these Passats is always a reminder of an annoying trend of U.S. car fans who complain about lack of options for models that are imported. However, if we look historically, it's easy to see why the manufacturers choose not to send certain models. By all accounts, though enthusiasts love the recipe of a turbocharged, manual all-wheel drive wagon, the sales numbers don't lie – we didn't buy them when they were new (at least, compared to other models), and that's why they don't really come here anymore.
-Carter