Warning!
This post is in our archives. Links in this post may have been updated to point to similar cars available to bid on eBay.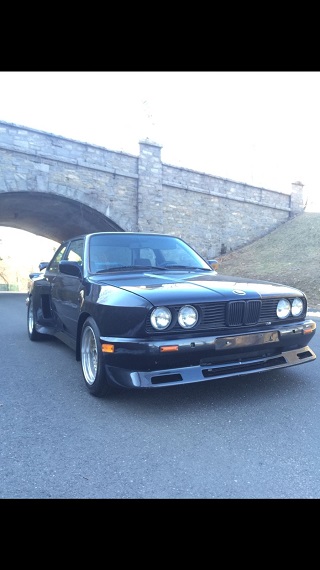 Far, far on the other end of the tuning spectrum from the Dinan M5 of this morning are the 'all show, no go' scene cars. Built to resemble wildly flared racers, cars from manufacturers like DP Motorsports, Gemballa and Strosek are at best polarizing cars. At worst, they're like the plot line to Sophocles' Oedipus Rex; kill your father, marry your mother and have your sister-daughters, then stab your eyes out and live in a cave. But the Rex himself must certainly be defined as Walter Koenig, with his widebody, Testarossa-straked creations. While usually we see Mercedes-Benz and Porsche versions of Koenig modified cars, today we get a rare glimpse of what he'd do to a E30. And, only a glimpse…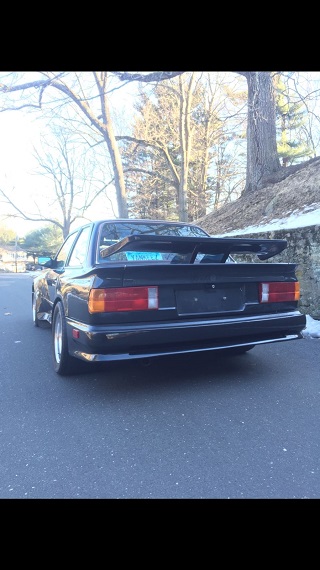 Year: 1986
Model: Ugly
Engine: 2.5 liter inline-6
Transmission: Replaced with Equalizer
Mileage: Don't care
Price: Unless they're paying you, it's too much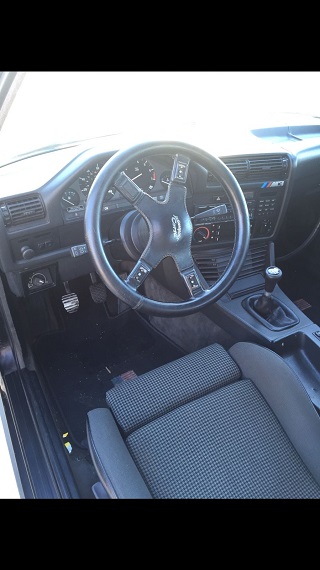 Ultra rare 1986 BMW 325i Koenig Edition e30 euro. This car is straight from Germany and was shipped here in 1995. It's family owned and been garage for 21yrs since arriving in the states in 1995. It's a Koenig Special edition that was offered back in the Bmw German dealership. Very quickly: Mr Konig was a gentleman that designed wide body kits specifically only for Ferrari back in the 70-80's for racing. His work was so praised in the racing field, that companies like Mercedes, Porsche and BMW asked him to design their cars like that too. You can Wikipedia "Koenig specials" to get more details about him. This car has some unique features, front and rear stabilizers, Koenig wide body kit that are NOT replicas, real 3pc BBS Front 15×9 225/50/15 tire, Rear 15×12 345/35/15 tire.

Long story short, the car was purchased by a family member that was in the military back in the 80's and when they were done they shipped the car here. There's a picture in there that show the car when it traveled to Barcelona, Spain from Germany and there are also photos of when it was in the garage for the 21yrs. Your going to notice the rectangular headlights on the Barcelona photo, well the customs/dot people made my family member legalize it before it came into the states by putting the American grill n lights, front n rear side markers, door safety bars and catalytic converter. Towards the rear of the exhaust has a leak so that's going to need a repair

Engine bay:It's a higher end 2.5L that was not offered here in the states til the following year in 1987. Absolutely no leaks at all and just gave it a full tune up. Shifts and runs great. Under hood can use that heat replacement pad if it really bothers you.

Interior: Beautiful checkered interior that's pretty great shape no tears or wears. Dashboard obviously has a split as they all do, Indianapolis Corsa steering wheel but has 3 horn buttons missing. Blaupunkt radio and long stick equalizer w/cd changer in trunk. Not sure if it still working. Check sign is blinking because I don't know how to turn it off or reset it. There are German wording in the car that I cannot read so maybe those will tell me something, but otherwise it doesn't bother.

Exterior: body has great color and no signs of fading. As you can see in pics it's still shiny and solid. Although over time, especially an original 30yrs old car has it miner cracks here and there. I posted pics of the body all the way around.
The tires maybe, just maybe can you replacement because of the fact that it was sitting in a garage for sum time and it may have flat spots, when I was driving it seem ok to me.

Overall keep in mind the car is well stock from the dealer in Germany and it's a fantastic shape for a 30yr old car that still runs and drive great. Any questions feel free to ask because I'm already getting a brain fart lol enjoy!!!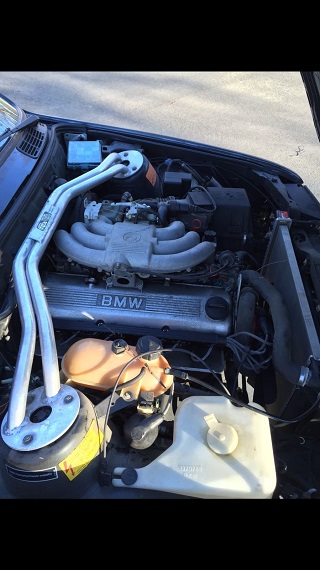 My M3 has, to me, giant rear wheels at 19×9.5″ with 265-35-19 tires. This E30, with half the horsepower and undoubtedly a less capable suspension for such tires, has 15×12″ rears with 345-35-15s. That's as ridiculous as 80s mods got and I can only imagine that you can measure in power lost in rotating those tires well into the double digits. Thankfully, we don't get to see much more than a slightly oblique straight on or rear view, saving us from the eye-searing look at the results of the widebody conversion. Seriously, this seller went as overboard with portrait photos from his not-top notch phone as Koenig did with the flares. I especially like the album cover highlight photo with the car attempting to hide behind its hood, a seeming Phantom of the Opera-esque acknowledgement of the hideous creature that lies behind. Stepping inside reveals some really cool seats and an equalizer stolen straight from the Alien set. Remember that scene where Ripley evacuates the air from the ship? There's your prop. Okay, I'm not being entirely fair – there's a market that loves these over the top Koenigs as witnessed by the very active bidding – already, nearly $9,000 with a few days to go. But it generally looks nice for what it is, I guess, so there's that. As for me, I'll just count myself lucky that, unlike what the seller would have you believe, I was able to find one of these. Now, let's hope I never find another.
-Carter