Warning!
This post is in our archives. Links in this post may have been updated to point to similar cars available to bid on eBay.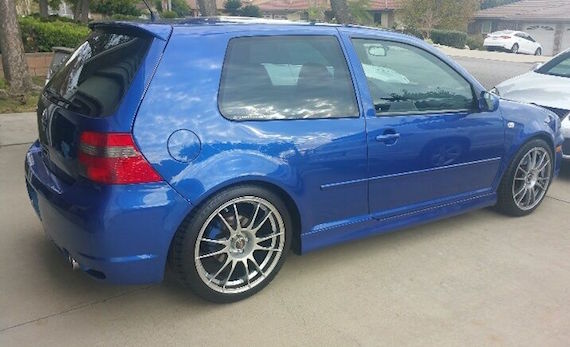 The new Golf R is making some loud, non-diesel-related waves for Volkswagen. The best news is that with almost 300hp and state-of-the-art tech it's a screamer in any and all conditions. The bad news is that it starts at $35k, $10k more than a GTI and nearly double the price of a base Golf. A friend was recently trading in his Jetta TDI and comparison shopping the GTI Performance Pack against the Golf R (a plan hatched before but spurred on by Dieselgate). He ended up laughing his way into the tartan seats of the GTI as the dealer's available Golf Rs were nearing $50k!
For less than the basest of brand-new Golfs, you could have the R that started it all, the still sexy, still loud, still fast MkIV R32. You will certainly not be getting the kind of brand-new quality and warranty that comes with the newest model, but that could be forgiven as you joyously row the 6-speed manual and the Haldex 4Motion inspires confidence in any condition. And did I mention the loud factor? The VR6 has never sounded as aggressive as it does in this car with the bypass valves open. Today's example comes from a Service Director at a VW Dealership in the lovely and fitting Deep Blue Pearl with O.Z. Ultraleggeras. The modifications are limited to reversible suspension upgrades and short shifter along with reinforced engine, transmission, and suspension mounts, combining for a package that sounds fun, strong, and well-chosen.

Year: 2004
Model: R32
Engine: 3.2 liter VR6
Transmission: 6-speed manual
Mileage: 99,100 mi
Price: $15,000 OBO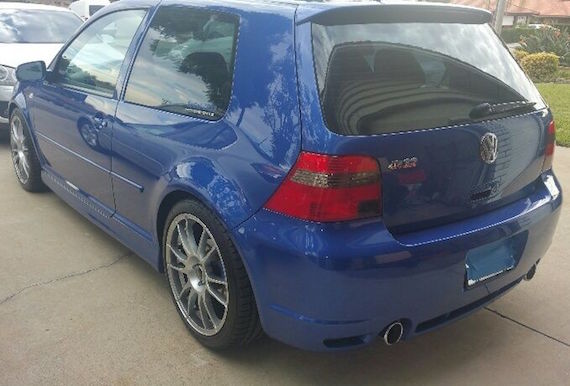 2004 Volkswagen R32. This car is in excellent shape and has been well taken car of by the 1st owner and was garaged every day. I am the second owner of this car and I have had it for only one year and drove it about 5 times. This car has been and is always covered in my garage. I am a Service Director at a Volkswagen dealership and I know the first owner personally and I have all of the vehicles history. This car has lots of upgrades, please see below. I'm asking $15,000obo. Please do not contact me if your not serious about buying.

KWv1 coil over suspension
Solo Werkz Lower control arms
VF Engineering engine, transmission and rear upper control arm mounts
18 inch Ultraleggera HLT-Brand new
Continental DS tires-Brand new
Short Shifter
Factory Bluetooth upgraded radio( I have the original also)
Factory Custom car cover(Included)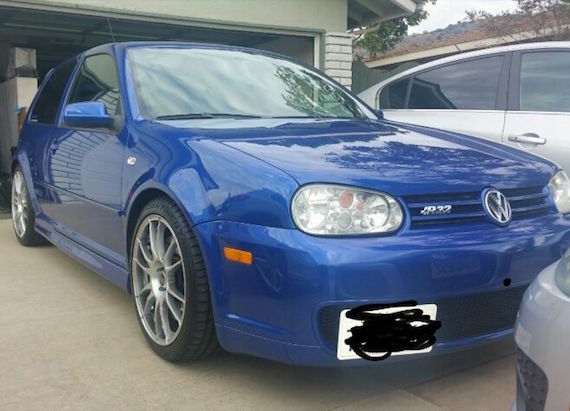 Seems like a nice example of one of my favorite Volkswagens with a history of just two dutiful and informed owners. I much prefer the look of the stock wheels, but the Ultraleggeras drop almost 10lbs at each corner which should yield a significant improvement in handling and a little more speed as well. The main question here is while $15k is so much less than any new performance Golf, is it worth it? If the original R32 is a car you've dreamt about since its release (as I have), it just might be. But when you start looking around and seeing that lower-mileage MkV R32s, even with their DSG, 10hp bump, and 4-year-newer tech, are going for the same price, it has to be more of a passion purchase than pragmatism. In reality, thanks to their generational issues, buying any MkIV Volkswagen must be rooted in gut desire as opposed to a brain-driven choice. More on the MkV next week, but if you love the original R32 this looks like a good one to check out.
-NR