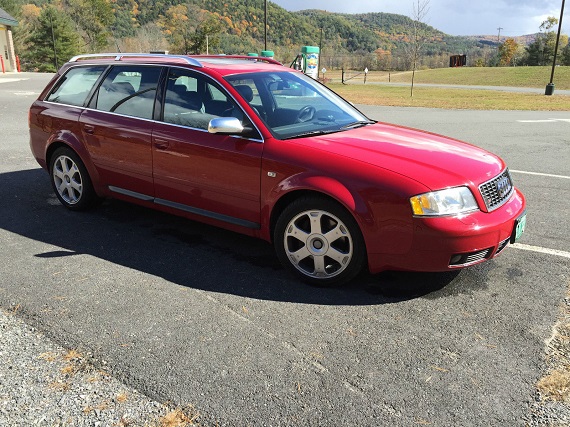 Whereas the C4 S6 Avant had been the only high performance wagon in the Audi line in 1995, when it came to the early 2000s Audi had gone hog wild with options. In the both the A4 and A6 lineup, you could get the then potent 3.0 V6 and it could be opted with a 6-speed manual in the small chassis. While long term that engine has proven quite problematic, at the time it offered 60 horsepower more than the V6 had only a generation earlier – a substantial bump. Then there was the much loved B5 S4 Avant, with its twin-turbocharged V6 which again could be mated to a 6-speed manual. That same setup was available in the large chassis Allroad as well, though more often than not the C5 was equipped with the 5-speed Tiptronic automatic gearbox – the transmission that was the only option for the 3.0. If that wasn't a stout enough lineup, Audi also launched a revised S6 in 2002. Borrowing some of the aluminum elements from the A6 4.2, the S6 featured flared lightweight fenders and hood, larger 17×8″ Avus wheels with a wider offset than the B5 chassis wheels (though visually there was no change), lower door blades, a revised grill and polished aluminum mirrors and roof rails which had become the signature of the S-series cars. All of these elements would later be incorporated into the B6 S4 Avant. With 340 horsepower, the C5 S6 was capable of sub-6 second runs to 60 m.p.h. and could cruise effortlessly at triple digit speeds. Though it didn't look much different than the rest of the C5 Avant lineup, it was most certainly the Alpha in the Audi wagon lineup in 2002-2003: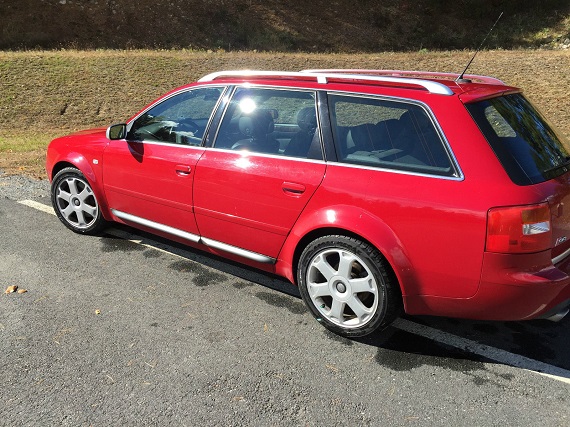 Year: 2002
Model: S6 Avant
Engine: 4.2 liter V8
Transmission: 5-speed automatic
Mileage: 131,000 mi
Price: $9,500 Buy It Now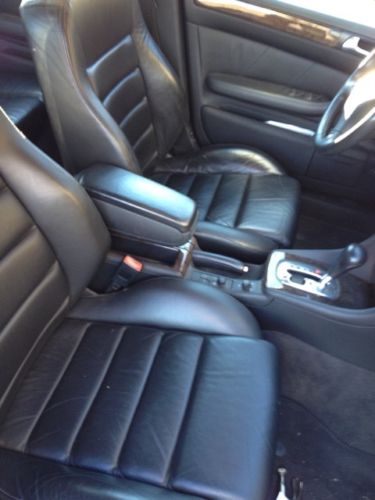 130,000 miles. $9,500V8 4.2 liter 340 horse power, all wheel drive, traction control, fully loaded, power windows, power locks, power telescopic and tilt wheel, cruise control, beautiful full leather sport seat interior, dual power seats, dual front and rear heated seats, factory Bose am/fm stereo cd player with cd changer, factory navigation system, factory moon roof, super nice body and paint, xenon lights, suede headliner, dual exhaust, factory alloy wheels, all factory books, always garaged, one owner, super car, all service up to date, car was babied all its life, a real head turner. New rack, timing belt, thermostat etc all done buy dealer. New tires. Excellent condition and always a pleasure to drive. Four mounted winter tires on Audi alloy wheels extra.Call 617-899-9639 or gmalin@mac.com Located in Southern VT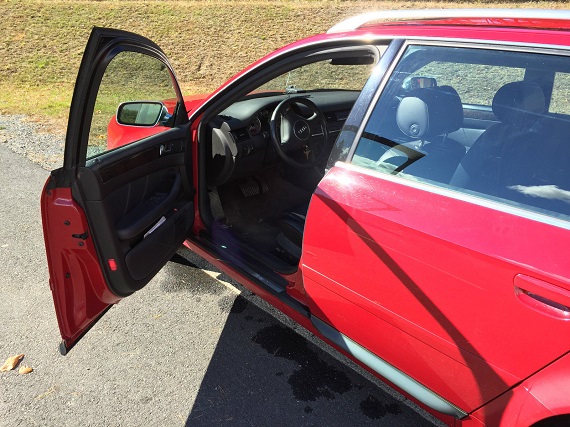 Amulet Red is perhaps the least commonly seen color on these S6 Avants. Admittedly, it does make them look a bit like the fire marshal is responding to a call wherever you go, but it's nice to see some color compared to the typical silvers 90% of these Avants were ordered in. Condition – from the limited photos shown – seems to be pretty good overall, with some disclosed recent and expensive maintenance performed. That should leave some relatively trouble-free miles ahead for the next owner, and with a second set of wheels and winter tires available this is a perfect winter warrior. The downside, as ever with the early 2000s Audis, is the weak Tiptronic transmission. They can be made to last a long time, but you should probably factor in a swap to a manual box if you're serious about one of these long term. Though that will neither be cheap nor easy, the package that's offered by the S6 Avant is still pretty special and photos never really do justice to the presence these cars have going down the road.
-Carter