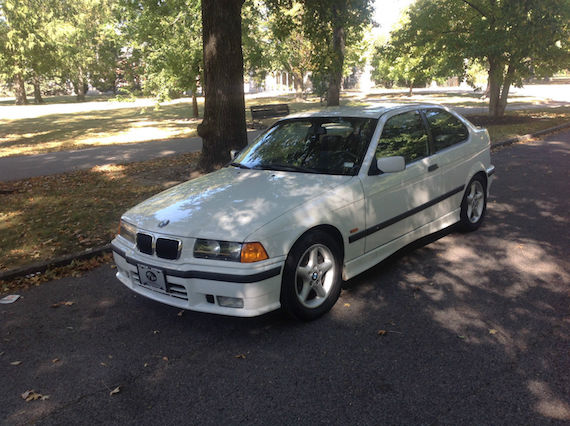 Almost 14 years after the re-introduction of the MINI brand in the US, BMW seems to have made a rather shrewd move in keeping this marque in their fold. It seems a distant memory, then, when BMW tried its hand at a small hatchback in the form of a shortened E36 3 series. The Compact, as it became known, would be the entry point for those seeking that BMW badge in the 1990s. The US market would only receive the 318ti, powered by the 1.9 liter inline-4 that also found a home in such cars as the 318i sedan and Z3 roadster. This 318ti for sale in Missouri is in fantastic shape, equipped with a 5-speed manual and the M Sport package and looks rather sharp in Alpine White.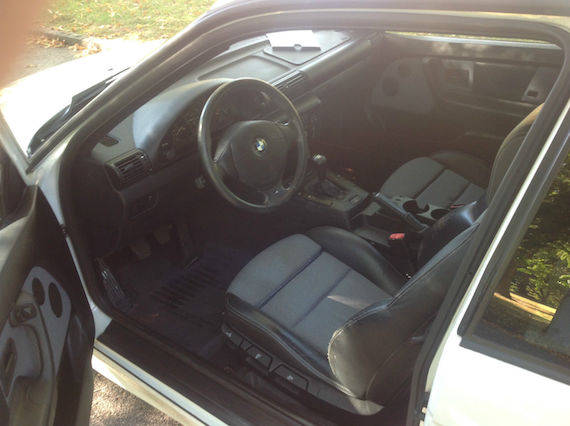 Year: 1999
Model: 318ti
Engine: 1.9 liter inline-4
Transmission: 5-speed manual
Mileage: 62,099 mi
Price: No reserve auction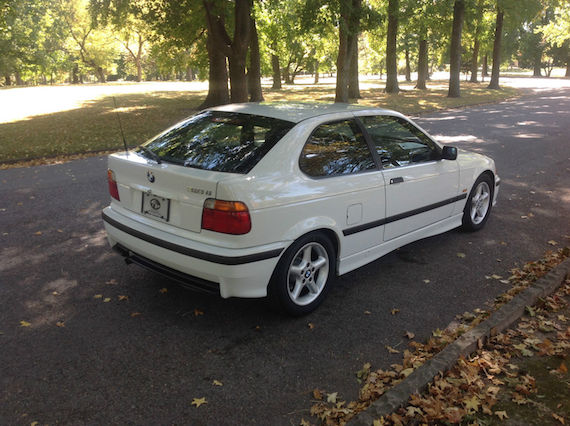 You're looking at a "Stock" **1-OWNER** 1999 BMW 318ti equipped with the highly sought after ///M Sport Package- Alpine White/ Black leather w/Grey cloth

5-Speed Manual

///M Sport Package includes:
16″ Round-spoke alloy wheels with 225/50R high-performance tires, sport suspension, 3-Spoke leather wrapped M Steering wheel, leather M shift knob, leather handbrake boot and grip, sport seats/leather upholstery, foglights, M-Technic body colored bumpers, side skirts and rear air diffuser.

This 1-Owner 318ti is a Missouri car and has a clean and clear title, clean CarFax reflecting 41 service records w/ the work being done here in St Louis, Mo @ Autohaus BMW Dealership where it was Originally Purchased.
This Vehicle has just passed Safety and Emissions testing..

This is a very low mileage example with only 62,729 Miles!
Overall Condition of this vehicle is in very good shape as the mileage would reflect.
Exterior is about a 8/10 w/No paint Oxidation, major dents, scratches or rust
I would rate the interior 8/10
This car is in very good mechanical shape as well and has been gone through by one of our tech's
Everything works as it should
*Comes with books and 3 keys
Car is being sold **AS IS**

Brand New Fuzion Touring Tires in rear, New Front brakes
Continental Conti Premium Contact Tires in front W/Approx 75% Tread Remaining.
Previous, Cosmetic Paint Work on drivers side rear quarter (Paint Matches well) Does not reflect on carfax..
Driver seat bolster has typical wear with 2 small wear spots… (See Picture)

Notable Recent Services
-@ 49,662 miles
Recommended Maintenance Performed
Valve cover gaskets were replaced
Control arm bushing were replaced
Brake fluid flushed/changed
Axles checked
Steering/Suspension Checked
@ 51,633 miles
Maintenance Inspection Completed
Induction System Serviced
Electrical System Checked
Exhaust System Checked

The headliner was just redone, along with the A-pillars (Where Sagging Typically Occurs)

The BMW 318ti has a high revving 1.9 liter 16 Valve DOHC 4 Cylinder Engine, agile suspension and powerful brakes and makes for a very fun driving experience!

Please message us with any questions you may have
Thanks for looking!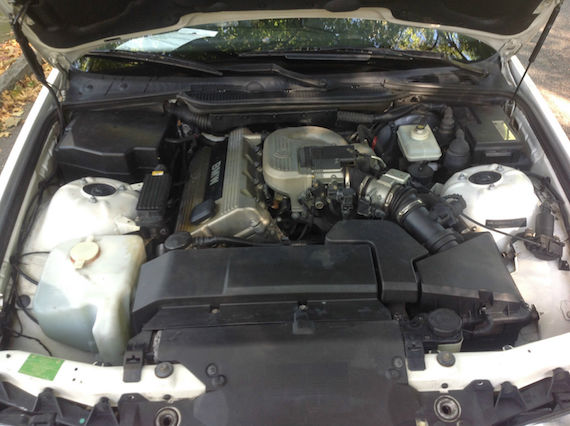 The E36 is certainly an attainable 3 series. Even the M badged variants are well within reach of the collector, if a bit more expensive than your more pedestrian models. There's not much of a collectors market for the E36 Compact, but given the appreciation we've seen from this car's spiritual predecessor, the 2002 Touring, who knows. There might be some collectability left in it just yet. This is certainly one of the better examples, so my guess is that it will take at least $6,000 to $7,000 to get the deal done, given where bidding is heading. Anything more than that would be getting a little bit ahead of the market, because at that level, you could start getting into some higher mileage M3s of this generation.
-Paul