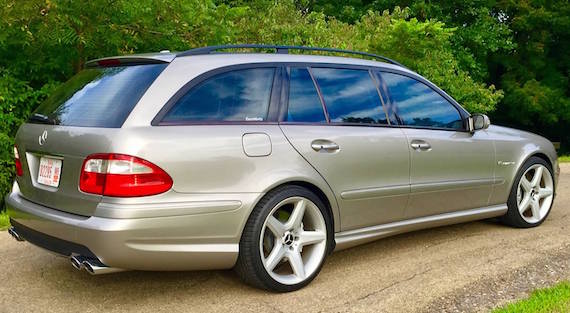 We originally featured this 2006 Mercedes-Benz E55 Estate back in May of 2013 from our friends at EuroWerkz. This car has boomeranged to them with a little bit more miles but presenting just as great as it always has. The E55 AMG Estate needs no introduction here at GCFSB. It's remarkable that Mercedes-Benz still offers a go-fast E-class Estate in a marketplace that demands vanilla offerings at every turn. But they have bravely carried on through the years, offering this bonkers five-door to us for a decade now. Along with the Geländewagen and AMG GT, this populates the cool corner of the current Mercedes lineup. However, not everyone has around $100,000 to spend on a new family speed machine. This E55 AMG offers a solution around that fiscal sticking point.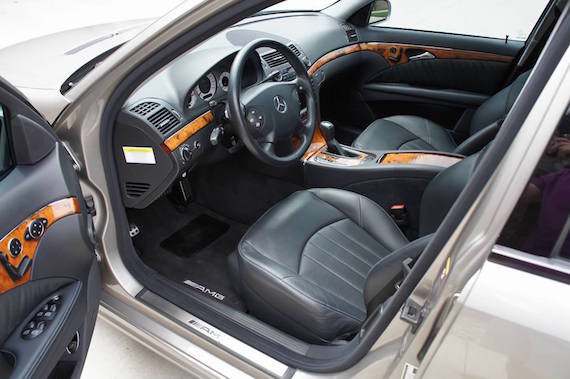 Year: 2006
Model: E55 AMG Estate
Engine: 5.5 liter supercharged V8
Transmission: 5-speed automatic
Mileage: 84,758 mi
Price: $31,500
2006 Mercedes E55T AMG Wagon.
So nice we owned it TWICE?

– Pewter silver/Black – 1 of approximately 64 imported in the US in 2006.

History – Bought new in CA and we brought it to IA September of 2011 with 59,487 miles on it. Since day one it has been enthusiast owned. I have driven it sparingly and stored in my climate control garage as well as secured covered parking at my office location. Professionally detailed 4 times per year. The car currently has just over 70,000 miles on it.

This is a pride of ownership, open check book maintained super rare E55 Estate. All services are up to date and the car is not in need of any reconditioning. Sale includes, two sets of wheels and tires, all books, documented service history at MB dealer, and three factory keys.

Options – Distronic Cruise, 6 CD, Satellite Radio, Dynamic Driver and Passenger Seats, Heated and Cooled Front Seats, 4 zone climate control, Third Row Seat, Rear Window Shades, Xenon Headlamps, Keyless GO, Phone Module

Condition –
Exterior: Factory Paint and Panels, there is not one ding or dent on the car and there are no scratches on the car. A few pin sized nicks from bugs and road grit. All trim is original and in excellent condition.
Two sets of wheels: 18" AMG split 5 star wheels as well as 19" CLS55 AMG star wheels (as pictured). Both sets of wheels are straight and free of rash. All eight wheels have Continental Extreme Contact DWS all-season tires mounted and each set has approximately 5,000 miles on them.

Interior: Leather is in beautiful condition showing very little wear to driver and passenger seat bolsters. Middle seat and third row seat are both as new. No rips or tears in any seats. All door panels are as new. All wood trim is beautiful and free of scratches. Suede headliner is free of any stains or blemishes. Carpets are perfect. Floor mats are original and while showing slight wear are still in very good condition. All rocker panel and other trim is in very good condition. All switch gear is in excellent condition. EVERYTHING is in working order. There is also two sets of Mercedes mats, including a cargo area rubber mat included
Service History with our first ownership:
61,613 miles at MB Dealer 11/8/11: Brake Fluid Flush and B Service – Lube, Oil and Filters, Topped off Fluids, Inspected Vehicle, installed Flat Hood Ornament (have original): $420.93
61,764 miles 11/21/11: Mounted and Balanced 4 new Continental Extreme Contact DWS Tires: 245/40/18 & 265/35/18: $1,110.40
62,091 miles at MB Dealer 12/22/11: Replace Front and Rear Brake Pads and Rotors, Replaced Supercharger Belt, Replaced Rear Center Armrest Assembly, Replace Spark Plugs, Replace Dual Air Filter Elements, Replace all Fuel Injector Seals and Gaskets: $4,302.1764,321 miles: Mounted and Balanced 4 new Continental Extreme Contact DWS Tires: 245/35/19 & 275/30/19: $1,320.30 (After purchase of OEM 19" AMG wheels and professional recondition $1,500)
67,969 miles at MB Dealer 11/15/12: Complete Transmission Service and A Service – Lube, Oil and Filter, Topped off Fluids, Inspected Vehicle: $588.20

Current history: At this time the car was sold to a customer in CO where he took delivery in May of 2013 at 70k miles.

Service history while he owned it included one oil service and replacement of the auxiliary battery along with some minor cosmetic AMG mods like emblem's, a euro horn, a grill, and some de-badging. (all of the original parts keys and a service manual CD are with the car).
He also had a home in Scottsdale and he drove it from Vail CO to Scottsdale where it remained and was driven locally seasonally until we repurchased it from him in October of 2015 at just 75k miles.
We have driven the car locally and on a couple trips as it is the king of express touring and of course during it's time here it has been maintained to a high level. It has had 2 oil services and a transmission drain and refill along with a new supercharger drive belt and a brake system flush. It also had two new rear tires and one front 19″wheel replaced due to a pothole bite. It is currently at 84k miles and recently had a full detail and polish.

Why we loved this car so much to own it twice?
We are performance car enthusiasts and most of the time we are driving enthusiast cars. That said there comes a time when family duty or space requirements call for something handier, like an SUV. We just don't do SUV's. In fact, we have a strong distaste for them. This E55T is the answer to the question of what to drive when you need a multipurpose vehicle and a performance car.
You can easily fill the back end of the E55T with month's worth of life's things from the local warehouse store, and the next day blow the doors off the middle-aged guy in his Corvette. Or surprise the M3 owner who would like to merge in front of you but can't actually get in front of you. The car has the power, sound, and performance you want in a super useful package. And the E55 is the most reliable performance wagon Mercedes has made to date. The E63's had engine issues and the latest models are complicated turbo cars in extra heavy 4wd only. Add to that the exclusivity, I mean 1 of 64? It's a hands down winner and when the previous owner needed to clear up some space, we had to have it back.
Unfortunately, we find ourselves needing to clear some space and move on to the next one so we would love to pass this one along to the next enthusiast owner. $31,500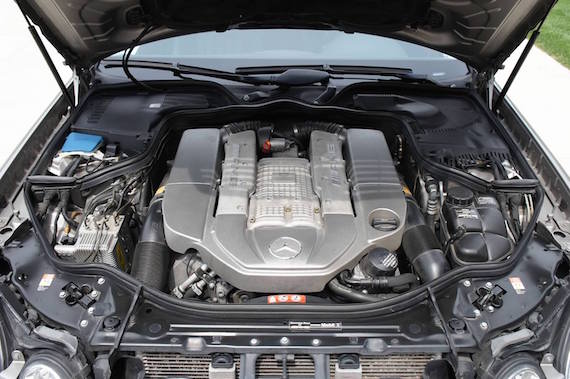 Considering this car last appeared in 2013 on GCFSB, an additional 14,000 miles or so is not hard to stomach. I'd rather have a car like this being exercised and used as intended than sitting idle. This is a clean, well-maintained E55 AMG Estate with a solid history and has passed through a series of owners who have given it the very best care. The best examples of the E55 AMG are still regularly crossing the $30,000 threshold, so while the price here is strong in light of the mileage, this would be one E55 I wouldn't hesitate to call my own.
For those interested in this E55, you can contact Doug Wittkowski of EuroWerkz at witt@eurowerkzlc.com
-Paul