Warning!
This post is in our archives. Links in this post may have been updated to point to similar cars available to bid on eBay.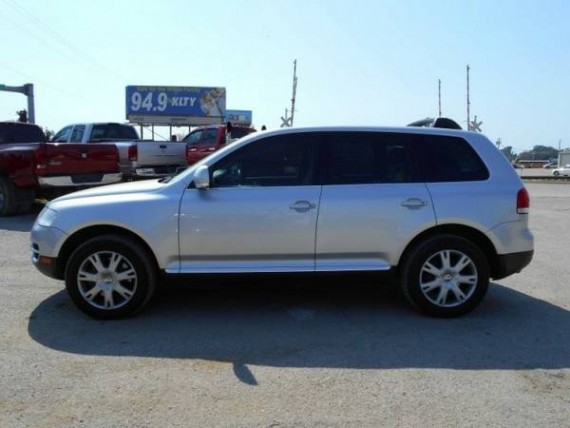 From the first time I rode in a Touareg, I've had an affinity for Volkswagen's brawny SUV. I had spent a considerable amount of time in VWs growing up, all manners of Jettas, a few Passats, a GTI here, a Fox there. But the Touareg, the Touareg was something completely different from what I was used to. Every bit of it felt solid, it had presence, style, panache. Everything about it was overboard, from the air conditioned glovebox that housed an owners manual as thick as War & Peace, to the finely stitched leather bits covering nearly every visible surface.
In the United States a Touareg sighting generally conjures up images of soccer practice, or tackling the treacherous terrain of an unplowed mall parking lot. Globally they're seen in a much different light, and frequently pop up as the go to vehicle in some of the more extreme environments on the planet. Whether you're looking to conquer dunes in remote parts of Africa, tow a 7,716 lb load, or just make a run to the grocery store, the Touareg V10 TDI is up to the task. What sets it apart from other SUVs is that it allows you to do all of the above, and do it from the comfort of a first class cabin.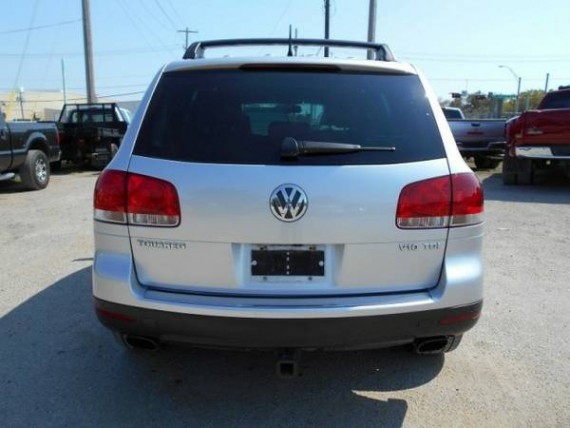 Year: 2006
Model: Touareg TDI
Engine: 5.0 liter twin-turbocharged V10
Transmission: 5-speed automatic
Mileage: 102,237 mi
Price: $15,995
TDI DIESEL

Towing/Camper Pkg

4-Zone Air Conditioning

Self-Leveling Suspension

Navigation System

VW Premium Stereo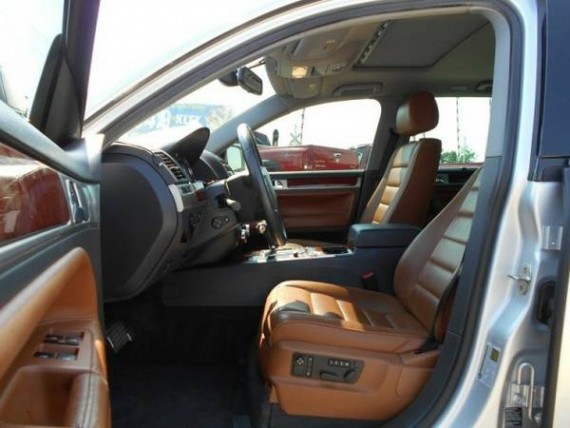 It took me a considerable amount of searching to find this example, but I wasn't going to bother writing up a Touareg unless I could find one with Natural Brown leather and Walnut trim inside. This combination dials up the refined feel of the cabin to 11 and will make you feel like you're riding around in a much, much more expensive vehicle. Makes sense given that the Touareg shares a number of interior touches with the Phaeton, which in turn shares bits with the Bentley Flying Spur. If you were to hop out of a Bentley from the same era, and into this Touareg you wouldn't notice much of a change in aesthetic. Of course the Bentley will have way more soft touch surfaces, and nary a bit of exposed plastic, but the Touareg was a fraction of the price when new. Now you can pick these up for an absolute steal, I mean this one is $15,995, and I'd bet you could get these guys to come down just a little bit on the price too.
These are rare vehicles for sure, but not so much so that a seller could justify a price bump. If anyone tries to factor that in while you're looking into one, go ahead and let them know you're having none of that. They might have their fanboys, but at the end of the day it is a 5,300 lb SUV that puts up atrocious fuel economy numbers no matter how you drive it. There are not lines around the block for the oil burning Touaregs, just crazy people like myself who have a thing for vehicles that are a rolling contradiction. Nobody would ever expect one of these to be fun to drive, but drop the adjustable air suspension into the lowest setting, select Sport mode, and you've got a shockingly competent vehicle at your disposal. It won't offer up much in the way of driver engagement, but you can confidently hustle the big beast in ways that honestly should not be possible.
If you don't need, or want, the 553 lb-ft of torque provided by the 5.0L twin turbo V10, you could opt for the still potent 4.2L V8, but lets be honest, nobody needs the V10. You have to want this vehicle for it to make sense, and for me, the want has always been very strong. It's one of those vehicles that was prohibitively expensive when new, but now thanks to the magic of depreciation in well within reach of most folks. As always, one has to keep running costs in mind when considering a ride that was originally geared towards the 1%'ers, but like any Volkswagen, keeping a close eye on things should allow an owner to stay out of the poor house. There's an active Touareg community out there too, so if you decide to take the plunge, take comfort in knowing that there's a whole group of people there to guide you along the path of ownership. I absolutely plan to join the group one day, just have to find a Metallic Shadow Blue example first.
-Andrew