If you ask any average car guy what his ideal sports sedan would be, you'll likely get an overwhelming response of M5, maybe a few true BMW guys that will say Alpina B7, and of course there would be the remaining AMG guys, but few would even respond with S8.
The S8 is the forgotten soul in the sports sedan scene, but why is that, the rarity?  the subtlety?
Whatever the reason this is one of the most overlooked sports sedans, and these days one of the best bargains out there (thank you depreciation).  With an original MSRP of over $90K, these cars are a bargain for both a sports car, and a luxury sedan.  With 450HP, the 2 ton S8 would do 60mph in 4.9 seconds, so it was no slouch, however in a market where the E60 M5 boasts 500HP, and a run to 60 in 4.5 seconds, the S8 was just plain out gunned…on paper at least.
What most overlooked in the S8, was the fact that this was a solidly reliable, every day car.  Sure you could daily drive an M5, but being from the Northeast, I know what 500hp, and RWD do in the snow….nothing.  Quattro is what set the S8 apart, and what makes it an all-around performer in the real world.
Fast forward 5 years, introduce the bargain of the used sport sedan market.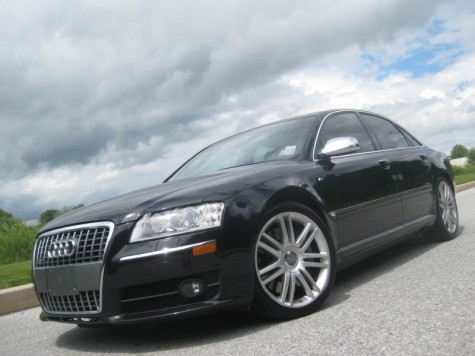 Thank you for taking a moment to visit our latest Certified Audi offering. This 2007 Audi S8 has been pampered since birth and it shows. It is still covered by another 4 years and 30,000 miles of warranty, something you can't say for many 2007 automobiles. This car comes to you accident free and ready to drive.

If you think there's no point spending almost $100,000 for something with a 450-horsepower Lamborghini-sourced V-10 engine no one notices, then read no further. Audi's new S8 isn't for you. But if you like the idea of a big, fast, elegantly tailored limousine that slips effortlessly–and rapidly–under the radar, you'll love this car. In an era when AMG Benzes are getting bolder and brassier with every model and BMW's M cars are heading for techno-overkill, the subtle new S8 is the stealth-fighter of sport sedans.

You see, the S8 is a selfish pleasure. Nail the gas and that direct-injection, 5.2-liter V-10 emits a deep, velvety growl–a smooth-jazz remix of the Lamborghini Gallardo's mighty bellow–and gives a satisfying shove between the shoulder blades. You can fan the Tiptronic paddles on the six-speed automatic if you like, but it's better to let the computer do the thinking and allow the tach needle to kiss 7100 rpm on the upshifts, the engine clearing its throat with a soft whump! between each ratio.

Keep your right foot buried, and you'll hit 60 mph in 4.9 seconds and 100 mph in 12.0 and nail the standing quarter mile in 13.4 seconds at 105.6 mph. No, it isn't nosebleed-quick like an S65 Benz (for the record, AMG's ueber-limo nails 60 mph in just 4.2 seconds, 100 in 9.3, and the standing quarter in 12.4 seconds at 116.5 mph, blowing the doors off a Porsche 911 Carrera S in the process). But there's a crispness and flair to the big Audi's power delivery that betrays the Italian soul buried deep in the machine.

That is the engine, of course. The basic architecture is shared with Lamborghini's 513-horsepower, 5.0-liter Gallardo V-10, but the bores have been enlarged to boost capacity. Forged connecting rods allow a 7200-prm redline, and offset crankpins permit an even 72-degree firing cadence, smoothed further by a balance shaft located in the center of the block. The engine uses Audi's FSI direct-injection system, which pumps fuel directly into each combustion chamber at high pressure, allowing a compression ratio of 12.5:1 and more efficient combustion. The result is not only a healthy 450 horsepower at 7000 rpm, but also, thanks to the variable intake manifold, a useful 398 pound-feet of torque at 3500 rpm.

Why a V-10? Audi claims it's the perfect compromise between a V-12, which would need a longer block and suffer from more internal friction from the additional cylinders, valves, etc., and a V-8, which would be more compact, but would have larger, heavier pistons and wouldn't rev as freely as a result. Offset bores mean the engine is just 26.9 inches long, with all ancillaries attached. Just as well, because most of it is hanging out ahead of the front axle.

Only dedicated Audiphiles will note the S8's unique 20-inch alloys, quad exhaust (somewhat more tastefully executed than the bazookas you find peeking out from under the rear bumper of an AMG Benz), and trademark alloy-finish exterior mirrors. The discreet S8 moniker on the trunk and V-10 badges on each flank don't exactly scream for attention. But that's what makes this car so appealing. The S8 is for the driver who doesn't have to show off–and knows it.
With V10 Lambo power, Quattro AWD, and finished in black, with the black leather interior, this S8 pushes all of the right buttons.  At 67K miles, I'd be hesitant to take on the maintenance of this monster; however this car is CPO to 100K which calms the nerves when getting in to a car like this.  The $39,995 this S8 is priced just a tick below retail, and it's priced right where a comparable M5 would be.  So 5 years later, it seems as though all of those things that caused buyers to overlook the S8; the rarity, subtlety, in my eyes make it the most desirable option in the used sports sedan market.
-Brian