Over the past fifteen years or so, BMW's lineup has transformed from a relatively simple lineup with the 3, 5 and 7 series at its core to a vast mix of SUVs, roadsters, the compact 1 series and the MINI lineup which shares ultimate driving machine's DNA. One popular constant, though, has been the 3 series convertible.
The first 3 series convertibles that appeared were conversions by Karosserie Baur on the E21 and E30 chassis that had integral roll hoops and fixed rear windows. Then in 1987, the 325i convertible appeared on US shores, a factory produced model that became an instant hit across a number of demographics and was featured prominently in a number of television series and movies of the era. Over the years, the 3 series convertible became larger and more powerful, morphing into the retractible hardtop convertible we have today. While some lament the heavier weight of always having a hardtop to lug around, the all-weather practicality is attractive, particularly for those in colder climates who still enjoy al fresco motoring from time to time.
The following 335i Convertible with Dinan mods comes to us from our reader Andrew, who's father has listed it for sale in California.
Year: 2007
Model: 335i Cabriolet
Engine: 3.0 liter twin turbocharged inline six
Transmission: 6-speed manual
Mileage: 44,500 miles
Price: $33,000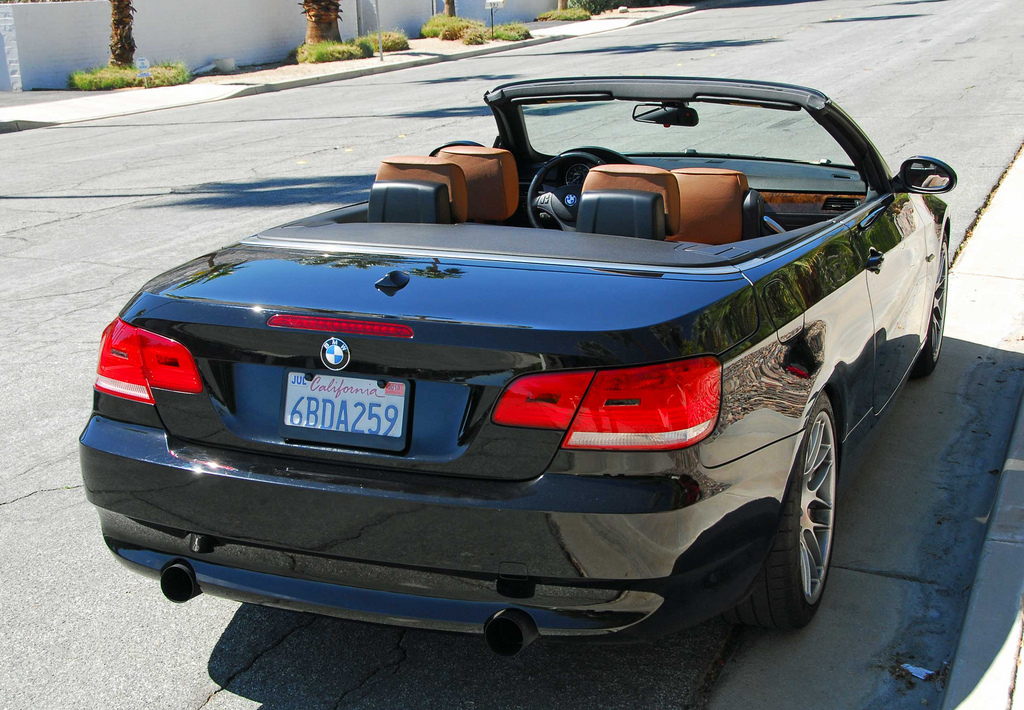 Posting for my dad, who takes better care of his cars than anyone I've ever met. He wrote the following:

2007 BMW 335i Convertible in Black over Saddle leather. 6 speed manual, 44,500 miles. If it were not for Sciatica and weakness down my left leg I'd never sell this car! This car is now what the 335i should have been from the factory!

All factory bulletins are up to date and, to protect the buyer, this vehicle has BMW's best warranty until 100K miles or 03/2014. Every button, switch and knob works perfectly and the car needs absolutely no service whatsoever! The car is kept clayed and waxed. The leather is cleaned and treated so the interior shows almost no wear and the car is in our garage when it's not driven.

No dents, no dings, no accidents, kids, pets or smoking. Tires (never coated or "shined") are Michelin's best Pilot Sport 2's as 235/40/18's in the front and 265/35/18's in the rear, on CSL replica wheels. This sale includes the original BMW wheels and run-flat tires.

Dinan's 100% reliable modifications (installed by Dinan, Temecula) give it low end torque so turbo lag is gone and acceleration is smooth and easy. The exhaust note is automobile "music" and the UUC short shifter is a delight. This car has never been raced or "tracked" (I'm over 70!), but I sure love to drive great cars and just one drive in this 335i will convince you I'm right. Folks tell me how great this convertible looks, all the time.

The seats are perfect and putting the hard top down just makes my day. No IDRIVE so everything works without a fuss. Mileage did not change with the Dinan upgrades as 18/27 is about right. A list of what's in this 335i includes but is not limited to:

– Debadged
– Tinted windows
– "Ultimate Pedals" solid aluminum pedals,
– "X-pel" headlight protectors, all new hoses (done by BMW),
– Premium Comfort & Sport Pkgs.,
– Hill-Hold, Bluetooth, keyless entry, power/heated seats,
– Complete overhaul of the factory radio (fading of its display is a known BMW problem!),
– Dinan ECU programming, air intake system, stainless steel exhaust & a UUC solid stainless short shifter & DSSR.

If what you're looking to own and drive is a superb 335i convertible, this is the only one to consider. Period.

$33k obo. Car is located in Palm Springs, California.
It's rather refreshing to see one of these convertible E90s with a 6-speed manual transmission. If I had to guess, I'd suspect at least 85 to 90% of all E90 3 series convertibles that have been sold in the US have been automatics. While the convertible isn't the outright sporting choice for the hardcore driving enthusiast, this 335i looks pretty purposeful in black with the CSL style wheels. Add in the Dinan upgrades, and it makes for one tasty 3 series. The E90 convertible was never really my cup of tea, but if I was going to own one, it would be this exact car.
-Paul