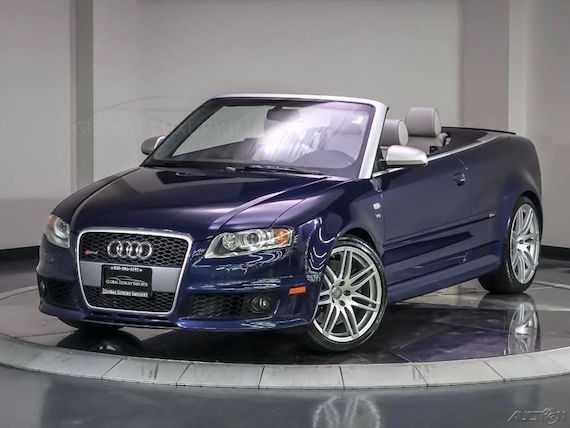 In 2008, if you had a lot of money to spend and wanted a powerful convertible with seats for four, chances are you bought an M3. But if you wanted to stand out a bit, the RS4 Cabriolet offered an interesting alternative, with ownership of one of these cars putting you in a very exclusive club. Available only for the 2008 model year, Audi imported a mere 300 examples to the US and they were priced accordingly: an astounding $85,000 when new. For your money you got loud and aggressive, wide-boy styling, grippy all wheel drive, a six speed manual gearbox and a power soft-top to fold away so that you could hear the burble produced by the wonderful 420 hp 4.2 liter V-8. True, they were not as composed as the extraordinary RS4 sedan, but if you were in the market for a convertible you probably didn't mind, since all convertibles are by nature compromised versions of their solid-roof counterparts.
These days, there are usually one or two RS4 cabriolets on the market at any given time and, owing to the god of depreciation, they can be had for around half their original asking price.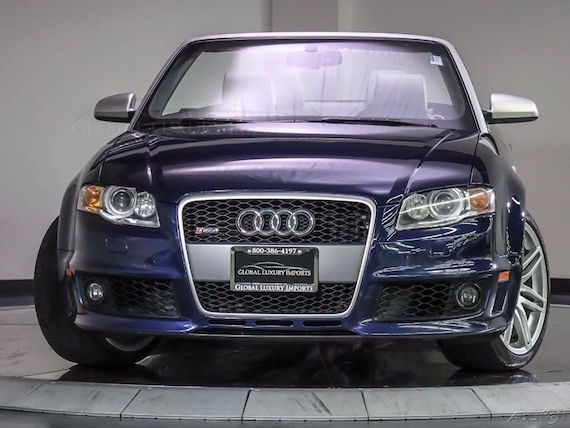 Year: 2008
Model: RS4 Cabriolet
Engine: 4.2 liter V8
Transmission: 6-speed manual
Mileage: 48,167 mi
Price: $39,900 or Make Offer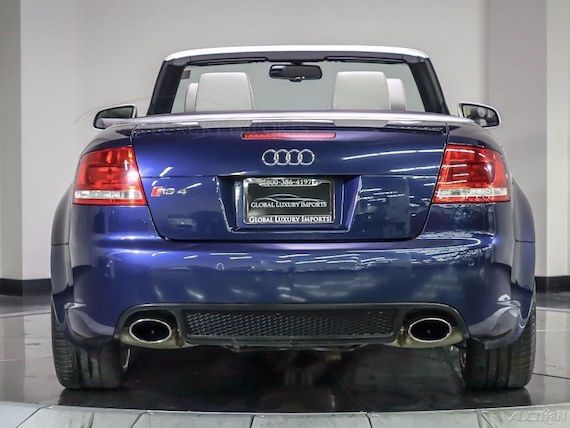 There's no real description in the listing, just a copy and paste of the standard spec-sheet, so there isn't much information about this particular car to go on. But what an impressive spec it is: the only cost-option on the RS4 cabriolet was a premium paint color, like the Mugello Blue Pearl Effect offered on this car (wrongly listed as Sprint Blue in the ad). A sort of purply-blue, it's my favorite Audi paint color and looks gorgeous over the silver leather. The high definition images in the listing depict an interior and exterior that both appear to be spotless, though a close and careful inspection is in order to ensure the car is up to snuff in person.
While prices for the RS4 sedan have dipped into the low 30s and high 20s, the cabriolet still commands a premium. As such, the $39k asking price on this example is in line with what one would expect to pay a dealer for a cabriolet with 50k miles on the odometer. Of course, this is just the price of entry and potential owners will need plenty of money to run and service an RS4. The most well-known issue on these is the build up of carbon on the intake valve that needs to be cleaned off every 60-80k miles, an expensive repair that afflicts all Audi direct-injection engines. Still, if you have the money to run it and live in a climate conducive to frequent, roof-down driving, the RS4 Cabriolet is a seriously nice and rare bit of kit.
– Craig