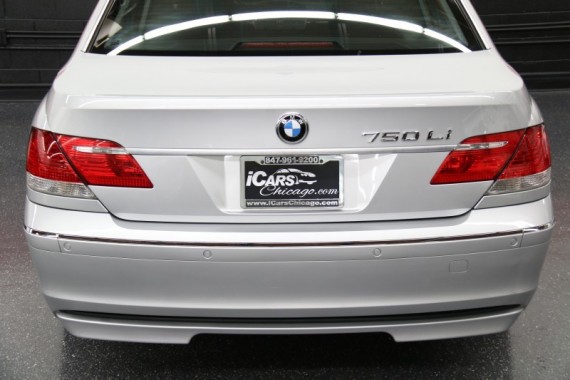 Check out that booty! Not all that bad right? That's because the post LCI (Life Cycle Impulse) E65 7 Series was far better looking than the early "Bangle Butt" models. The '05-'08 cars had larger more rounded grills, completely re-styled headlights and they got rid of the god awful light strip on the trunk as well. Inside the changes were not as apparent, most of them addressed quality concerns, though they still didn't fix the much maligned iDrive system. In addition to featuring an outdated, clunky navigation unit, this final year E65 750Li features a 4.8L V8 that gets sub par fuel economy. The motor produced 360hp/360 lb-ft of torque which would be fine if the thing didn't weigh in at 4,905 lbs. At this point you might be asking yourself why I'm writing this car up given all these negative aspects. Well despite it being a gas guzzling beast with archaic tech, I still think these cars, this one in particular, represent a great value in the used luxury market.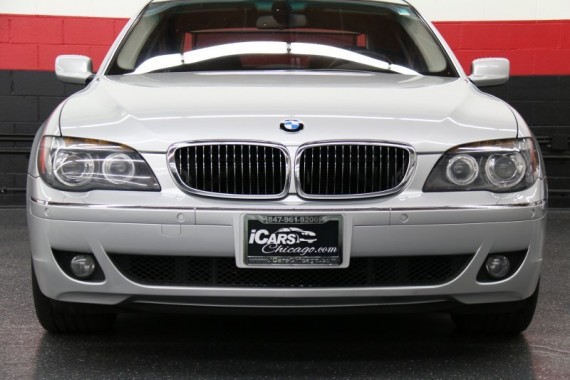 Year: 2008
Model: 750Li
Engine: 4.8L V8
Transmission: 6-speed automatic
Mileage: 70,335
Price: $21,900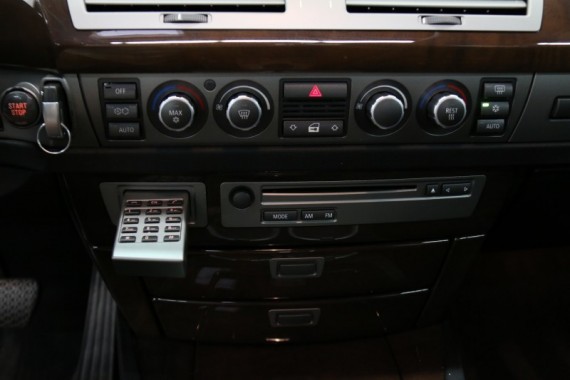 Titanium Silver Metallic Exterior Over Black Nasca Leather Interior
 $82,470 MSRP!!!
Serviced!!!
OPTIONAL EQUIPMENT LIST:
 Navigation System
-Logic 7 Premium Sound System
-Anti-Theft AM/FM Stereo
-In Dash 6-Disc CD Changer
-MP3 Capability
-Auxiliary Audio Input
Satellite Radio ($595)
Front/Rear Park Distance Control (PDC) w/Graphic Display
20-Way Power Climate Controlled Front Comfort Seats
-Power Lumbar
-Active Driver Seat
-2 Position Seat Memory
-Active Headrests
Luxury Seating Package ($2200)
-Heated Front Seats
-Cooled Front Seats
-Heated Rear Seats
-Ski Bag
 Power Tilt & Sliding Sunroof
18″ Star Spoke Alloy Wheels
Dark Ash Wood Interior Trim
 BMW Assist w/Bluetooth Wireless Technology
Bi-Xenon Adaptive Automatic Headlights w/Dynamic Auto Leveling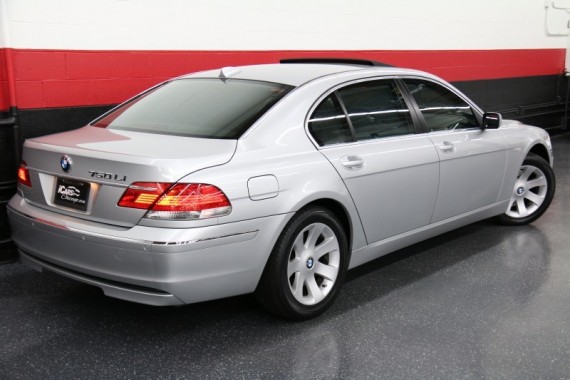 As this is the Li, this 750i has plenty of back seat room where passengers will feel like they're flying first class. I've been driven in an E65 Li, it was an incredibly pleasant experience. The seats are really comfortable, adjustments can be made to nearly every part of them and those adjustments can be dialed in exactly how you want them. The luxury factor isn't quite as high as the S-Class of the same era but in many ways I prefer the restrained BMW cabin. I'm not sure if the car I rode in had the same Black Nasca leather as this example but my guess is that it did given that it smelled amazing and was butter soft. The Titanium Silver Metallic paint is one of the more common colors seen on these cars and I'd much rather mine be Monaco Blue or Deep Green but there is something to be said for blending in.
In fact that's one of the biggest draws of this car in my opinion, the ability to blend in with a crowd in a vehicle that I think is quite special. It's not special in the way a 911 RS is special or even the way a 330i ZHP is special. It is special because it allows you and your passengers to travel in comfortable anonymity. Nobody gives these cars a second look these days, partially because you can get a KIA Optima with most of the same options and partially because the automotive press hated on the design so much when they were new. There are two major upsides to that, one is the aforementioned ability to fly under the radar in a luxo-barge and two is that the prices on these cars are what I would consider to be very, very low. For $21,900 I think you are getting a whole hell of a lot for your money with this example given how clean it looks and that it has just over 70k on the clock. Given that it is a final production year car it has the added benefit of having most of the issues worked out, though as anyone who reads this site will know, that's no guarantee there won't be a few surprise expenses here and there. If I were in the market for a comfortable around town cruiser that could double as a long range road trip missile, I'd start my search with one of these LCI E65 cars because I really think they are seriously overlooked.
-Andrew