Warning!
This post is in our archives. Links in this post have been updated to point to similar cars available to bid on eBay.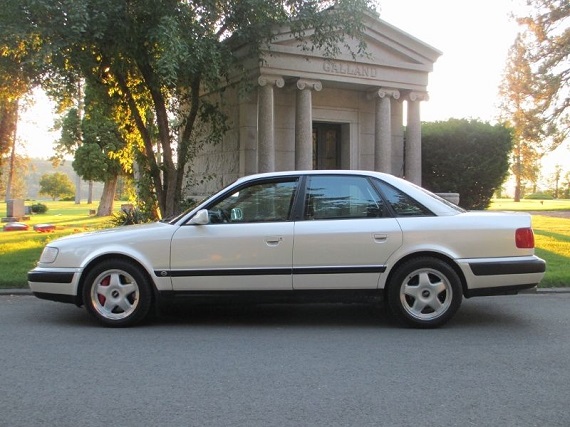 I've started a few discussions about the Audi C4 and the relative lack of good examples that pop up. This is especially true when they're compared to the models that the S4 originally competed in the marketplace against; the M5 and the 500E. While neither are generally spring chickens when it comes to the used car markets, it's not very hard to find an excellent example of virtually any day. The same can't be said for the original S4. The 1992 Audi S4 is arguably the hardest to come by, and for some enthusiasts it's the most desirable. Sales numbers and enthusiast's accounts of how many '92s were sold seem to vary; the general number of '92s imported is often claimed at 250, but Audi's sales numbers from 1992 claim some 907 Turbo models were sold (though, that number could include leftover 200 20V and 200 Turbo models). While the later S6 and A6, externally, weren't visually much different, the earlier S4 stood apart from the regular 100 with ellipsoid headlamps and the then-massive 16×8 Fuchs forged alloys. 1992 models sported the lower, closer to European-spec suspension and a rear sway bar, but there were other, smaller changes – '92s had steel sunroofs, for example, and "quattro" script rear defrosters that disappeared in '93. Then there were really small changes; like the V8 quattro, '92s had the "high intensity" wash system for the windshield – dropped in '93, along with the S4 badge on the right of the trunk. In '93, it would move to the left, and "quattro" was added to the right to fall in line with other models. 1992 models were still R12 air conditioned, so upgrading to R134 is common. The seller is correct that '92s interiors had Elm wood trim, where later models would switch to carbon fiber, then Walnut. '92s also had a trip computer with digital boost gauge and an ABS-disable switch, which also would be removed from the lineup in 1993. Finding a clean example of these '92s, then, for some enthusiasts represents the Holy Grail of U.S. bound S-cars. And this example, in the signature Pearlescent White Metallic with black leather, is arguably one of the best we've seen: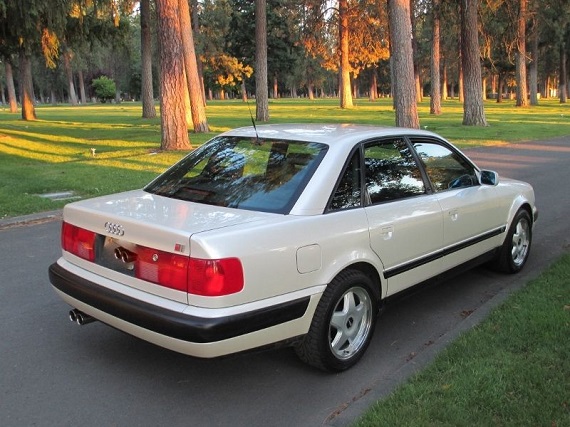 Year: 1992
Model: S4
Engine: 2.2 liter turbocharged inline-5
Transmission: 5-speed manual
Mileage: 138,800 mi
Price: $10,500 Buy It Now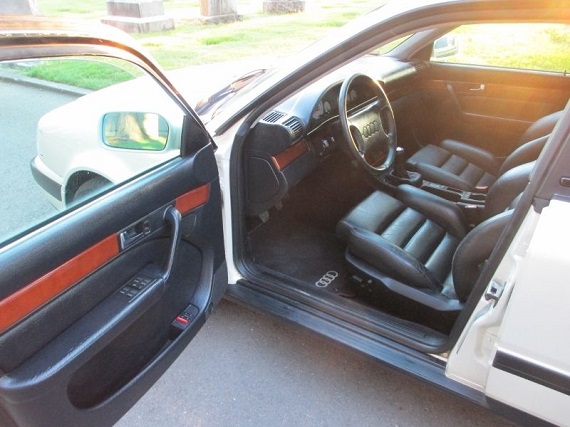 Regretably up for sale is a near pristine 1992 Pearl white, black leather S4. 138k miles. Clean title. All records since new, a 3 inch binder full of history, 4 original keys, owners manuals, dealers brochure, window sticker. As far as I can tell, this is probobly one of the fewest S4s that hasn't been molested. The paint is in great shape, 9/10. Interior is very comfy and clean, 9.6/10. Elm? wood trim is beautiful. All electronics seem to function as they should, windows, doors, sunroof, all gauges, lights, no check engine lights, or warning lights. All heated seats work.

This car is equipped with the non factory gentlemans package, which includes suttle yet thrilling modifications.

Wheels are great, shine up well, tires near new, giving great traction. Porsche big reds are newer, pads and rotors like new (2400). 5 cylinder 20v turbo purrs like a kitten. Can get around 30mpg highway. Mobil 1 synthetic always. A/C converted to r134 last summer. Recent control arm bushings, timing belt, t stat, h2o pump, coolant. Samco silicone boost hoses (300). Stromung 3″ from turbo all the way back, single cat, mid and rear muffler (1500). Sounds great. Not loud at all, just a little throaty, or like a rocket taking off. Very quiet at any rpm. Mtm chip helps this sleeper get up and go (500). Pushing around 300 hp. No odd mechanical issues, if you want to cruise, no issue. If you need your head thrown back hard, no problem. Bilstein struts, B&g springs lower this just a tad from stock, and make this car ride incredibly well (1k). Just the opposite of H and R race springs. Rides like a stock s4, minus body roll, no clunks or earthquake steering. Seems to soak up shatty roads with ease, when they cant be avoided. Brand new factory higher grip Sachs clutch kit. Replaced 5 speed transmission with lower mileage unit. Silky smooth shifting. Original had a couple bad bearings, go figure. Didn't effect drivability, just a little humming (1600). There are only about 10 – 20k miles on the grades that aren't new. No expense has been spared.

Overall this is a great car, that is a blast to own, drive. People are powerless in it's pressance, some individuals give it the "oh my, my my" look, and that never gets old. All you need to know is it looks good, runs like a raped ape, handles like a go cart, and wont let down. Serious sleeper compatable. I saw a 200 20v wagon last year that had 283k miles on it, it ran great. There was a 200 20v avant for sale in Portland with 402k miles on it for sale. It seemed very nice, probobly had 100k left in it easy. There's no doubt this car has a lot of life in it as long as basic maint. is done. Also a sound investment, not only for the fact that it's value will hold as time goes on, but for the pure driving pleasure. If you need to pass someone in any driving condition, you can blow their doors off without hesitation. If you are having any troubles in life, rest assured this car will solve them on a day to day basis. You can message me leaving a phone #, and I'll gladly get back to you at my earliest convenience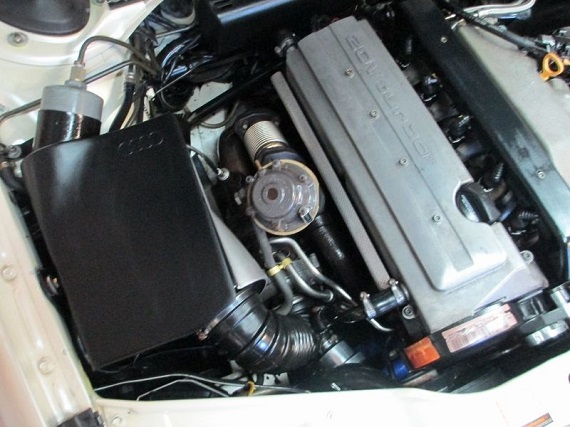 To say this car has a lot of life left in it is certainly an understatement; gleaming paintwork and a near flawless interior are but the highlights in what seems to be genuinely one of the nicest '92s I can remember seeing in the past few years. Upgrades are high-quality units; Porsche brakes, Bilstein/B&G suspension, MTM chipset, Stromung exhaust, Samco hoses – all staples of the best-equipped C4s. Maintenance appears to be up to date as well, including replacing the often on their way out transmission, one of the few real weak spots on the C4 S4. Pricing may be the only thing that some frown upon; at $10,500, this car is nearly double the going rate that many S4/S6s come to the market. Is it double the car? From what can be seen and is presented, I'd have to say yes – I think the pricing is spot on, and again, notably much cheaper than it's original competition in similar condition. This is a quite rare opportunity to own one of the greats in top condition; personally, were I in the market for this car, this is the one I'd try to buy.
-Carter