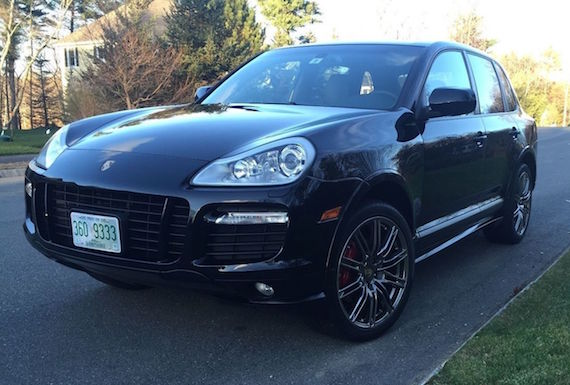 If you've read this website long enough, you'll know I don't like SUVs. My reasons for this disdain are numerous, from people who would never use them off-road to the fact that many have aesthetics which would make a prison execution chamber look sleek. If I'm going to be forced at gunpoint to own one, it better be damn well interesting. Enter this 2009 Porsche Cayenne GTS. Sure, on the outside it doesn't look any much different than your usual heavy beast derived from the Volkswagen Touareg, but what's that protruding from the center console? A manual gearbox?! Yes, this is one of the very rare Cayenne GTSs to come so equipped in 2009. Apparently just over 30 of these three-pedal off-roaders were sold in 2009, this lower mileage one for sale in New Hampshire being one of them.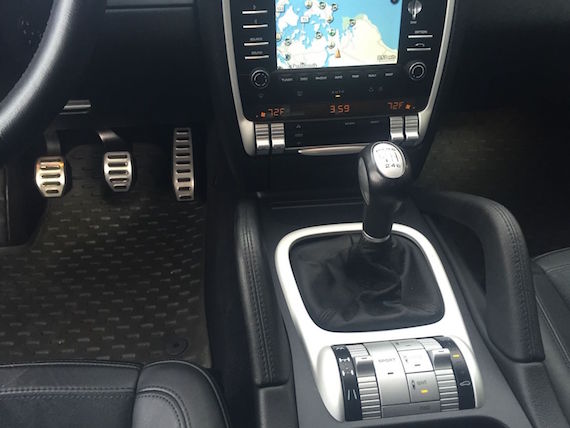 Year: 2009
Model: Cayenne GTS
Engine: 4.8 liter V8
Transmission: 6-speed manual
Mileage: 42,750 mi
Price: $45,999 Buy It Now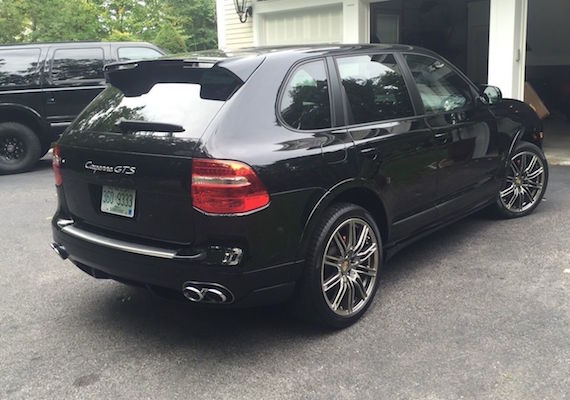 Extremely rare Porsche Cayenne GTS – Manual Transmission

So rare that the local Porsche dealer had never seen one. Porsche Dynamic Chassis Control with adjustable suspension, throttle mapping, lockable diffs, and exhaust. Sunroof, Nav, Power seats, front and rear heated seats, power rear hatch. Cornering lamps. Platinum Coverage CNA Warranty until April 2018 that can be used at Porsche Dealer.

My research shows only 102 Porsche Cayenne GTS's sold in America in 2008 with the Manual Transmission, and an even rarer 31 units sold in the 2009 model year. This is why generally you find three times as many 2008 units on the market vs. the 2009s. (I got this number from searching reputable Porsche-oriented websites and I found that statistic on Rennlist, so I believe it to be accurate but cannot guarantee it.) I searched for 5 months to find this vehicle, and it was the lowest mileage, highest priced one on the market at the time.

It was also by far and away the cleanest, with virtually no deferred maintenance required. It was garaged its whole life. These cars are Porsches, and if you do not keep up with the maintenance, costs escalate quickly. On the pre-purchase inspection on other cars I looked at, they ranged from 1-3k in maintenance due. This car needed nothing! I put a brand-new clutch in at 40k miles when I thought I detected slippage at a stoplight; these clutches are self-adjusting and give no signs of failure until they go…I wanted reliability and it was worth the 4k investment to assure no roadside "events".

I put the aftermarket, transferable CNA platinum warranty on the car for the same reason – I wanted no surprises and wanted coverage to insurance against any surprise 5k repair bills. That warranty is good until April 15th 2018 and has over 23k miles remaining. I recently used it to cover a sensor in the front suspension; the Porsche dealer honored it with no issues; I paid a small deductible. I paid 3k for the extra set of 21″ wheels with Pirelli P Zeros.

I am the second owner, purchasing from a car dealer after the original owner traded for a new vehicle. The original sales price was $87,000. Garaged all of its life, this car comes with 2 sets of wheels; the 21 inch aftermarket ones pictured with Pirelli P Zeros and the factory 21 inch GTS wheels with mounted Pirelli Scorpion snows. I left the snows on the factory wheels as I prefer the look of the aftermarket wheels. I originally purchased the car to use as a tow vehicle for my Porsche 944 Turbo race car, but upon reflection I decided the car was too mint to use in such a fashion, so I bought a dedicated tow vehicle and never even installed a hitch. If you want to own one of the rarest Porsches ever produced, in mint condition, with a extended warranty, this is the one you want to own. I can answer questions at 603-498-1484. If I had the garage space I would keep it; I suspect it has the potential to appreciate in time due to its rarity, low mileage, and condition.

The car is in excellent condition and is a 9.5 out of 10. It has been in no accidents. It is the best handling SUV that I have driven, it out-handles many sports cars. If you are looking for a manual transmission in a performance SUV, this is the only available choice – and I suspect with the pending extinction of the manual transmission, no one will ever make another. Also, I am using my wife's ebay account, so please disregard the feedback about women's perfumes and pajamas…Thanks for looking!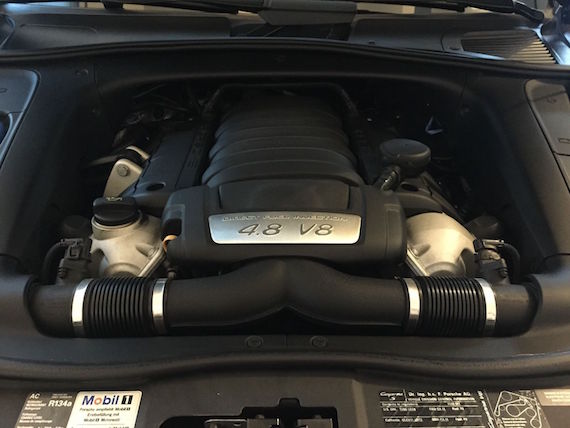 If you wanted a Touareg with a manual gearbox, you were out of luck if you were a US customer. Thankfully, Porsche at least obliged with some Cayenne models over the years for those traditionalists. Given that many Cayenne drivers tend to be suburbanites on the school run, I doubt rowing their own seems an attractive option. However, will a rare Cayenne like this suddenly skyrocket in value years down the line, like we've seen with other rare Porsches? I'd guess they'll be somewhat valuable, but probably falling short of the air-cooled 911 craze. Still, we'll probably look back on an SUV like this at some point in the near future as a dinosaur, from a time gone by when you could harness the power of an eight cylinder vehicle without interference from a shift algorithm.
-Paul