Even after eight years of being on sale, I still have a hard time coming to terms with the fact that Porsche sells a four-door, off-road vehicle. True, years ago the company built a diesel tractor, but for myself and others, the 911 will still be the quintessential Porsche. Still, the Cayenne is a perfectly capable vehicle in its own right. If I was going to own one, however, it would be this one, the GTS. Powered by a 4.8 liter, 405 horsepower V8, this beast was available with a 6-speed manual transmission, as we see in our feature car for sale in Arizona.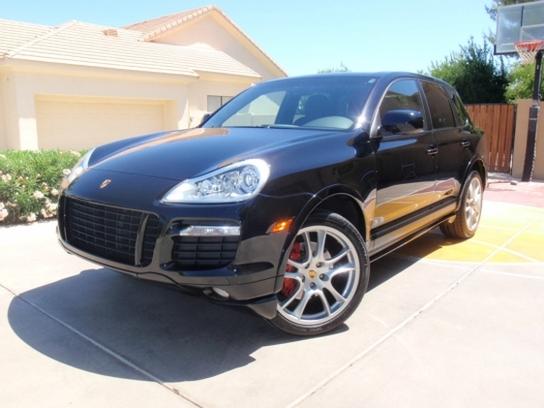 This 2009 Porsche Cayenne GTS AWD, 6 Speed Manual is perfect in every sense of the word. VERY RARE approximately 1 in 25 OEM versions of the Cayenne GTS were produced in the rare manual gearbox format. If you desire the functionality of a sport SUV with the exhilaration of personally commanding the delivery its 4.8L 405 hp and 369 ft-lbs. to the pavement through the famous Porsche 6-speed manual gearbox, this is your new vehicle. It has been meticulously cared for by the original owner. This Cayenne is gorgeous. All Porsche service by Porsche dealership. All GTS standard features plus much, much more.

Interior Feature Installed Options: Leather package (black) Full leather inside including dash and all doors, with full Alcantara headliner and Alcantara seat inserts ($3,170 factory option),PCM (Porsche Communication Management) w/ Navigation ($3,300 factory option),Bose Premium Surround System, 12 speaker ($1,690 factory option),XM Satellite Radio ($750 factory option),Blue-Tooth Interface ($1,431 dealer option),I-Pod Interface ($708 dealer option),Heated Front Seats ($690 factory option),Lighting Package/Memory Keys and Seats ($610 factory option),Moonroof ($1,190 factory option).Exterior Features Installed Options: Bi-Xeon Headlamps with washers ($1,560 factory option),Trailer Hitch ($630 factory option),Enlarged Rear Spoiler (STD, similar to Turbo),Full Turbo Fascia Kit (STD, similar to Turbo).Other Notables: tags current through April 2013 (Arizona), new Michelin Latitude Sport 295/35 R21 on Porsche GTS specific rims (also, perfect).

Bottom line, this vehicle is even better in person than in pictures or on paper. It will not last. Priced to sell at $53,950. You could pay $12,000 to $14,000 more for the same vehicle (if they had it) at the Porsche dealership for a "certified" pre-owned version, but my service records exceed the "certified" standards so why pay more? This GTS sells itself. Serious inquiries from qualified purchasers only.
Even though so few were made, I can't help but think a Porsche like this might be a bit of a hard sell. Many hardcore Porsche enthusiasts don't take too kindly to the Cayenne and those in the market for a luxury SUV wouldn't want the manual transmission. Porsche has announced the second generation Cayenne GTS will not be available with a manual transmission, as only 3% of GTS buyers from the previous generation opted for three pedals. If you want an SUV but are looking for exclusivity, this truck might be the best option this side of a Lamborghini LM002.
-Paul