Today, I've decided to jump from one manual transmission to the next. Albeit this time we'll look at one that has a bit more get up and go than the Mercedes featured earlier.
Similar to Audi, BMW has decided to nix the traditional estate, or Touring model, from the US lineup. As of this moment, if someone wants a new BMW that is more versatile or commodious, you'll have to look towards their lineup of SUVs or the oddly shaped 5 series Gran Turismo. There are rumors, as purported by Automobile Magazine, that BMW is planning to bring a Touring variant of their new 3 series across the pond, but it has yet to be seen if it will be offered with this 535i xDrive Touring's most tasty feature, the 6-speed manual gearbox.
Sold in very limited numbers here, this 535i XDrive Touring is made even more rare with the three pedal option. This gearbox mated to the 3.5 liter, twin-turbo inline six producing 302 horsepower will make sure you can haul fast. Literally. And the dark green over tan color combination would look right at home in The Hamptons or country club parking lot.
Year: 2010
Model: 535i xDrive Touring
Engine: 3.0 liter twin-turbocharged inline six
Transmission: 6-speed manual
Mileage: 30,145 mi
Price: $37,480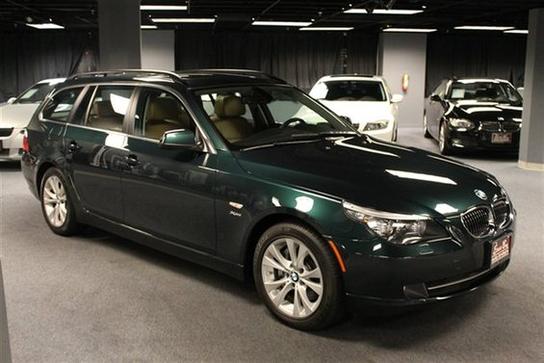 Navigation, ultra-rare 6-speed manual transmission, premium package, heated seats, heated steering wheel, Harman Kardon Logic 7 Premium Sound System, panoramic sunroof, power liftgate, one previous owner.
Every time I see a late model E60 5 series Touring for sale, they don't seem to come cheap. Could it be the uncertainty of whether BMW will bring the 5 series Touring back to the US? Or are these 5-door Bimmers just that good. I tend to think both reasons are at play here. Even though it seems pricey for a three year old 5 series, the high $20,000 to mid $30,000 range is what low mileage 535i xDrive Tourings are averaging. If it could be had closer to around $34,000 to $35,000, this would certainly be a great machine for the family that doesn't want to surrender driving enjoyment.
-Paul