Reader Nik spotted this one a little while back and I had been keeping an eye on it. It has been listed a couple times and not generated any serious buyer. The seller is claiming it of 1 of 2 Brabus SLS cars in the states.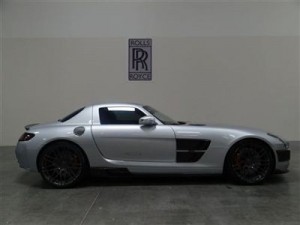 We all know Brabus has a history of taking Benz models, everything from the really expensive top of line cars,  down to the tiny compact models and even Benz vans, and making them loud, fast, and aggressive. This SLS is not an exception. The addition of exterior Brabus parts are a little more subdued on the SLS, mostly because one expects the SLS to look exotic. Those who are familiar note the Brabus wheels and carbon fiber accents and aero kit. The Brabus exhaust most certainly adds even more V8 growl. What is pretty slick is like the suspension, the exhaust can be set to a sport mode using the Brabus buttons in the center console. The sport button electronically activates valves in the exhaust to provide more noise. This is a really old trick, though typically I associate exhaust dumps that  bypass mufflers on cars that are a little less sophisticated, not that this is a bad thing. It doesn't look like there is any Brabus work under the hood, other than programming, as the typical red Brabus accents are not seen. The interior however comes in bright red to contrast the smoke exterior.
This car has covered a mere 3,300 miles. The ask price on this uber-exclusive beast is just under $350,000. This is twice the price you would pay if you were bargain hunting an SLS so there is a fairly big premium placed on the Brabus package. From a purely horsepower standpoint that 611 horespower, up from 563 stock makes for some awfully expensive individual ponies. For some the sound alone is worth the price of admission, see video below of the exhaust cut outs in use on an SLS.
~Evan