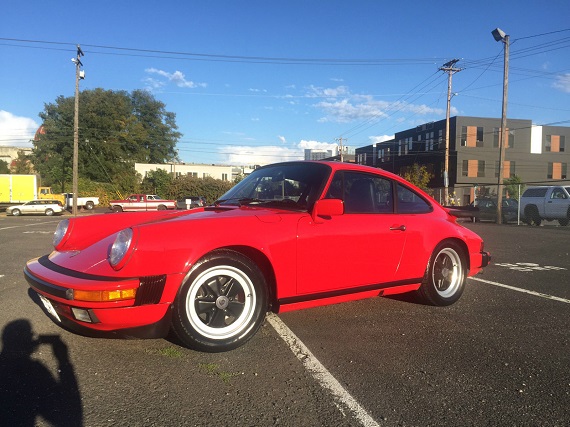 Many times in our search for interesting and rare cars to feature we pass over the regular cars; cars that are in good shape and would make for great options for many prospective buyers, but that don't immediately jump off the page. Or, at least, I find myself doing that. The negative side of this, of course, is that these are the cars that typically come with the most reasonable prices, a point that is particularly true with the 911 where any sense of exclusivity quickly raises the bar on value. I think this 911 fits within that 'regular car' category and while we can never be totally assured of such the hope is that it will also come at a decent price. Here we have a Guards Red 1987 Porsche 911 Carrera Coupe, located in Oregon, with 98,750 miles on it.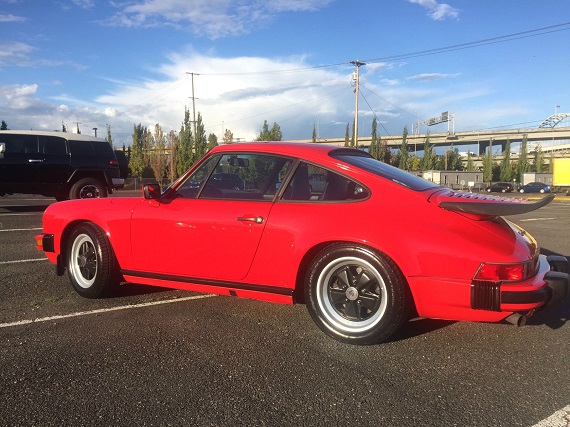 Year: 1987
Model: 911 Carrera
Engine: 3.2 liter flat-6
Transmission: 5-speed manual
Mileage: 98,750 mi
Price: Reserve Auction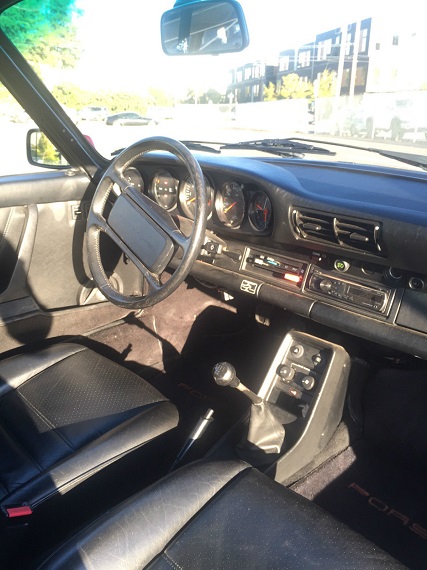 THE ULTIMATE CLASSIC SPORTS CAR

1987 G50 PORSCHE 911 CARRERA

THIS CAR IS IMMACULATE AND HAS BEEN WELL LOOKED AFTER SINCE LEAVING THE FACTORY. THERE IS AN EXTENSIVE PORSCHE DEALERSHIP AND INDEPENDENT PORSCHE SPECIALIST SERVICE RECORD FROM NEW.

THOUSANDS OF DOLLARS RECENTLY SPENT ON MECHANICAL TO MAKE THIS CAR ONE OF THE BEST OUT THERE

2300 MILES ON NEW TOP ENGINE REBUILD WHICH HAS 2 YEARS MECHANICAL WARRANTY ON THEIR WORK FROM GARAGE.

NEW CLUTCH FITTED AT THE SAME TIME AS ENGINE BUILD

NEW FRONT BRAKES

WORKING AIR CONDITIONING, ELECTRIC SEATS, ELECTRIC WINDOWS AND ELECTRIC SUNROOF.

THE CAR IS COMPLETELY FACTORY ORIGINAL APART FROM THE STEREO.

CANADIAN CAR WITH SPEEDO AND ODOMETER READING IN KM, CURRENTLY AT 158,000KM WHICH IS 98750 MILES

A COMPLETE UNUSED TOOL KIT AND AIR COMPRESSOR. WARRANTY BOOK AND OWNERS MANUAL.

ALL PANELS FIT PERFECTLY, ORIGINAL ROCK GUARD IS STILL PRESENT ON EACH OF THE FENDER LIPS AS APPLIED BY THE FACTORY. THE CAR HAS BEEN FITTED WITH THE FACTORY SPORT PACKAGE WHICH INCLUDES STIFFER SUSPENSION, CARRERA TAIL AND FRONT CHIN SPOILER.

THE PAINTWORK IS CLOSE TO FLAWLESS WITH A SILKY SMOOTH SHINE, NO CRACKS OR SCRATCHES IN SIGHT.

THE ENGNE STARTS AND RUNS AMAZINGLY AFTER THE REBUILD, WITH NO SMOKE ON START.

THE G50 TRANSMISSION SHIFTS SEAMLESSLY BETWEEN GEARS ON NEW CLUTCH AND DRIVES AS IF NEW.

THIS IS AN EXTREMELY WELL PRESERVED CARRERA, NEVER MESSED WITH. KEPT IN A GARAGE AND NOT DRIVEN IN THE RAIN.

A HARD TO FIND CAR FROM THIS ERA WITH ORIGINAL PAINT IN THIS CONDITION.

THIS CAR IS FOR SALE IN OTHER PLACES AND I RESERVE THE RIGHT TO END AUCTION EARLY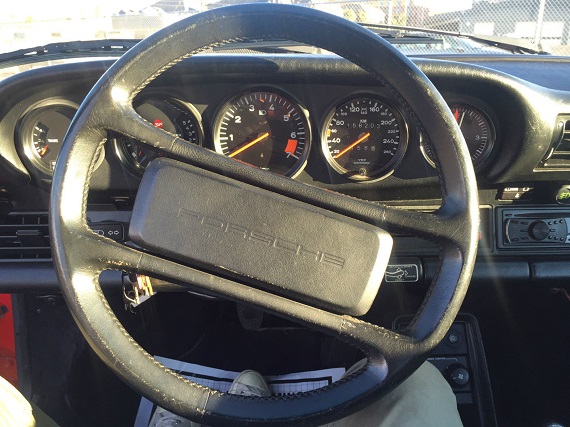 Any of the G50 Carreras always come with the possibility of the seller seeking much too high a price. Bidding here does not yet reveal whether that will be the case since I would still expect the reserve to be a bit above the current bid of $31,100. So on that point we will have to wait. But the rest of this 911 comes across how we'd like. It's said to have a full maintenance history available including documentation of its recent engine rebuild. It still retains its original paint and other than the radio appears mostly original. We don't see a lot of the interior, but it looks to be in a condition consistent with the rest of the car. I wouldn't call it pristine, but as a driver-quality 911 it shows a lot of promise. As I said above I don't think there's anything amazingly interesting about this 911 other than it being an honest G50-equipped Carrera in nice shape. There's a lot to be said for that though and should be enough to attract interest even without special options or flashy colors.
-Rob