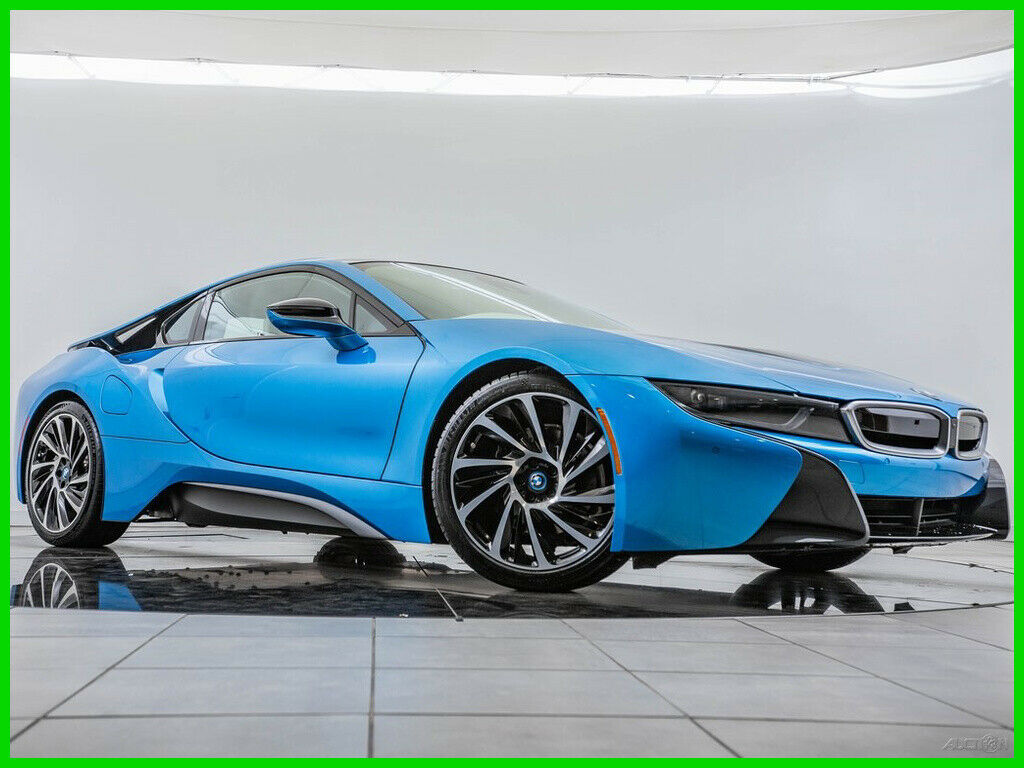 I closed out 2021 looking at the birth of BMW's "real" M-car legacy with the M6, since the M1 was pretty much unattainable. It seems fitting to start of 2022 with BMW's foray into electrification, then. One could argue that the reinvention of the 8-series moniker was a disservice to the original; I disagree. The E31 pioneered a new frontier for BMW, with electronics, a new design language and took BMW to a different market. There is no more fitting designation than the i8 in my mind. The slinky, futuristic coupe utilizes lightweight construction to keep the curb weight down; 3,200 lbs may not sound particularly lightweight, but keep in mind that the BRZ/FR-S twins were lauded for their light design and are only a few hundred pounds less without all of the heavy electric equipment and twin motors. Pushing the very aerodynamic lithe coupe are two motors that run together or separately – a 1.5 liter turbocharged inline-3 paired with a smaller version of the i3's electric motor. The results of this combination are pretty astounding; a combined 357 horsepower results in 60 miles an hour in 3.8 seconds and a near effortless limited 155 m.p.h. top speed. Couple that with the ability to drive for around 20 miles with no assistance from the gasoline motor and return mid-40 mpgs, and the 911-like performance is truly impressive. No other car has yet come close to the combination of attributes the i8 offers.
When these cars rolled out now bordering on seven years ago, MSRP was thrown to the wind and dealer invoices rang in some $70,000 over sticker, with near $220,000 asking prices. While the i8 and i3 introduced BMW's electric intentions, their more recent and impending offerings like the i4 are decidedly more mainstream. So for a bit more than the price of a loaded i4 M50, you can get into a much more exciting used i8, like today's Protonic Blue Metallic example equipped with the Pure Impulse World package: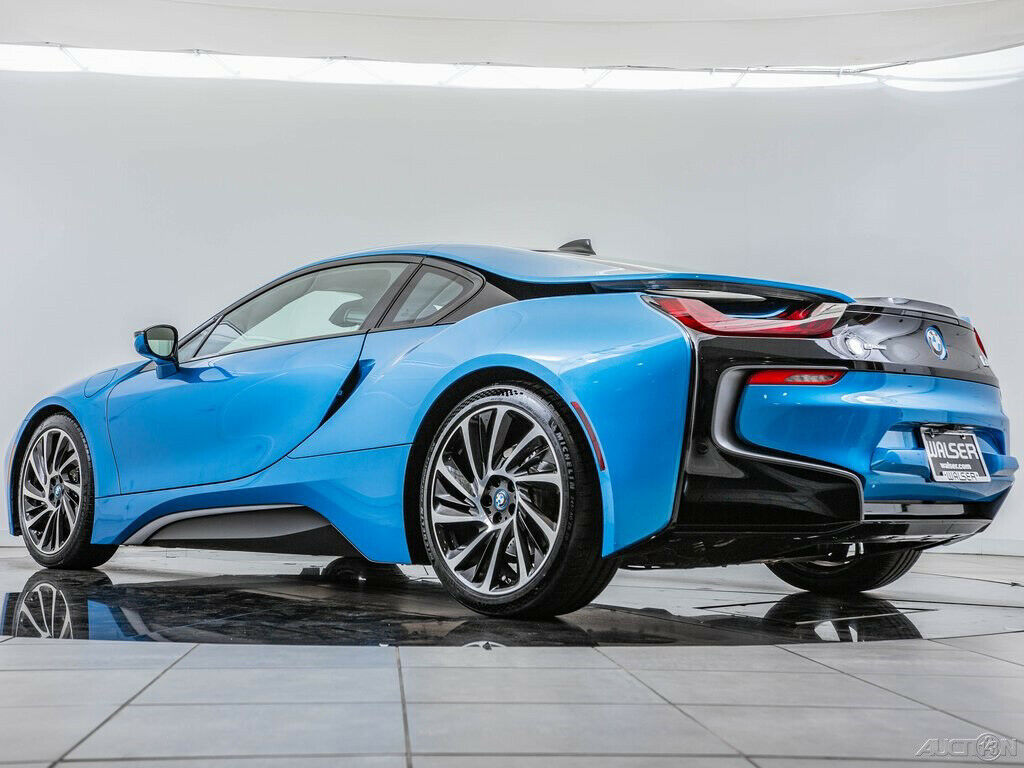 Year: 2015
Model: i8
VIN: WBY2Z2C57FV674500
Engine: 1.5 liter turbocharged inline-3 with parallel 98kw electric motor
Transmission: 6-speed automatic
Mileage: 21,250 mi
Location: Wichita, Kansas
Price: $81,598 Buy It Now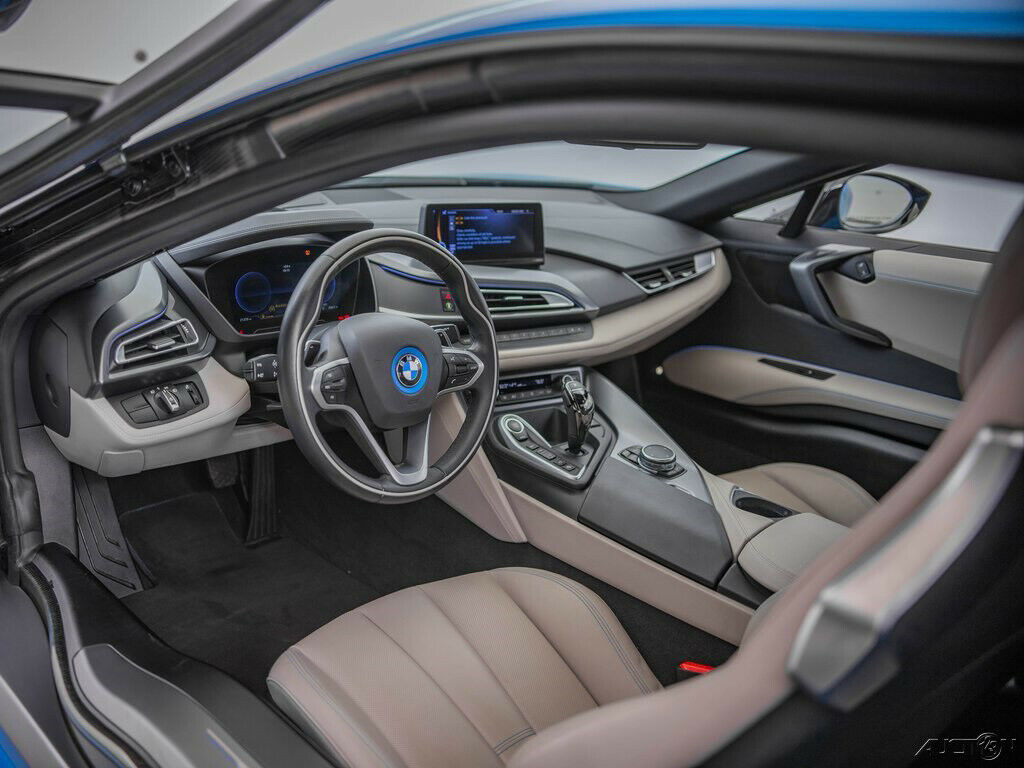 2015 BMW i8, Located at BMW/MINI of Wichita. Original MSRP $148,295. Protonic Blue Metallic, Spice Grey interior. This i8 is equipped with Pure Impulse World package. Package options and additional features consist of a Factory 20-inch wheel upgrade, Cruise control, Brake assist, Front & Rear parking sensors, Navigation with a 360-degree camera, Heated front seats, Harman Kardon premium surround sound system, Bluetooth, and SiriusXM radio. (subscription required) For more information please visit the AutoiPacket link below.

Pure Impulse World (originally: $10800.00)
20 x 7.5 front and 20 x 8.5 rear BMW i W Spoke (style 470) alloy wheels with 215/45R20 front and 245/40R20 rear tires; Leather engine cover; Black brake calipers; Headliner in Anthracite; BMW i Blue seatbelts; LED headlights with cornering lights; Pure Impulse Carum Spice Grey Full perforated leather upholstery
– 1st Row Upholstery: premium leather
– Xenon Headlights: LED
– Cornering Lights
– Consumer Generic Feature 1: Upgraded Headlights
– Consumer Generic Feature 0: Leather Seats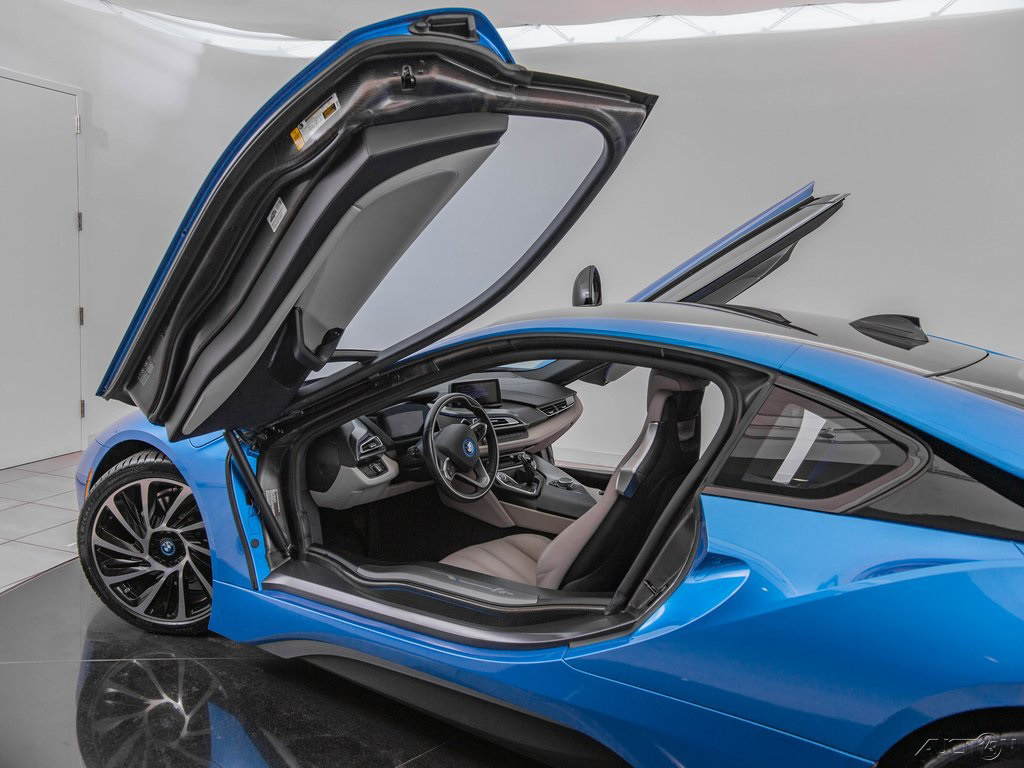 There are definitely advantages to a brand new i4 M50; it's got a warranty, you can spec it any way you'd like, it's got 4 (ish) seats, and it's full electric. However, there are also benefits to the i8. It's a much prettier design, it's almost certain to be a future classic, it offers better overall performance than the heavyweight i4, and it's a hybrid – which means, of course, that when you run out of electricity it's still got a running motor. They're currently 911-ish money but look far more exotic, as well. This one is nicely spec'd and a great color combination; mileage is quite low, and condition appears to be overall very good. For roughly the same asking price you can find a 991 Carrera 4S, though to me the BMW is more exciting.
-Carter