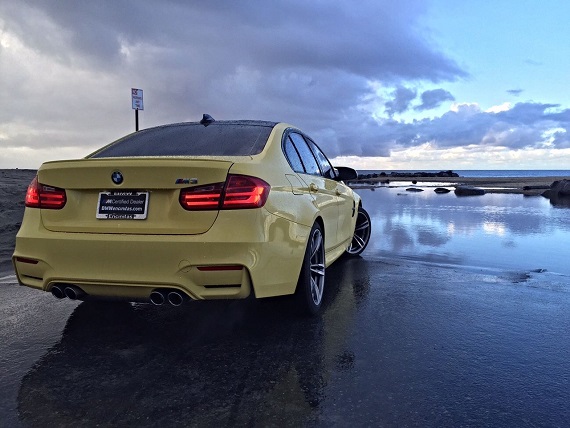 While purists in part decried the death of the naturally aspirated M3 at the same time that the new nomenclature for the coupe lineup was launched, I personally wasn't too offended – in fact, I was a little excited. First off, being an Audi fan I was used to name changes – Audi redefined its market lingo three times in just a few years with the change from the 5000 to 200, then again to S4, and once more S6 between 1989 and 1995. So while I thought it was a bit silly that BMW had to introduce a new number lineup for it's coupe 3 (which, incidentally isn't always a coupe…), I'm not going to fault BMW for choosing a new market strategy. But the real reasons I was impressed were the changes to the drivetrain and, I suppose it should come as no surprise, the colors offered. The change to the twin-turbocharged S55 didn't produced much more horsepower than the S65 V8, but it did produce a lot more torque – something BMW was happy to showcase with a series of advertisements showing the new F82 sliding around a series of parked classic M3s. That forced induction was good for a 110 lb.ft boost over the naturally aspirated V8, starting below 2,000 rpms. You could go on and on about the technology that's been incorporated into this engine – all of which is cutting edge and really impressive – but the chart that I find really amazing is to compare the relative power output versus efficiency of the S55 to the previous generation M3s. What's staggering is that not only is this car the most powerful, it's nearly able to match the fuel consumption and emissions of the 2.3 liter inline-4 from the E30. It produces well over double the horsepower and torque of the S14. That's technology working on your side, and that's amazing to consider. We really are living through a very special period of automobile performance if you're able to partake; here's a car that puts out numbers close to a legendary 427 Cobra in terms not only of power output, but acceleration as well; but it stops and turns better, too, can carry 4 (maybe 4.5?) adults in comfort, gets better fuel mileage, is better for the environment, works in all conditions and guess which one you'd rather be in a crash in.
Getting back to my original point, though, the F8x also introduced a few new colors that look amazing on the new BMWs; continuing with the theme of track-named colors, Yas Marina Blue is gorgeous, Sakhir Orange Metallic is pretty vivid, but the introduction of Austin Yellow Metallic is the one that got me. It looked an awful lot like my favorite E46 tone, Phoenix Yellow, and really makes the new M3/4 a knockout. Of course, for some those color options weren't enough, so continuing in the theme of the last few BMWs I've written up, here's one that and individual turned over to Individual:
Year: 2015
Model: M3
Engine: 3.0 liter turbocharged inline-6
Transmission: 6-speed manual
Mileage: 2,850 mi
Price: $67,000 Buy It Now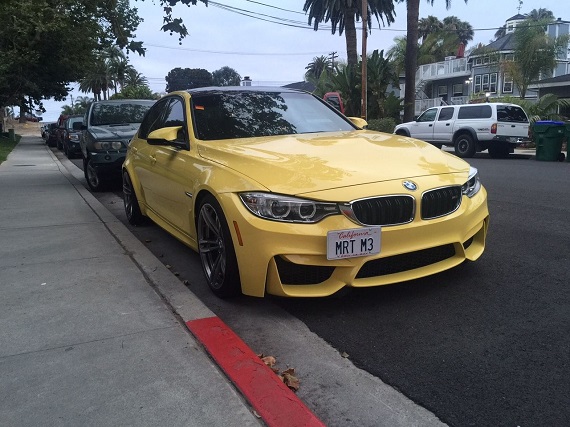 Selling my beautiful 2015 F80 M3 with 6 speed MT.
2850 miles on the clock. 4 months old.

Harman Kardon
19″s
M adaptive suspension
Dakar yellow individual ($5.000)
Black Cloth/leather carbonstructure interior with carbon trim
$71.185 MSRP

9 layer ceramic pro paint protection with life time warranty :$1750
H&R super sport springs $350
Installed by dealership and alligned : $400
Stock other than that.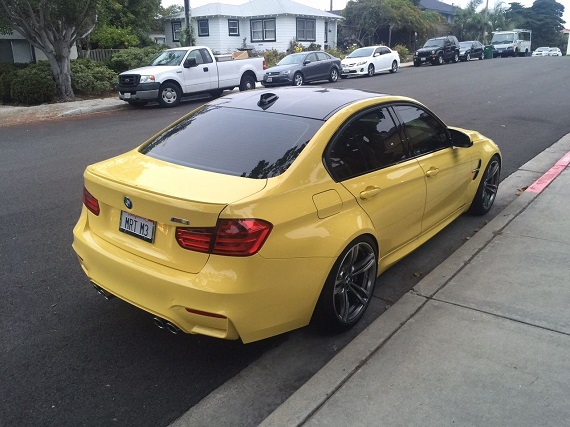 Being that this car is a 2015 and basically brand new, it should be no surprise that it looks brand new. We don't get much information from the advertisement, but there are a few warning signs that pop up. Outside of the not-particularly-informative description, there's some relatively minor bumper damage in front. But that wouldn't cause anyone to sell the car, so why is the owner parting with it after such a short ownership of a special ordered car? I'm not familiar with the long-term efficacy of ceramic paint systems like the one applied here, but they're supposed to be an extra layer of glossy clearcoat, effectively, and the outside does look pretty impressively glossy. Of course, that's all we see; no interior shots, no underhood shots. Why did the owner change out the springs so soon, too? Perhaps the track map stickers adorning the passenger rear window being to tell the tale. This car was heavily optioned outside of the Individual color, with M adaptive suspension, the 19″ M Double Spoke Style 437 wheels, Harman Kardon stereo, high gloss shadowline trim and a host of electronic gismos to make any tech savvy. The interior is one of the standard options, which to me is a bit strange, but then I didn't order the car. If I build up what I want on BMW's configuration tool, the total comes to about $67,000 – exactly the asking price of this used example – but I'd get the color combination that I wanted. Factor in some discounts available if you're a USAA member, and I'm not sure this M3 is that good of a deal for anyone. Like the Fire Orange example from the weekend, it's a neat color to see but it's so close to new and not discounted enough that I'd just opt to order my own.
-Carter