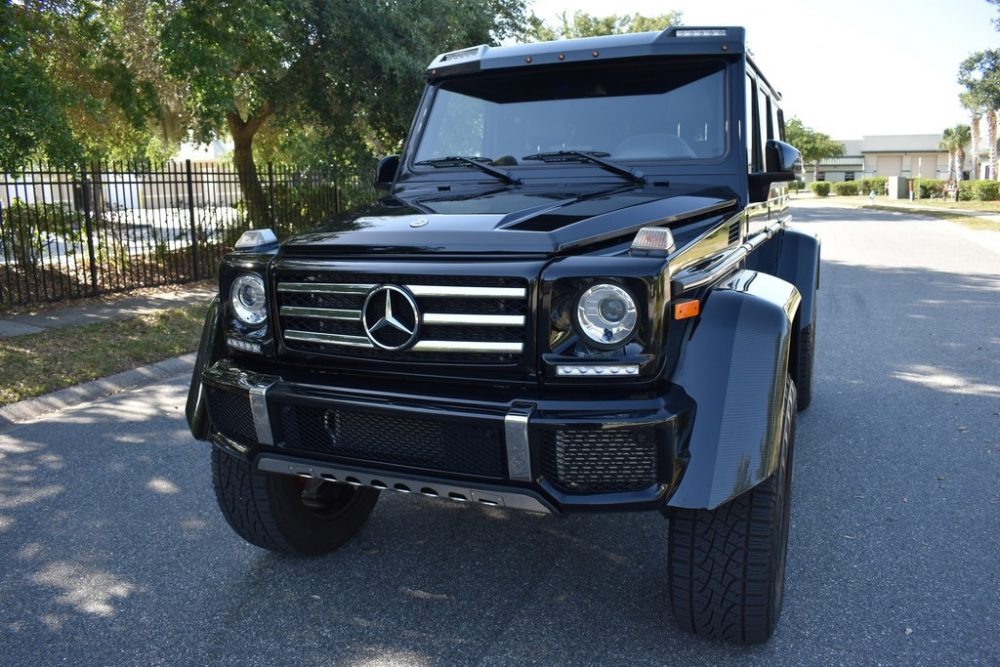 Hard to believe one of the craziest and most bizarre vehicles in the car world, let alone from Mercedes-Benz, is now over five years old. These made enormous noise when they first came out and despite only around 300 made, they really aren't hard to find if you want one. However, just because there are plenty on the market doesn't mean they are all that inexpensive.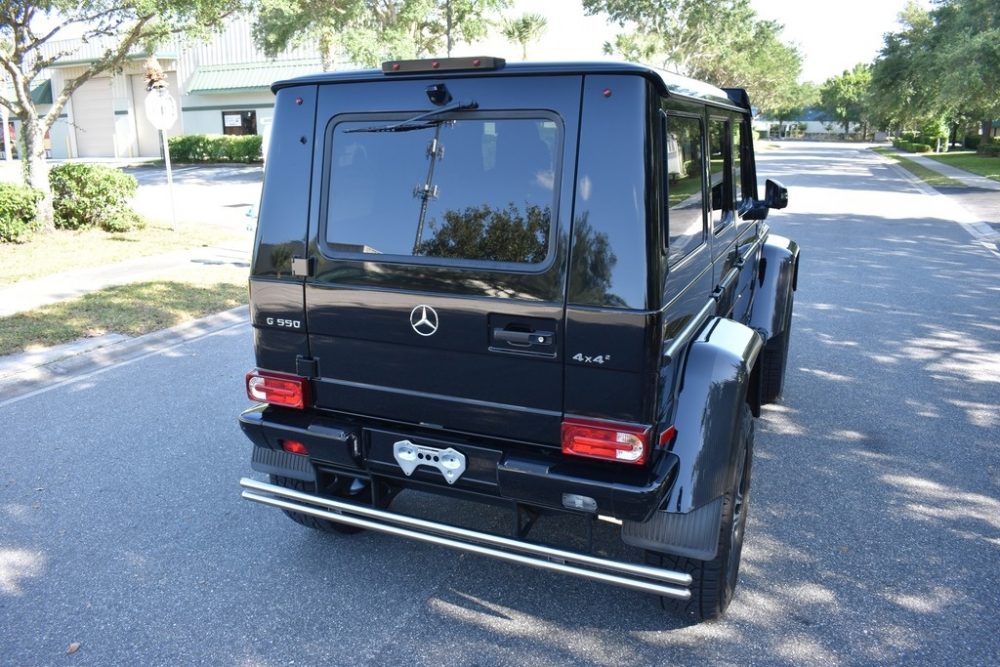 Year: 2019
VIN: WDCYC5FF0HX281099
Model: G550 4×4²
Engine: 4.0 liter twin-turbocharged V8
Transmission: 7-speed automatic
Mileage: 15,083 mi
Location: Orlando, Florida
Price: $199,999 Buy It Now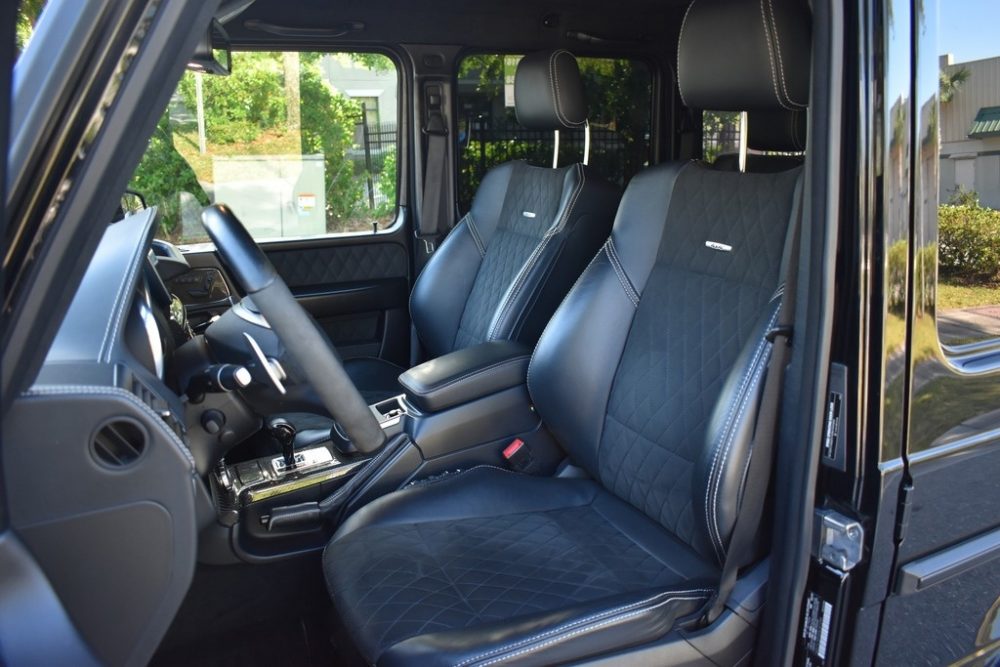 RED TAG = ROCK BOTTOM PRICE
PLEASE NOTE: RED TAG SPECIALS ARE FOR A LIMITED TIME ONLY. THE VEHICLE MAY BE SOLD LOCALLY. IN THE UNLIKELY EVENT THAT A VEHICLE WITH A RED TAG SPECIAL DOES NOT SELL BEFORE THE END OF THE SALE, THE PRICE WILL GO "BACK TO NORMAL." WE WILL NOT HONOR RED TAG SPECIAL PRICES AFTER SALE ENDS. RED TAG SPECIALS ARE FIRM LIQUIDATION PRICES.

WE CAN ASSIST YOU WITH ARRANGING LOW COST SHIPPING! CALL US FOR MORE INFORMATION! (407) 739-0607

THIS IS THE REAL DEAL

BEST DEAL ON A RARE 2017 MERCEDES BENZ G550 4X4² SQUARED WITH 15K ULTRA LOW MILES!

15K ULTRA LOW MILES!

BUILT WITH PORTAL GEAR AXLES AND MUCH LARGER WHEELS AND TIRES!

GREATLY INCREASED OFF-ROAD CAPABILITY!

INCREASED GROUND CLEARANCE AND SIGNIFICANTLY WIDER TRACKS!

TWIN TURBO V8 ENGINE!

416 HP AND 450 LB-FT OF TORQUE!

7-SPEED AUTOMATIC TRANSMISSION!

DUAL SPRING AND SHOCK DAMPER STRUTS WITH ADJUSTABLE DAMPING!

BLACK LEATHER INTERIOR WITH DIAMOND STITCHED ALCANTARA SEATS!

POWER OPERATED HEATED AND COOLED FRONT MEMORY SEATS!

POWER OPERATED SUNROOF!

NAVIGATION!

REVERSE CAMERA!

BLUETOOTH CONNECTIVITY!

THREE LOCKABLE DIFFERENTIALS!

FACTORY UPGRADED HARMON KARDEN SOUND SYSTEM!

HEATED REAR SEATS!

ABSOLUTELY GORGEOUS VEHICLE!

LET THE PICTURES DO THE TALKING!

ATTENTION: THIS VEHICLE IS LISTED FOR SALE LOCALLY AND MAY BE SOLD BEFORE THE AUCTION ENDS…IF YOU SEE THIS AD, THE VEHICLE IS AVAILABLE – PLEASE CONTACT ME DIRECTLY WITH ANY QUESTIONS: (407)-739-0607

IF YOU HAVE ANY QUESTIONS, PLEASE CALL ME DIRECTLY ON MY CELL AT (407)-739-0607

MONACO MOTOR GROUP

FOR MORE INFO, CALL ME ON MY CELL: (407) – 739 – 0607

BID WITH 100% CONFIDENCE – WE DO OUR VERY BEST TO TAKE PICTURES AND DISCLOSE ALL NOTEWORTHY BLEMISHES THAT WE FIND ON OUR VEHICLES – NO NEED TO WORRY! YOU ARE DEALING WITH A GOOD COMPANY THAT WILL GO THE EXTRA MILE TO MAKE YOU HAPPY!

Up for sale is this INCREDIBLE 2017 Mercedes Benz G550 4×4² Squared with only 15K ultra low miles! Unlike the standard G-wagon, the G550 4×4² was built with portal gear axles and much larger wheels and tires, for greatly increased off-road capability. It combines the body of a regular long-wheelbase Mercedes G-wagon with the portal axles and hub gearing of the much larger Mercedes-Benz G63 AMG 6×6. You will also find that the G550 Squared has greatly increased ground clearance and significantly wider tracks than the standard G-wagon. This vehicle stands out very much from the rest of the G-wagon lineup as it aims to combine the Humvee-like off road capability with sportscar level performance figures.
Additionally this vehicle features a twin turbo V8 engine capable of making 416 HP and 450 lb-ft of Torque, mated to a 7-speed automatic transmission. This vehicle also comes equipped with: dual spring and shock damper struts with adjustable damping; black leather interior with diamond stitched alcantara seats; power operated heated and cooled front memory seats; power operated sunroof; Navigation; Reverse camera; Bluetooth connectivity; Three lockable differentials; factory upgraded Harmon Karden sound system; Heated rear seats, AND SO MUCH MORE!!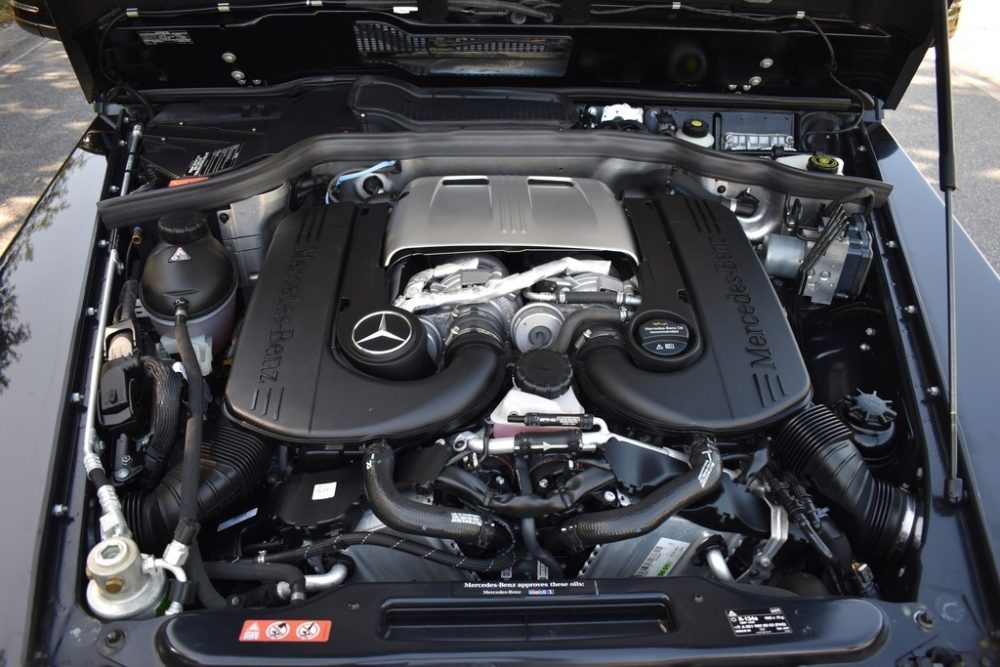 You see these from time to time, but I think this is one of those vehicles that everyone loves to look at but owning one is a different story. It won't fit in the majority of residential garages, and if you own a G550 4×4², you most certainly have a house with a garage. If you don't, then it isn't fitting in your parking garage either. See what I mean here? Even parking them at places is a giant pain if there isn't ample room on either side. Drive it to the mall or a restaurant? Good luck unless there are three empty spaces.
All that for these still to be worth $200,000 and above. This is one of the cheaper ones I've come across probably because it has a fair amount of miles, but still, this is a lot of money. If I lived in Montana or something and could actually use this, then maybe. However, if you have any kind of urban driving, this thing can quickly turn the day into a nightmare.
– Andrew