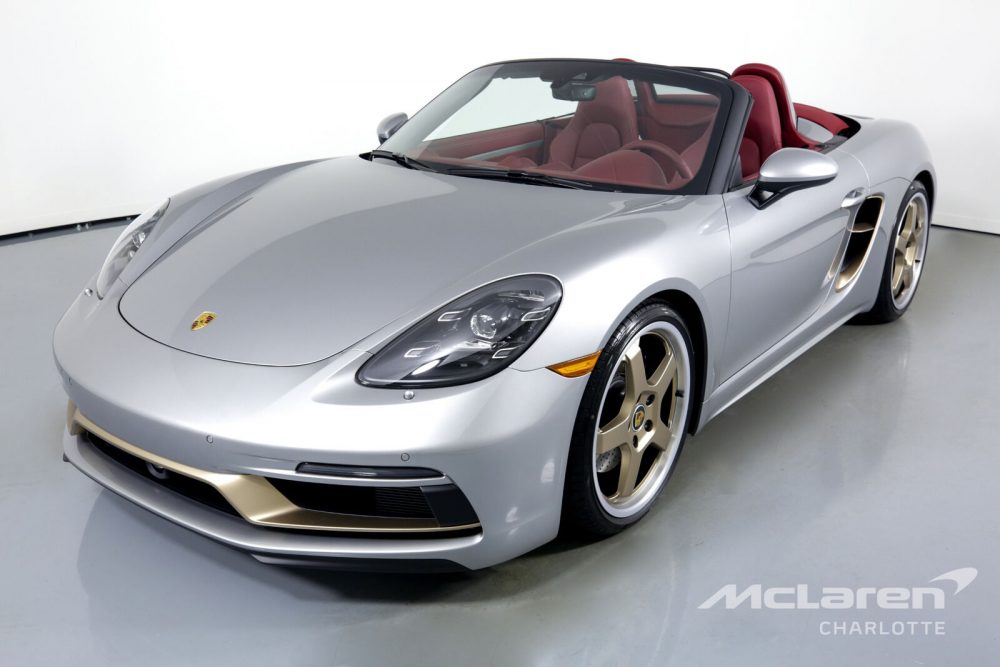 It is hard to believe that the original Porsche Boxster is turning 25 years old in 2022. When the concept was pitched back in the mid-90s, lots of people thought it was going to be a modern 550 Spyder, but in reality it was more like a 914. Performance was extremely lacking and the styling that was shown during the concept ending up getting beaten to death by the engineers and accountants when it was all said and done. Now 25 years later, the Boxster is a serious performance car with the GTS 4.0 and the 718 Spyder hatched by the GT department. Of course, Porsche never being one to pass up a special edition, they launched the Boxster 25 Years. Yeah, that is the name.
Just 1,250 will be made in either GT Silver Metallic to mimic the original concept, as well as Jet Black and Carrara White. All have the gold wheels and gold accents, and the interior can either be black leather or the Bordeaux Red. From there, go nuts with your typical 718 options – although the carbon buckets aren't offered. For the powerplant, they went with the 4.0 from the GTS, not the 4.0 from the GT4/Spyder. Still, that is absolutely nothing to complain about with 394 horsepower and 309 lb-ft of torque, along with a 0 to 60 mph time in 4.1 seconds with the PDK gearbox. That is really fast. Starting price is just over $100,000, which is just $2,000 more than the 718 Spyder if you can believe that. This example up for sale in North Carolina with just 36 miles? We might have a new leader in the clubhouse for mark-up.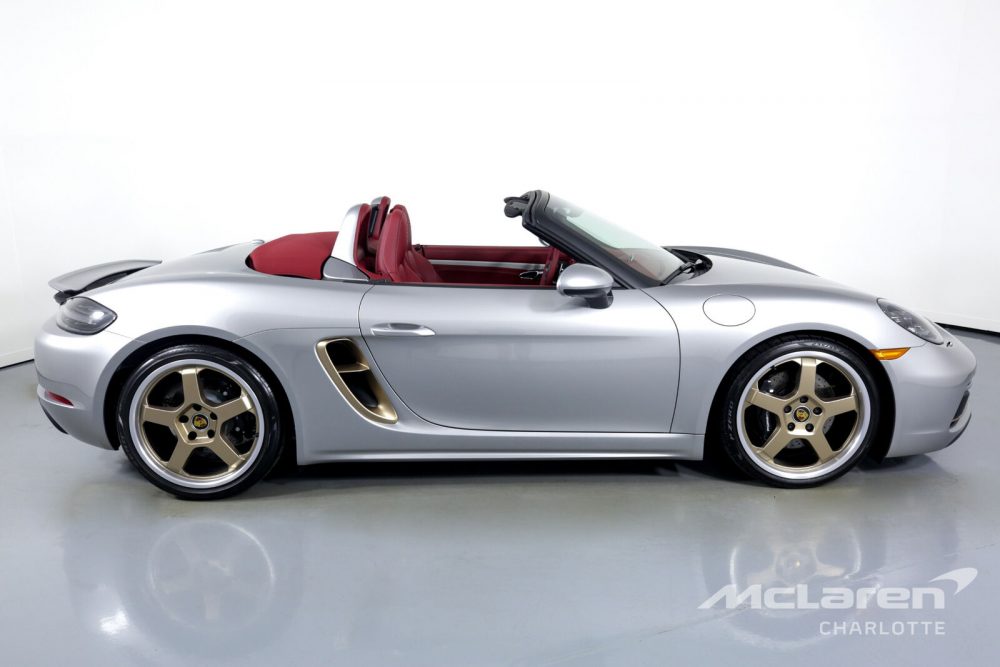 Year: 2022
Model: Boxster 25 Years
VIN: WP0CD2A89NS228155
Engine: 4.0 liter flat-6
Transmission: 7-speed Doppelkupplung automatic
Mileage: 36 mi
Location: Charlotte, North Carolina
Price: $234,996 Buy it Now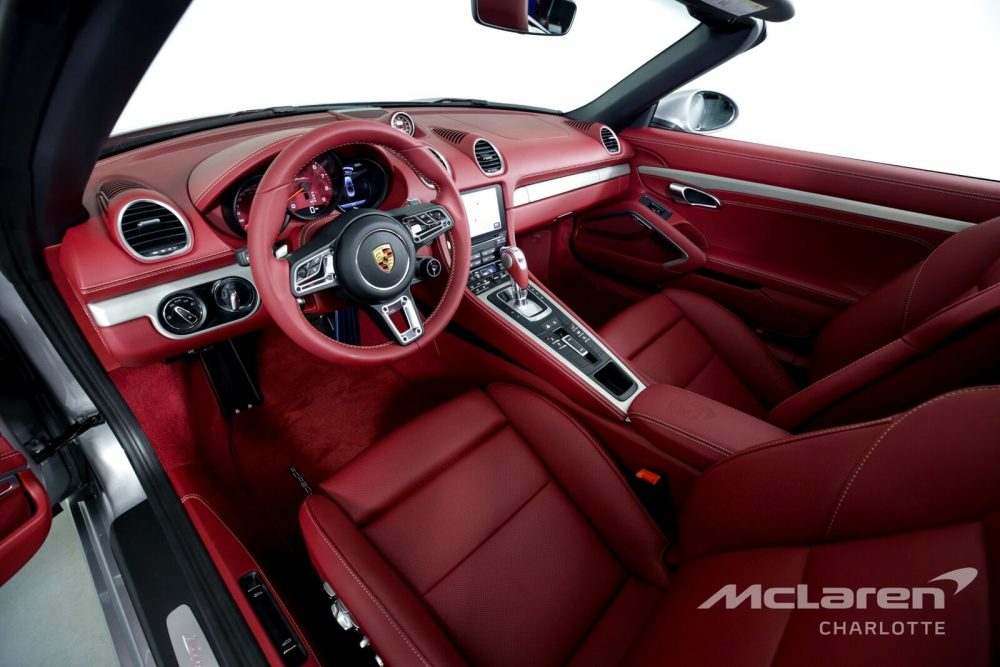 – TRANSMISSION: 7 SPEED PORSCHE DOPPELKUPPLUNG (PDK) $3,730
– 18 WAY ADAPTIVE SPORT SEATS PLUS $3,030
– PREMIUM PACKAGE – LIGHT DESIGN PACKAGE, LANE CHANGE ASSIST (LCA), PORSCHE ENTRY & DRIVE, POWER FOLDING EXTERIOR MIRRORS, LUGGAGE NET IN PASSENGER FOOTWELL, BOSE SURROUND SOUND SYSTEM $2,820
– PASM SPORT SUSPENSION – LOWERED 20 MM $290
– POWER STEERING PLUS $280
– CLEAR TAILLIGHTS $740
– HEADLIGHT CLEANING SYS COVERS IN EXTERIOR COLOR $300
– SUPPLEMENTAL SAFETY BARS IN EXTERIOR COLOR $640
– VOICE CONTROL
– BURMESTER HIGH END SURROUND SOUND SYSTEM $4,690
– ADAPTIVE CRUISE CONTROL (ACC) $1,670
– DASHBOARD TRIM PACKAGE IN LEATHER $1,610
– EXTENDED DEVIATED STITCHING INTERIOR PACKAGE $3,230
– VEHICLE KEYS PAINTED & 1 KEY POUCH IN LEATHER $540
– SMARTPHONE COMPARTMENT $560
– SPORT CHRONO STOPWATCH DIAL IN BORDEAUX RED $420
– SEAT BELTS IN BORDEAUX RED $360
– CENTER CONSOLE LID W/PORSCHE CREST $340
– INNER DOOR SILL GUARDS IN LEATHER W/DEV STITCHING $760
– STEERING COLUMN CASING IN LEATHER W/DEV STITCHING $610
– SPORT SEATS PLUS BACKREST SHELLS & TRIM IN LTHR $1,770
– INSTRUMENT DIALS IN BORDEAUX RED $700
– VENTILATED SEATS $740
– COMPETITIVE LEASE AND FINANCE OPTIONS- EXTENDED WARRANTY AVAILABLE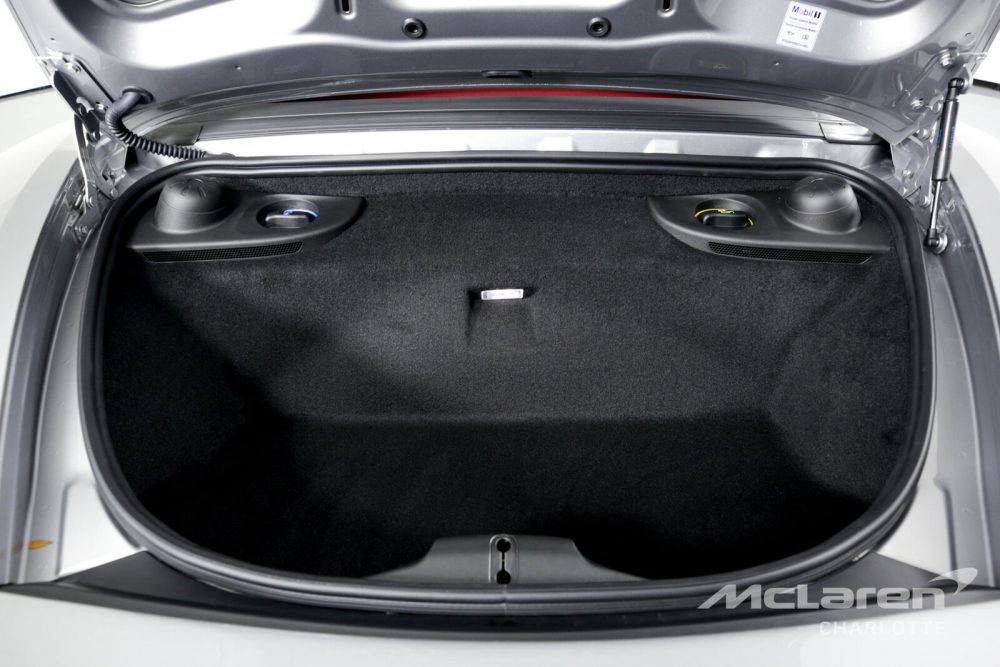 This one was not stingy on the options. Over $30,000 in boxes were checked, including the $3,730 PDK gearbox in place of the standard 6-speed box. That means the sticker was probably around $135,000 all-in with everything. Why would I guess that? Well, the asking price of this dealer is $234,996. Let me say that again. $234,996. For a Boxster with a base price of $101,000 and a production number of 1,250.
Are these collectible? Sure. No doubt about it. Are they worth paying $235,000? I don't need to answer that. These is just another dealer playing games that snagged up a car that was for sale and since they aren't a Porsche dealer, fair game on the price. You would have to be totally insane to even consider this car, but who knows, I've certainly seen crazier.
– Andrew