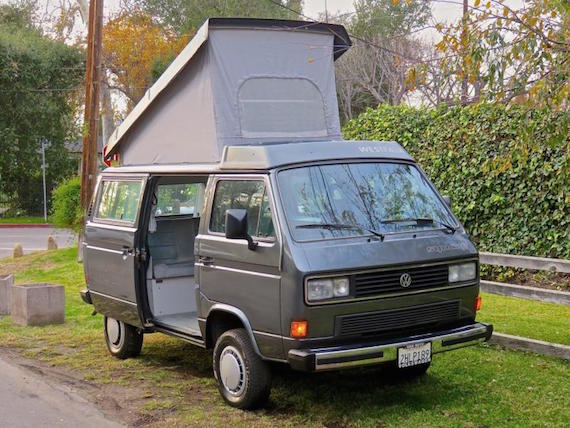 Like the spotting of the Ivory-billed woodpecker decades after it was declared extinct, we have a Vanagon Syncro Westfalia today that is in nearly perfect, all-original condition. The 4WD Westies are rare enough, but nearly every example has been well used, with the nicer ones having undergone swaps and restorations (often by the great but pricey GoWesty guys). This example is the only one I've seen that spent most of its life in a garage and has never gone camping. Little items such as the sink sticker and vinyl drip tray cover are still intact, as this was apparently just used as occasional transportation by an older lady for 17 years, then parked after a small fender dent.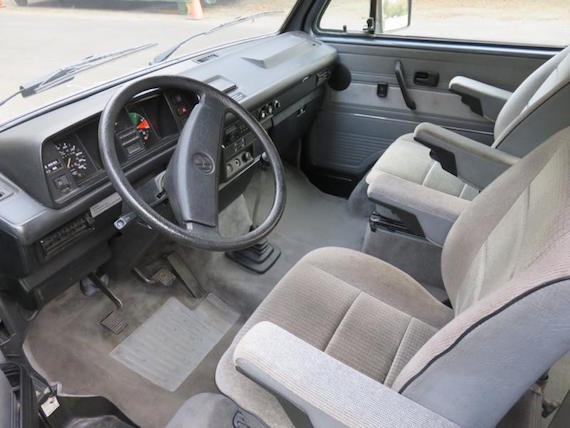 Year: 1987
Model: Vanagon Syncro Westfalia
Engine: 1.9 liter flat-4
Transmission: 4-speed manual
Mileage: 29,000 mi
Price: $50,000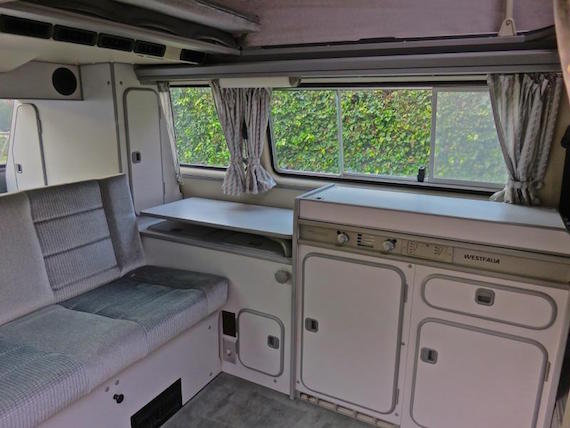 1987 Syncro Westfalia w/ 29K original miles Price: $50000
I bought this Syncro from the original owner at the end of 2014. I have the original signed pink slip and bill of sale. It had been garaged for the last 10 years as the owner was no longer able to drive. It was parked after she took a turn too soon and dented the fender behind the sliding door. Sound familiar? The van was bought new at VW of Van Nuys in the San Fernando Valley where it has spent it's entire life. None of the cabinets, refrigerator, sink or stove have never been used. The sink still has the sticker in it. The stainless drip tray still sports the blue vinyl cover. The spare alloy wheel has never been mounted and the Michelin man is still intact. The original pop top canvass could pass for new except for one stain. The pop top seal needs to be replaced. I drained the old gas and fired her up. Let it warm up, and then changed the oil. As you can imagine it drives like a new van. These vans go for up to 100K once they have been restored and all of them would have at least 100K more miles than this van has. You can only be original once. Please leave your number and I'll answer any questions you might have. We're going to keep our beloved '82 Diesel Westy and let this one go to a good home. I have plenty of pics here:http://s90.photobucket.com/user/68fish/slideshow/Syncro
You won't find another Syncro like this one! Thanks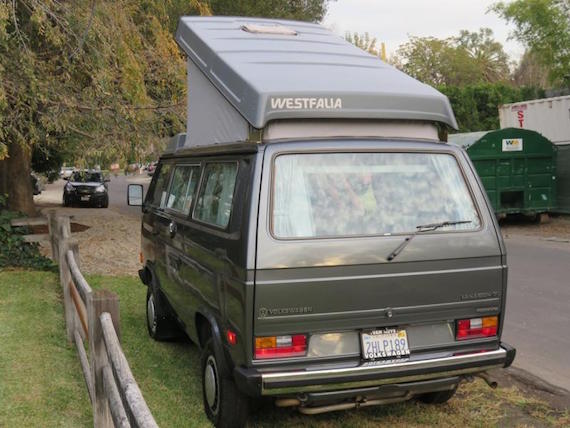 It's hard to know what to do with a find like this. Do you grab it and give it the use it was designed for but has never enjoyed? If you do, you can always head to GoWesty when it needs some love down the road. Or do you throw it in a climate-controlled garage, counting on it as the best investment-grade Volkswagen out there? While I'm normally inclined to encourage proper and frequent use of all awesome vehicles, here I find it hard to overlook the unicorn status. There are enough Syncro Westies out there that you could find a very nice one to cruise the planet with. This unused example might as well stay in its pristine condition so that GoWesty can use it as an archaeological example to base their restorations on.
Whatever direction the buyer takes, $50k is in line with the condition and originality here, and the seller should get full asking price.
-NR