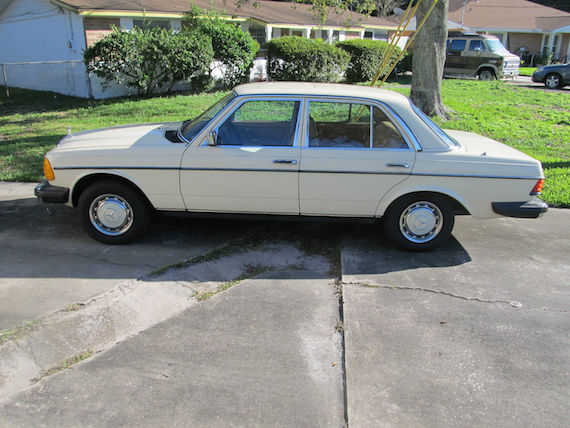 Last week I wrote up a very clean, well-traveled BMW 524td, and commented that its looks and efficiency might help it supplant the Mercedes-Benz W123 diesels as my stinking and smoking cruiser of choice. While I did like that car, I think I'll keep my E28s loud and fast and leave the highway trundling to the Benzes, especially when they can cover mileage like this one. Having spent its 33 years with a single owner in Florida, it's covered an incredible 432k miles. Everything about is a testament to why these are some of the most revered automobiles in the history of the machine. Top Gear may have shown the indestructability of the Toyota Hilux, and I'm of that tribe as well, but holy cow these things are incredible. 80s BMW interiors rarely look like this with a quarter of the miles. With no reserve and a great history, it's a fun idea to think of DDing this intrepid traveler in pursuit of a million miles.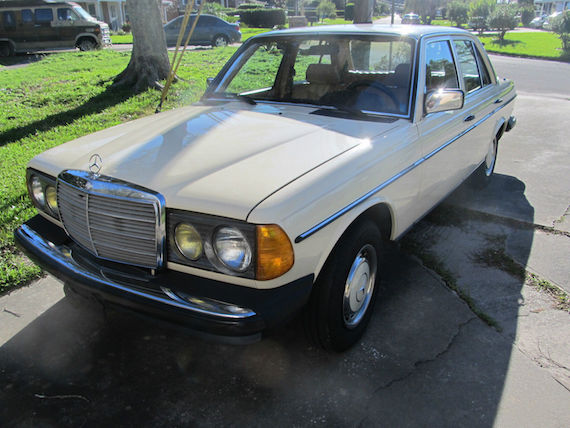 Year: 1981
Model: 240D
Engine: 2.4 liter inline-4 diesel
Transmission: 3-speed automatic
Mileage: 432,480
Price: No reserve auction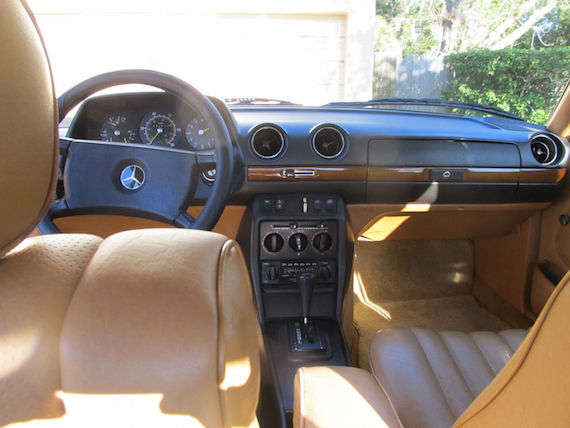 \
You are bidding on a 1981 Mercedes 240D. The NADA High Retail Value for this car is $10,050.
This is a one owner Florida car. NO RESERVE! I am selling this car for my father in law who is the single owner and bought it brand new in 1981. We listed in previously on ebay in 2011, when it had some engine trouble but ultimately my father in law could not sell it after a nephew said the car was "part of the family" so he had the engine overhauled (see receipt picture).

This car has been a minor source of conflict between me and my father in law for years. My father in law insisted on always taking it to the Mercedes dealership for service even though it was 20 plus years old. It wasn't until the Mercedes dealer told him to take it to another mechanic who previously worked at the dealership so he would not pay those very high dealer labor hours. This and the pictures show you the level of care this car has received.

This car has…

· the original paint
· never been through an automated car wash
· never had soap on it
· always wiped down after long trips
· always been garage kept
· never been smoked in
· a custom car cover
· an original radio that works (cassette player does not function)
· Manual windows
· ice cold A/C
· functional sunroof
· an automatic transmission
· Michelin tires with very good tread
· the original tool set
· the original owners manuals
· the original wheel covers
· been treated like royalty

1. Everything about this car meets the NADA high retail criteria for the $10,050 except cruise control does not work, clock does not work, vacuum system broken. There are some very minor dents across the hood from a tree branch fell on the car in 1988.

2. The car has 432,480 miles (Engine Overhaul at 411,211 miles). This may seem like a lot but consider this quote from the ehow website "the 240D has some of the manufacturer's highest reliability ratings due in large part to an easy-maintenance design strategy, sturdy components and thick metal body. A Greek man by the name of Gregorios Sachinidis holds the record for traveling over 2.8 million miles in his 240D between 1976 and 2004. The mechanical specifications of the 240D did not change throughout the vehicle's life in the United States."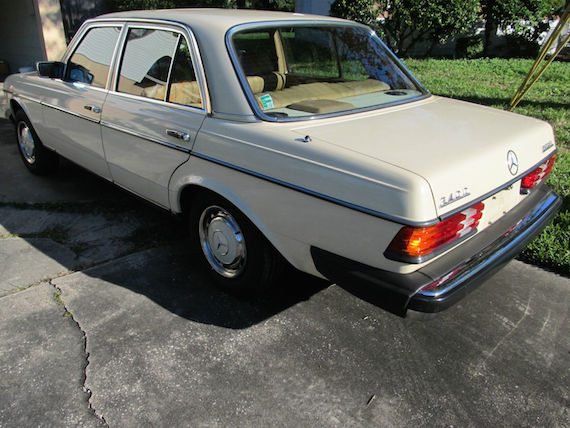 I'd say his first point quickly removes it from the high retail level, and regardless of the make or care, any car with nearly half a million miles should be approached with care and an expectation of significant maintenance efforts ahead. That said, it is remarkably clean and clearly loved, and the miles serve as a strong endorsement of its resilience. It's not easy to get this kind of class for less than $10k, and this 240D emphatically reasserts the W123 as my classy 80s diesel of choice. I wish we could hear about where it goes next.
-NR