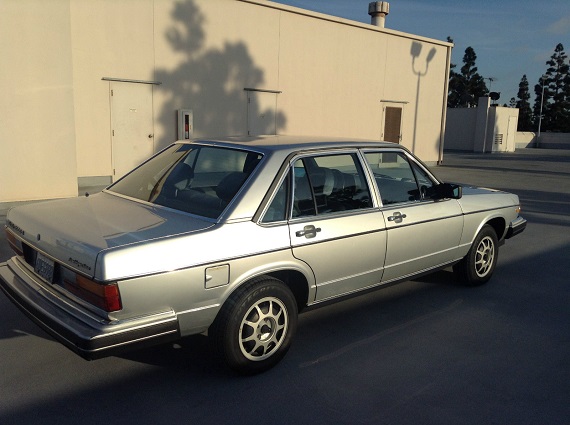 If you think that the early BMW 7 series – the E23 chassis – is a rare sight these days, they're downright common compared to C2/Type 43 Audis. The first "5000", in the rest of the world this was the Audi 100 and 200 in turbocharged form. The C2/Type 43 replaced the innovative but not particularly reliable or quick 100 and was a major step towards building the modern Audi. It introduced not only the familiar inline-5 to the large family sedan, but also turbocharging and even diesel motors to Audi's lineup. However, the platform never saw the introduction of the quattro all-wheel drive platform – all of the Type 43s were front drive, and a fair amount were automatic. By 1983, the writing was on the wall – Audi had its new C3 platform full of more innovation and trumped aerodynamics – parked next to the C2, you could see the resemblance but the new car looked downright futuristic compared to the box on box design of the C2. Though the best part of a million of these sedans were produced, they're one of the rarest Audis to see stateside these days – depreciation, rust and time have taken their toll. Properly cared for, though, they're still a nice looking large sedan and a treat to see – especially in this condition: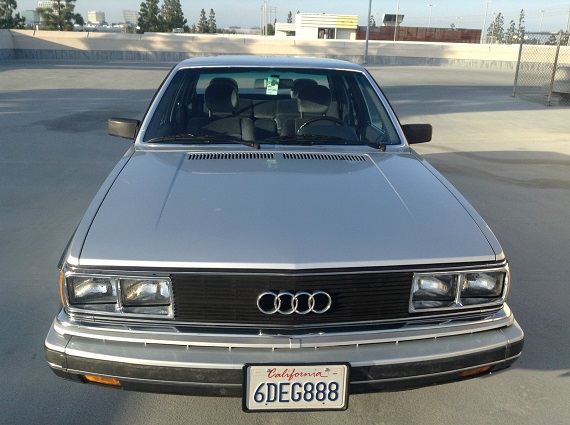 Year: 1983
Model: 5000S
Engine: 2.1 liter inline-5
Transmission: 5-speed manual
Mileage: 33,100 mi
Price: No Reserve Auction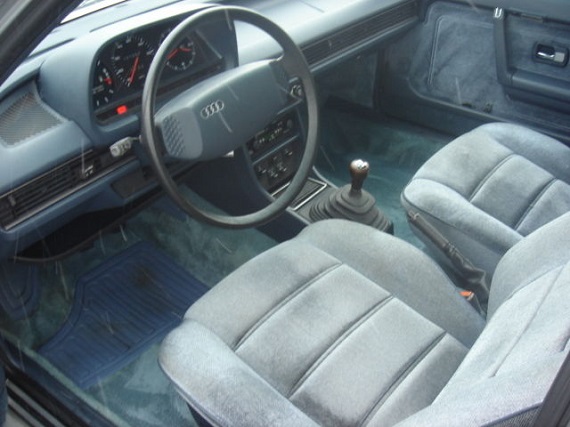 1983 Audi 5000S. Rare 5 speed Manual with "Upshift Light" indicates precisely the most propitious time to shift gears to achieve great fuel economy. Low 33,100 Miles. Power windows, Ice cold A/C, Cruise Control.

Excellent Condition. Runs, drives and shifts like factory new. Handles perfectly. Brand new OEM Boge shocks/struts. Brand new Battery. Interior like Brand New. No cracks on the dash. All interior lights working. Seats like new. Paint glossy and like factory new.

Very minor rust on rocker panel, passenger door, and front wheel wells. Minor dent on rear quarter panel under tail light corner. Car originally purchased from Chicago but was clearly garaged. Power door locks not working. Passenger side front power window not working.

Please call Brent at 408-821-8324, email or text if further questions or if you need more pictures. I have a ton of pictures. Just email me and I will send them to you or ask me for specific pictures.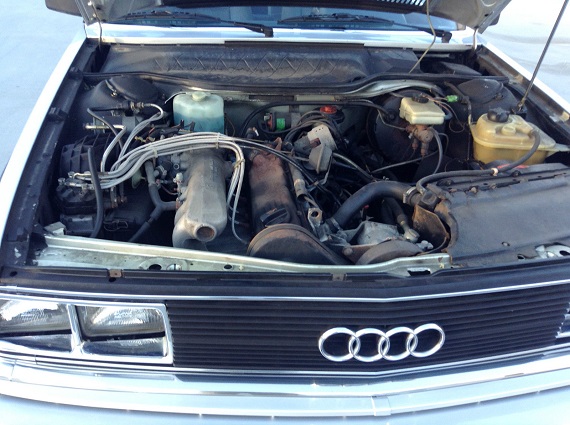 The combination of the front drive and fairly anemic 2.1 inline-5 won't excite thrill seekers, but because it's got that 5-pot under the hood, basically any of the later motors will fit in there. It's especially rare to find the 5-speed manual transmission. The seller's commentary regarding the upshift light makes me laugh a bit; my 1986 Golf had the same feature and I remember it ticking me off to no end. The computer wanted you to upshift as soon as the tach broke 1,200 RPM! That meant you could never go faster than 30 m.p.h. (gear limited) and most snails left you in their wake. Condition on this car is one of the best I've seen, even taking into account the rust. If you want this car to last, you'll need to address that quickly. The bolt pattern on the wheels is 4×108, meaning with some work you could fit the later brake upgrades if you were so inclined. Were it me and I wanted to be just that extra amount different, I'd find someone building an S2 clone and grab all of the suspension, brakes, wheels and engine from a Coupe Quattro and throw it in this package. The Speedline wheels would be a neat match for the boxy look of the car and you'd surprise many turbo owners with that high-revving 7A 20V engine. But it would be equally cool to have this remain a clean original example – one of the few left still rolling! Either way, this car isn't likely to get very expensive – a cheap, fun project!
-Carter