We've got some great Mk1 VW-love going on at GCFSB right now, so best to keep it going with this impressive 1981 Caddy. As previously noted, my first car was a 1981 Rabbit Pickup, and I loved it to death (literally). Hilarious nimble and surprisingly useful, I would own another one in a second. If I couldn't go for the extreme dream (mid-mounted 2.0T with AWD…), this Caddy would be the way to go. This is no rebuild swap – it's housing a 2009 TDI that was inserted into a 60k mile Caddy and with custom plumbing and gearbox. The septuagenarian seller asserts it's scary fast, but he's done in a way only a 70-year old could/would: it looks completely stock. Unassuming and worn original red paint, some normal VW wheels, and a camper shell hiding a diesel that can probably handle GTIs (or more) all day every day. No sparkles, no dubs, not even a duckbill spoiler. Just a kickass little truck that can haul ass and get 50mpg.
1981 VW Rabbit Pickup with TDI swap for sale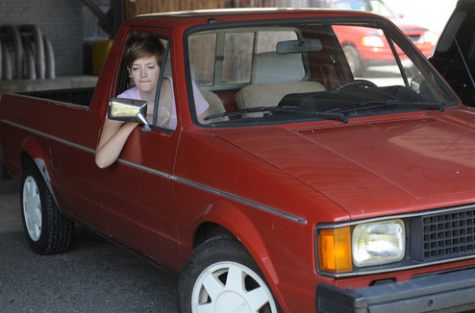 A thorough description:
I have placed at auction my excellent, stock appearing, but highly modified 1981 VW Rabbit Pickup ("caddy"). It is similar to the tan 1981 that recently sold on eBay for $12,000. This exceptional truck wears its original red paint–nothing better for knowing exactly what you're getting. This rust-free VW is just a bit more oxidized than the other one and the interior not quite as "luxuriously deluxe" as that one, but in most other respects this VW is superior. Judge for yourself. Let me begin with a general description and then move to specifics. The mileage on the body is estimated at 60K–true mileage unknown. Continue to read–it gets better.

This pickup has a new (as of 2009), not rebuilt, German 1.9 turbo diesel engine. Unlike the recently auctioned tan model, this one is both turbocharged and inter-cooled and that, friends, makes a world of performance difference. Like the other one, this VW also has a five-speed transmission but this transmission is new—assembled by hand from the racing parts bin of a leading supplier of VW racing transaxles with all new racing quality gears. The gear ratios were matched to the torque characteristics of the 1.9TD engine and the final drive ratio is taller increasing the ease with which this exceptional vehicle gets down the freeway (lower cruising rpm). And the clutch and struts are new as of right now.

In addition to being both turbocharged and inter-cooled, my "caddy" is air conditioned and has a "topper" or "shell" color matched to its VW 14 inch white rims mounted with nearly new tires. The VW also features a Sirius capable radio. The external mirrors are chrome Porsche units. The bed has a sprayed-in liner. The seats are covered with top quality sheepskin. The seats themselves are new.

A couple of other distinctions between this VW and the tan one recently sold (which, incidentally, is also an exceptional vehicle and well worth the selling price.) As all of you diesel fans know, the injection pump is critical here. When we were building this truck, I sent the pump to Giles (http://www.performancediesel.ca/performance.htm) in Canada who may be the word's leading diesel pump builder. He matched the pump to the engine and specifically to the turbo plus water to air intercooler and even to the new injectors which Giles procured for us to make sure that the injectors and pump were appropriately matched. This was VERY expensive but well worth the investment. This new German 1.9 engine, new performance injector pump, new turbo, and custom water-to-air intercooler system represent the highest quality street performance equipment that money can buy.

In the process of building this truck (2007-2009) I learned a lot about inter-cooling. I am no expert but Turbo Lab folks of Orem, Utah (http://www.turbolaboratories.com/) are experts and they did all the work. In fact the cost of inter-cooling this little truck alone would be about half what the lucky buyer of the tan VW paid. If the serious bidder needs to verify the work Joe did on this VW pickup I suggest you contact him directly. He is my friend and a hard working businessman and technical specialist so don't waste his time but I don't believe he would mind taking a short call. Only contact him to verify what I am saying but not to explain everything he did. I can tell you most of that and invite your written questions. This is a serious vehicle and you deserve good answers to your questions. Turbo Lab does excellent aluminum fabrication work and there is a lot of handiwork in this truck. Because the caddy has a cast aluminum, large capacity oil pan, Joe worried about the possibility of rock damage on the road. So he custom fabricated a thick aluminum rock guard that protects the pan. It is easily dropped for access to the drain plug.

The exhaust work was the design by an exhaust specialist in Orem, Utah who does his own mandrel bending work. Rather than neck down the system when it exists from the down tube, it was decided to retain the same 2 ¼ inch tubing all the way from the turbo outlet, to down pipe, to the new muffler and out, exiting under the rear bumper. This was all custom work. At first there was concern was that the 2 ¼ pipe might be too big. But the 1.9TD puts out a lot more exhaust than a 1.6NA or even a 1.6 turbo engine. The exhaust is just one of many reasons why this truck is such an awesome street performer.

The new drive train and general mechanical renovation was done in 2009-09 by Thomas Jencks, a hard headed German, VW factory certified, mechanic now with his own garage in Alpine, Utah. He removed the old 1.6 NA diesel and transaxle, assembled and installed the new 1.9TD engine and transaxle conversion and set up the turbo intake and exhaust (down tube) but the vehicle was taken to Turbo Lab for all of the turbo and intercooler work including the aluminum ducting. But Thomas went over the entire truck replacing everything that looked the slightest bit used or untrustworthy. The list is long. You can also talk to Thomas (write me for his number). Thomas is cautious, methodical, and detail-oriented and his work shows it. An illustration of his craftsmanship is that there is built into the front bumper is a single electrical 110 female plug that in turn is wired to a built in slow charger for the battery and to a block heater. For anyone from a cold part of the world, this means that you just plug it in at night and start it in the morning—no fuss, no worry, no wear and tear.

So that is my description. Now a bit about who and where I am and why I am selling. I am a retired university prof who decided to volunteer at the Human Rights Council in Geneva, Switzerland. We've been here six of an eighteen-month assignment. The VW Rabbit pickup is at my home in Provo, Utah about an hour south of the Salt Lake International airport. I have a $15,000 bill I am facing for a new roof on our condominium and for a replacement heating/AC system. I am selling the pickup because I am not using it and this bill won't wait forever. And to be honest, at 70-years-young, this little pickup is too much for me to handle. It is seriously fast. It may look like your grandfather's old "caddy" pickup (not really) but it blows the doors off everything but Porsches and Vettes. And still gets 35 to 50 mpg depending on how heavy your foot is.

When the truck was finally finished was exactly a couple of weeks after my wife and I moved to New Zealand. The only person to drive this truck after it was built is our daughter, Margaret. When we left for Wellington, I gave her the truck. She is a professional photographer and drove the truck to wedding shoots with equipment in the back. We had the pickup delivered to her by carrier to her home in Boston. The truck was never driven much nor hard nor pulled anything. But when she moved her business (http://www.unusuallyfine.com/#/page/86b9/sara–dave/) to Brooklyn (NYC) and wisely decided to return the truck to me, again by carrier. I was in the USA briefly in November and drove it twice for a total of perhaps five miles. Then we left again for our new assignment with the United Nations in Geneva. We just have not been in the USA very much of the past four years. Hard to estimate exactly how many miles the pickup has been driven since the rebuild—I am going to guess at less than 2,000. I might be off because it could be 1500 or 1000–but that is the range.

I have a long history of buying and selling on eBay. I like good, clear communication. (You may use donholsinger@gmail.com) I want you to be sure about this truck before you buy it. It could be used as work truck or a daily commuter. I just don't want you to be surprised. It is not a new vehicle and whoever ends up with it should be a person who has some mechanical sophistication and wants a vehicle to interact with not just drive only for the sole sake of transportation. Buy a Tacoma for that. Because I am in Geneva, you are going to see only one photo at first. Then when my Provo friends are able to get more additional photos, I'll post them, too. I'll keep this on eBay to give you time to think, plan and get ready for it. When the bidding is finally over, I'll need a $1,000 non-refundable deposit by PayPal or bank transfer within 48 hours or the sale is off. The full sale price will be due from one week of sale—no exceptions. Let's keep this sale a pleasant experience for all sides. Transportation is the responsibility of the winning bidder but again we'll help in every way possible. Obviously the truck can be loaded onto a car carrier, covered or open, and delivered almost anywhere in North America.
Like the girl in the lead photo, this awesome Caddy is unassuming yet attractive. For reasons listed on the ad (paint rub, etc) the price has been reduced to a Buy-It-Now of $10,500 and bidding is hot with 17 bids pushing it to $6,400 for now. The reserve is somewhere below the BIN, but anything under $10k seems very reasonable. The seller references a similar, non-turbo diesel swap Caddy which recently sold for $12k, and the 172k-mile TDI swap Caddy I wrote about in January had a BIN of $9k. With a new engine and just 60k on the chassis, this truck is going to be fun for decades. It's great to see these keep coming up because it makes me think I might have a chance to poach one some day.
-NR