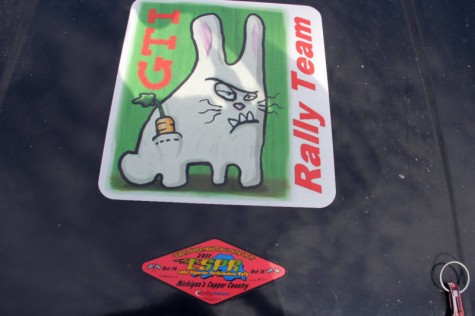 This little Neuspeed Cup rabbit was up for sale for years ago with an ask of $3,000. Back then it was a track racer seeing time in SCCA events under the Improved Touring B class. The car comes with an SCCA log book. Before then it was a Neuspeed Cup car. Since its time on the track it looks like it has seen some use off road in the rally world.
The current owner doesn't list these items, but online you can find that when the previous owner set it up for its SCCA events car was setup with:
* 1.8 liter IT-spec JH, .040 over, match-ported motor
* K&N drop-in filter
* Techtonics 4-1 race header
* Eurosport/Dynomax exhaust system
* Quaife limited-slip differential
* Bilstein shocks & strut inserts
* Shine Racing coilovers (600 lbs fr./400 lbs.rr)
* Shine Racing rear sway bar
* 28mm Neuspeed rear sway bar
* Neuspeed lower strut bar
* poly motor, tranny & suspension mounts
* 14×6 BBS wheels
* full Autometer gauges
* Autopower 6-pt. cage
* Sparco Pro 2000 seat
* Sparco pedals/shift knob
* Momo model 78 suede steering wheel
It isn't clear if all these things remain, at the very least the road racing suspension bits have been swapped for taller pro rally springs. It appears that the car has seen some hard use, but still looks to have some life, mileage is listed at just under 100,000. The car looks to have had a great life, not too many cars get the chance to spend time on the track and in the forest and still have a chance to serve a new owner at 28 years old. Hopefully a new owner will take care of the car and let it write a few more chapters. Also who doesn't love that hood logo?
Bidding is up to $3,750 with no reserve.
~Evan