You just don't see many of these cruisers, and I am not sure I have ever seen one with a manual transmission.  Lovingly restored this looks like a great 7 series.
Update 3.22.2012: Note in the comments that while the car sold via eBay, it was a non-paying bidder. If you're still interested in the car, try leaving a comment for the owner below. -dc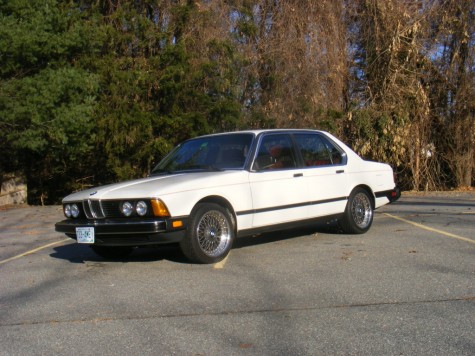 From the seller –
"1983 BMW E23 733i 5 Speed

As a long standing BWM lover I have been a member of the BMW Boston and White Mountain Chapters for over 10 years.  I'm an instructor for the HPDE High Performance Drivers Education program run by these chapters and have owned over 2 dozen BMW's.  I  now own this 733i being offered for sale along with a 2001 Z3 M Coupe that I'm preparing for street and track use.  My daily driver is a Saab 9-5.  When I started looking for a car like this my first interest was to acquire an older 6 series.  But with a wife and two boys the idea of 4 doors became appealing.  I also grew to love the lines and classic look of the e23.  Then when this pristine example with complete documentation, a one owner garage queen, 5 speed , with a unique color combination came up for sale, I acted immediately.

The history of this car is completely documented.  It was originally ordered and purchased by a gentleman Louis Randle Jr. from Dryer & Reinbold in Indianapolis IN on March 15th 1983 for the price of $32,308.40.  Mr. Randall apparently was somewhat of a collector with about 50 cars in his stable.  He kept this car in his environmentally controlled garage and used it occasionally for his personal fair weather use.  Throughout his ownership he cared for the car meticulously with all scheduled service performed at Dryer & Reinbold.  In June of 2009 Mr. Randle began to liquidate his car collection in preparation to move from IN to CO and the car was sold Russell Ault a dealer in the area, the mileage at this time was 68,120 original miles.  Due to the economy at the time the car did not sell for the asking price which was north of $10,000.  I discovered the car and purchased it on Feb 22, 2010, with about 68,500 miles on it.  As a condition of the sale I asked Russ to install a Posi rear end to replace the open differential in anticipation of the drive home from IN to NH in Feb.  I flew in and drove it home. The car came equipped with the original 14" wheels and all season tires which are still with the car.  During the ride home I encountered a few snow squalls.  This is the one and only time the car has been driven in the winter.  Surprisingly the car handled it surprisingly well, was completely comfortable and a joy to drive on this 10 hour trek.  Upon arriving home I had the car inspected and went over it with a fine tooth comb.  What I found was even better than I expected.  The car had not a spec of rust anywhere; underneath looked as good as the exterior.  The only rust I could find was some minimal surface rust on the rear valance mounted under the bumper facing forward.  This was obviously a result of being hit with particles picked up by the rear tires and thrown back.  I also found that at some point new Bilstein shocks had been installed on all four corners along with the brake pads all appeared to be brand new.

All the rubber bushings, hoses and so forth were in equally impressive like new shape clearly the result of being stored indoors its entire life and being used occasionally.  Immediately after purchasing any car I perform a complete fluid change switching over to Red Line synthetic the engine, and transmission fluid. The differential had already been done at my request prior to purchase.  I also performed the required oil spray bar nut upgrade and while I had the valve cover off replaced it with a refinished one painted wrinkle black.  One thing I found during the long drive was that the front seats although in perfect condition did not provide adequate support for my bad back.  To remedy this I purchased a pair of Recaro seats from a BMW 320i along with brackets to adapt the seats to the stock sliders / height adjusters.  I had the seats recovered in soft high grade vinyl that matches the stock red interior quite nicely.  The cost for the seats, brackets and recovering was over $1800.00.  I drove the car throughout the summer and fall then took it off the road last winter.  There were a few things that needed attention in addition to the stereo system I installed.  The Hydraulic Brake booster unit was starting to weep and with over 70K miles on the original fuel pumps I decided to install new BMW replacements.  I also replaced the rear valance and with a new one from BMW, added a sport steering wheel, and new coca floor mats.  The car originally came with a dealer installed CB Radio which is still with the car as a collectable which I removed when I installed the stereo system described below.  The wheels described below where put on.  The car also had a front spoiler / air dam and fog lights on it when I purchased it.  I did not like the way it fit and thought it distracted from the classic look of the car and removed it.

Exterior Paint and Body

The car has never been in an accident.  All panels, glass, and paint are original and in perfect condition.  The color is rich and deep, the clear coat without swirl marks, any minor chips have been carefully been taken care of.  All the trim work looks brand new and shinny, with no oxidation. The front and rear bumpers are free of oxidation and look like new.  All moldings are in excellent condition. The rocker panels and lower rear panels behind the wheels look great.  The doors sills look new and are free from scratches.  The weather stripping and seals are 100% and supple.  The There is no rust of any kind anywhere on the car.  The only flaw in the exterior is a very minor scratch of about 1-1/2 inches below the rear license plate and a minor ding less than the size of a dime on the located on the drivers side rocker panel.  Both are difficult to notice if you're not looking.  Because of these two flaws I would rate the condition of the exterior at 9.7 out of 10.

Interior

The interior is perfect. The rugs, dash, seats, head liner, door panels all flawless.  The installed stereo system is a work of art.  Only when examined closely does it become apparent that the head unit is an aftermarket unit.  The sport steering wheel adds a nice touch replacing the clunky square stock one.  The Recaro seats complement the stock interior beautifully. The original front seats which are in perfect condition are included in the sale and can be easily swapped back in about an hour, held in by 8 allen head bolts. The rear seat looks like fine leather sofa.  All controls function exactly as they should.  The AC blows cold and has yet to require a recharge.  The Automatic climate control, heater / defroster, rear window defroster, seat sliders and height adjust, electric windows, sun roof, door locks, computer, all function 100%.  The only known issue is the cruise control, which just recently stopped working.  I know this is due to the switch / stock on the steering column since it was working and the switch was intermittent. It's an easy fix and I've been looking for one on EBay as a cost effective alternative to new. I would rate the interior at 9.9 out of 10

Engine, Suspension, Brakes,

The engine runs extremely well, starts instantly, idles fine and pulls without hesitation to red-line.  This motor is one of BMW's strongest, most reliable and can easily last for 300K miles.  The transmission operates quietly and shifts smoothly; it is crisp and tight, not sloppy like modern cars.  The clutch engages fully and is rock solid.  There are not leaks, drips or seeping fluids anywhere. The suspension is tight, steering is responsive without play.  The car rides beautifully and handles well.  The brakes are excellent.  There is absolutely nothing mechanically that needs attention.  The only known concern is that I've noticed when the gas tank has been filled to the very top there is a slight gas odor when parked afterwards.  The odor goes away once the car has been driven a few miles.  I believe this is a result of overfilling and have since been filling it to 7/8 of a tank without any reoccurrence. I would rate the car mechanically at 9.9 out of 10.

Audiophile 10 Speaker Sound System

Being an audiophile with a degree in Electrical Engineer, and owning a home sound system valued at $10K+,  I set out to design and install a no expense spared sound system into the 733i that would provide concert hall audiophile sound quality without disturbing in any way the original integrity of the interior.  Another important consideration was the desire to obtain access to current sources for high quality audio content including CD's, High Definition Radio, USB, IPOD, and Pandora along with complete Digital Signal Processing control of all audio parameters such as speaker crossover, equalization, balance, fader, subwoofer output and numerous other tuning factors within the head unit for easy adjustment from the cockpit tailored to an individuals listening preferences.  This was achieved using only the highest quality audio components and installation techniques offered only at the most exclusive car audio installers.  The components alone cost over $2500.00.  All components except for the Amplifier where purchased at Crutchfield where costs can be easily verified.  The installation took place over several months last winter easily taking 50+ hours with close attention to detail and reliability.  To have this system installed at any car audio specialty shop would easily run over $5000.  The end result is a system that looks perfect in every respect and performs flawlessly.  Several individuals with home audio systems similar to mine have auditioned with a critical ear their favorite music and marveled at the sound quality and levels that this system delivers in many cases surpassing that of their home systems."
Awesome car!  The seller knows these cars well and has gone to great lengths to fix any nagging issues that have popped up.  The interior refresh, wheels, and audio set up are tasteful upgrades as well.
Initially I pegged this as a $9k car, $10k on a good day.  Bidding currently sits at $8,250 and the reserve will be met with the next bid.  This sure seems like a good value in the high $8k low $9k range.  This car does not need much and would be a great combination of comfort and sporty performance.
Here is to hoping it finds a good home.
~Aaron.