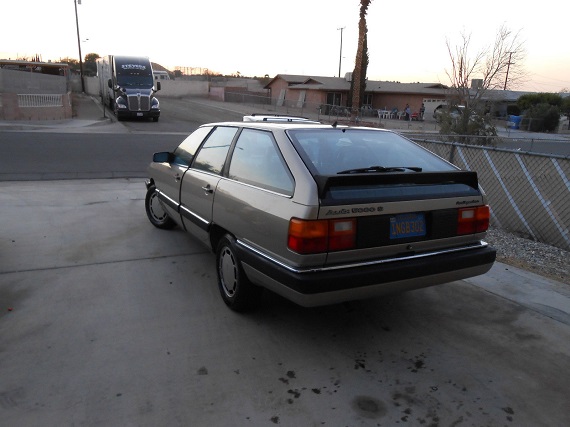 You'd be forgiven for thinking, based solely on my 1980s Audi coverage, that there was only one front drive model available during those times – the Coupe GT. True enough, the 2-door is my favorite of the front drive Audis from that time, but in fact Audi produced many two wheel drive cars right up to the 2000s. Few remember, for example, that there was a front drive A8 available briefly with a smaller 3.7 motor. A few generations earlier, though, and it was a different large Audi that was initially available in front drive only – the 5000, before it was a quattro, was powered only by the leading wheels. Indeed, even its famous appearance in Ferris Bueller's Day Off was, while a Turbo model, still front drive only. And while it's been the quattro versions of both the Coupe and 4000 that were more popularly remembered, both the 5000S and 4000S enjoyed a popular base and were good cars in their own right. Today we have two of these forgotten and forlorn Audis to take a look at: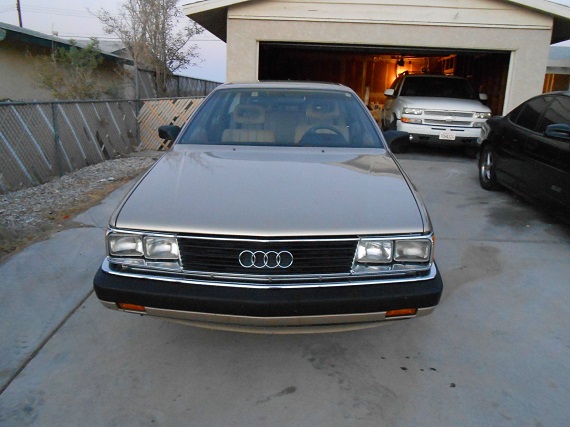 Year: 1985
Model: 5000S Avant
Engine: 2.2 liter inline-5
Transmission: 3-speed automatic
Mileage: 30,390 mi
Price: Reserve Auction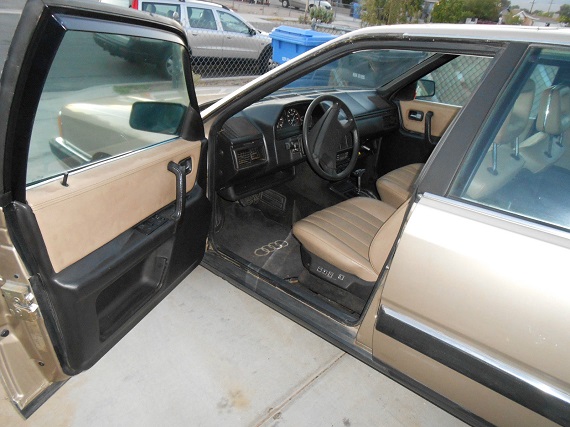 This 1985 Audi is perfect for a Audi collector or enthusiast .A very rare model. The Car RUNS GREAT . ONLY 30390 ORIGINAL MILES ! ( verified by Carfax )
as far as i know I am the third owner. I have a carfax , most service records and the original Audi manual .
It needs a few minor repairs and a little TLC to bring it back to perfect condition.( see below )
There is NO rust, or body damage, No tears or cracks on seats.
Original Audi floor mats
Tires have about 80 % life left
The undercarriage and exhaust are like new. Motor and transmission perform perfect.
There are NO LEAKS of any kind.
Also the Car was recently serviced with oil change and tune up.

Here are some of the Features:
Power windows
Power seats
Power Locks
A/C
Leather Seats
Sun roof
Rear windshield wiper and defogger
Original Audi Radio AM/FM Cassette
All Aluminum wheels

And here are Things that need attention :
as far as cosmetic, the paint has a few very minor scratches the seats headrest has some discoloring from the Sun. The dashboard has some cracks in it .
As far as repairs: needs new cruse control regulator, front passenger window needs to be put on track. Sunroof needs a switch, rear Hatch does not open, its not unlocking.
one windshield wiper arm needs replacing and one windshield wiper blade needs to be replaced. The A/C works fine but does not blow very cold and could use charging.
The Radio does not work ( I believe it needs a fuse )

I did my best to give a detailed and accurate description of the car , There is NO Warranty , The car is sold AS IS. No Return accepted .

Thanks for taking a look , if you have ANY questions please contact me.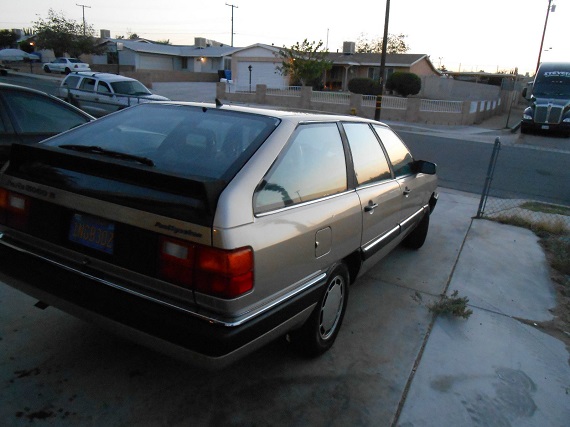 While the 5000S could be had with a manual, a fair amount were opted with the automatic transmission such as this one. The color is Calahari Beige Metallic, and inside appears to be the rarely seen Sierra Beige Leatherette rather than full leather that has held up well. 1985 models stand out for being adorned with "fuel injection" badges on the right side of the trunklid (shared on the B2 range, dropped in 1986) and the 1984 carryover quad-sealed beam headlight setup that was replaced with aerodynamic lights in 1986. This car was interestingly optioned; the leatherette and power seats were optional, as was the metallic paint and automatic – but the original order didn't include the very often optioned roof rails. Miles are seriously low (if accurate) and condition seems in keeping with very low miles and generally careful ownership. This package won't light any fires with sport, but it's a capable and rarely seen package that could make a unique driver or marque show car if you wanted everyone to scratch their heads. Not highly sought, it should remain quite affordable and these are solid cars – if the reserve is pulled.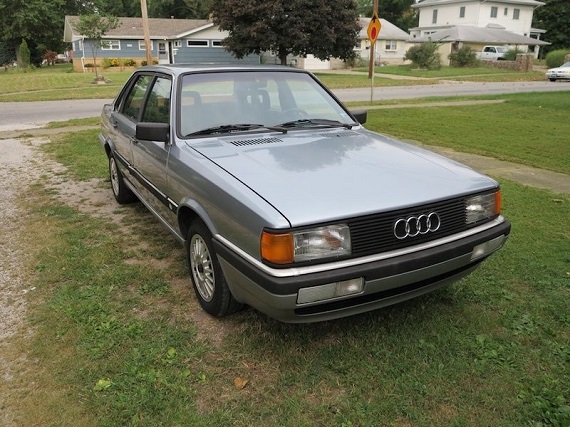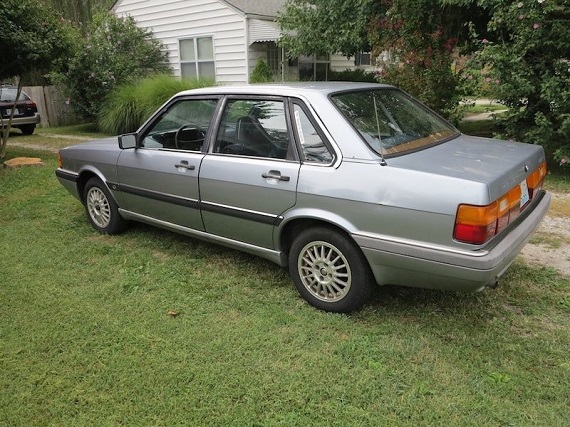 Year: 1985
Model: 4000S
Engine: 1.8 liter inline-4
Transmission: 5-speed manual
Mileage: 186,523 mi
Price: No Reserve Auction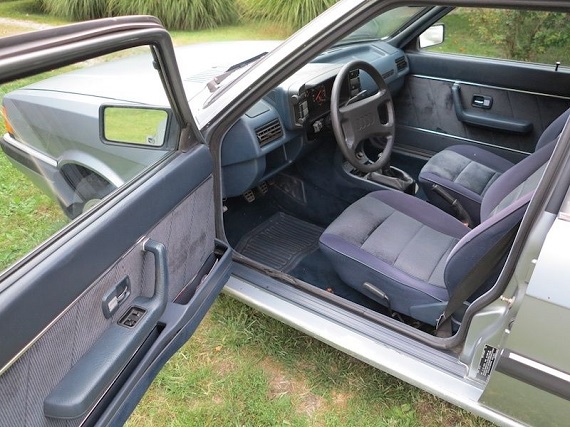 Year: 1985
Make: Audi
Model: 4000 (this is not the quattro version)
Mileage: 186,523

Interior:
Overall very good condition. I ran a wetvac through it about 8 months ago and was amazed at how nicely this old girl cleaned up. Last weekend I did a shopvac and cleaned up most of the interior, but it could use another pass with a wetvac to clean up some spilt coffee. Still the materials they use on the interior on these "luxury" cars is surprisingly durable. The seats in front and back are in good condition. There are a couple small burn holes in the fabric, but no tears or rips in the fabric and the bolsters aren't broken down. The dash is uncracked, the steering wheel is in great shape. The carpet really is in great shape.

Exterior:
Good condition, minus a few dings and knocks. The paint is starting to let loose in a few areas, but it really looks sharp when it's freshly washed. The passenger side door has a ripple, but opens and closes fine. The trunk has a a dent that is popped up from the inside where a tow rope I had fastened off inside the trunk and used to drag a log bounced up and left the mark. (not my finest moment for certain). I have a replacement hood, trunk, and front two doors if it really bothers you…they're brown so that would be weird, but you're driving this car for character. All the windows and lights work.

Engine:
The engine runs strong and 5spd transmission shifts well. I've driven it to Little Rock half a dozen times and to KC at least once. This car runs very cool and in the winter months I often have to put cardboard in front of the radiator to allow it to heat up more. At last count I was still getting 28 miles per gallon on this beast. It doesn't go through an excessive amount of oil, but I probably add a quart every 8 months.

Work performed:
In the last two years I've replaced the oil pump, had a bent tie rod end replaced, had an all new catalytic converter and muffler installed, re-keyed the passenger lock to match the driver's side and trunk, replaced a gazillion bulbs in the instrument cluster, replaced the power steering pump, replaced multiple door handles so all doors work, put in a new battery from Oreilly's a few months back, new radiator from rock auto, replaced the rubber bushings that connect the accelerator pedal to the throttle cable, and put on new front tires just a month ago.

It comes with the full shop manual for the Audi 4000/Quattro. Shop manuals are an invaluable resource on these older cars.

Idiosyncracies:
These 1.8L 4cylinders have high and low oil pressure sensor units. There is a "bar" meter on the console that you can see the current actual oil pressure. The low idiot light seems to be a bit flakey and I've removed the relay. I've replaced it a handful of times and it works for a while but something seems to zap it after a few months. Oil pressure is actually quite good, I just figure it's flakey electrical stuff on an old German car.

Vacuum actuated power locks…they used to automatically work to lock all of the doors after you use the key on the drivers side. Somewhere along the way they've reversed mechanism and now actually sometimes succeed in unlocking the other locks.

There's a slight gap between the drivers side window where it supposed to roll up(i mean ever so slight). The window channel rail came loose at one point and had to be re-welded to the frame, but they forgot to slightly adjust it to remove that gap.

The sunroof works! Sometimes it takes some coaxing and other times it works without hesitation.

The door handles on these apparently were flawed so I have a few extras of those. They've all been replaced.

A/C does not function and did not work when I bought the car. The compressor is still present, but the allen bolt that holds in the oil/lubrication for the compressor fell out at some point while I was driving it and rather then wait for it to seize I cut the belt that ran it. I removed the condensor unit at some point and I belive it made it's way into the trash. (Don't ask me why, that was probably a dumb move) I've had a few cars without A/C and I recognize it can be a huge drawback, but it's manageable even for a guy with a big beard in August. Just tough it out you wuss.

Cruise control doesn't work, the bladder actuator for that has been removed from the engine bay.

The radio does work, but the tape deck does not. The front left speaker worked briefly when I first acquired it, but there's a short and it hasn't worked in some time. The radio reception is actually phenomenal when the antenna is pulled out to full extension.

Gas gauge doesn't work, so I go by mileage. I can get around 400-430 miles on a tank.

The rubber exhaust hangers don't seem to want to survive for very long.

It is loud at higher RPMs on the interstate. Between 65 and 75 it howls. You either have to wrap it up higher to 75 or 80 or run it at 65 for it to be tolerable. When I had the exhaust replaced I requested the quietest they had available, but it still let's you know its there. I'm used to it and just turn up the radio to compensate.

If you don't get it started on the initial key turn you have to turn the key all the way back off and flip it again. It's weird, it's german.

It is an old car(30 yrs), you will learn about fixing things. Don't be timid, jump in and this car will get you where you need to go. This car has been a lot of fun to drive. It's not terribly fast, but I sure enjoy throwing it into the corners. It's a tank certainly durable and good enough to haul your teenager around during high school. (all the seat belts work) Or maybe you'll source a quattro drive train and retrofit it for rally racing, maybe you'll completely restore and wipe it down with a diaper, maybe you'll just drive the wheels off it, or maybe you'll get caught up in a super secret society that hunts down your car and you have to rig it to explode in order to create a diversion to save the mankind. No matter the plan, come buy this car!

This car is also being sold on craigslist locally. I reserve the right to pull the listing if sold locally.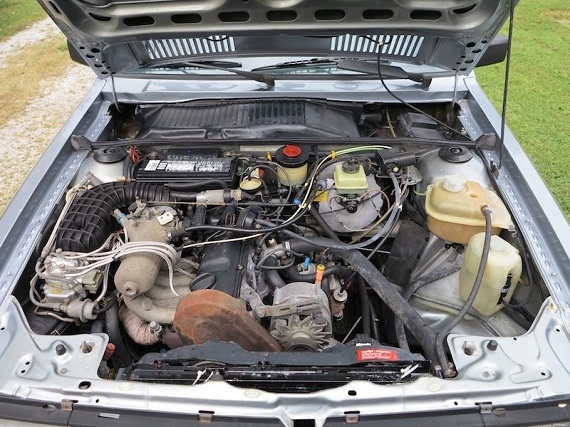 Here's a 4000S that is a bit more typical of how these Audis arrive on the market, it they arrive at all. It appears to be Zermatt Silver Metallic, and is optioned with the less frequently seen Marine Blue Velour which generally holds up remarkably well. The Coupe GT I just picked up still looks very fresh inside despite 180,000 miles and many years in the sun. The stories that follow the condition, though, point to strange decisions and neglected repairs – much more typical. It's at least entertaining to make it all the way through the seller's dialogue, where you hear stories typical of the period (the dynamic oil pressure system failure, for example) and flights of fancy – "sourcing a quattro drive train" would require cutting the entire pan of the car out, since virtually everything underneath is different. The dents on the door and quarters are unfortunate, since under the hood points towards a solid chassis – there appears to be virtually no rust on the radiator support or under the hood. Though the Ronal R8 alloys found their way onto several models, the 4000S had 4×100 variants that are slightly flatter and have a smaller center cap than the 4×108 units found on the GT and 4000 quattro. Brakes are shared in this case with period Volkswagens, though in 1986 there was a "heavy duty" brake option (not on this car) that would have had this car get Coupe GT brakes and 5000S wheels. The 4000S, unlike most of the rest of the Audi lineup in 1985, relied on the inline-4 from Volkswagen. But, mated to a 5-speed manual and with longitudinal layout rather than transverse in VWs, the handling on these lightweight sedans was actually quite good and they return impressive mileage still. This car is certainly more of a driver, but items like the intact front end – replete with NLA grills and reflectors – will have the B2 crowd foaming at the mouth. For $1,000, you could do much worse for a winter commuter beater, and it would be possible to get a fair amount of that money back through a part out if it stopped running. The front end could go to saving a rusty quattro or GT, for example, and could recoup most of the current bid alone.
Unfortunately, outside of the GT these front drive Audis tend to not be appreciated by many, and we're likely to see the number of clean and serviceable examples dwindle over the next few years. A list of unavailable or hard to get parts continues to grow as the population falls; it's a recipe that will probably result in extinction. While they're not the best cars out there, they're far from the worst and can make really entertaining, long lasting, affordable and stylish daily drivers for those who march to the beat of a different drummer.
-Carter