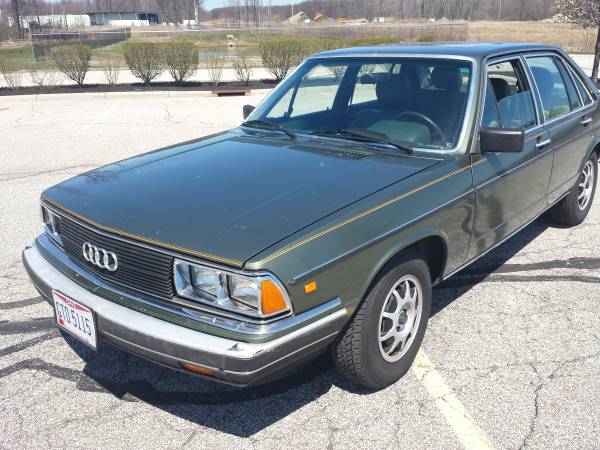 Recently, in addition to my usual car hunting I had the pleasure of doing some house hunting. The market is all over the place; you can pay a huge amount and get a brand new but not particularly stylish or well built home, or you sift through overpriced polished up turds and absolute wrecks that require complete rebuilds. Sound familiar? Quite a few of the homes that we went through in our journey featured near original kitchens – remember when Avocado was the color of everything? Laminate, appliances, cooktops, lounge chairs? Everything had to be that shade of green. Now, in 98% of cases, that's a very bad thing since it not only looks dated, but tired and tasteless too. But sprinkled in just the right amount – a vintage freezer, for example, it somehow is really chic. And just like Chic manages to also be cool in small doses, this C2 Audi 5000 in Onyx Green Metallic with matching green…well, everything looks spectacularly awesome: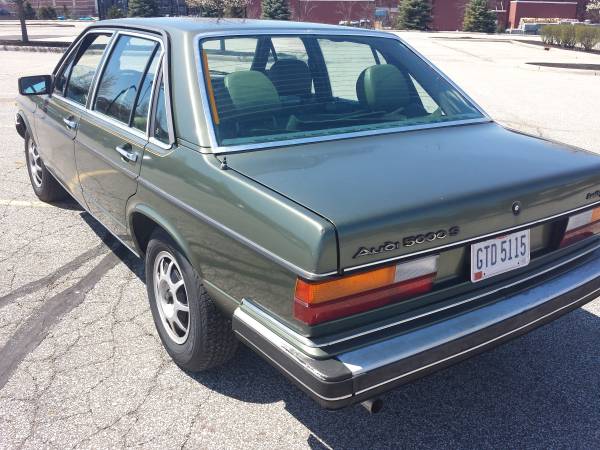 Year: 1980
Model: 5000
Engine: 2.1 liter inline-5
Transmission: 3-speed automatic
Mileage: 55,000 mi
Price: $4,000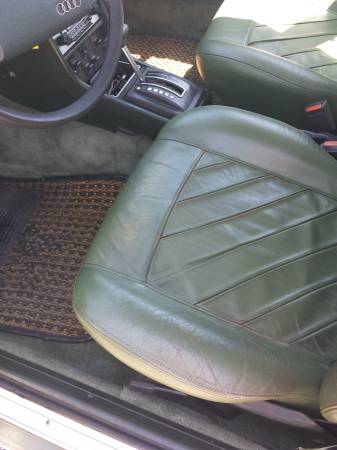 1980 Audi 5000 in good condition for sale. Leather interior in great condition. 55 K miles, new tires, muffler, timing belt, water pump and lots more. $2000 spent in March for repairs.Engine and transmission are very good, pulls strong, and shifts smooth. Brand new tires too.No rust underneath just on the roof in one spot, previous owner might head cover on. Not interested in trades, thanks. Price is pretty firm. Please have in mind the car is 27 year old runs excellent but is not perfect.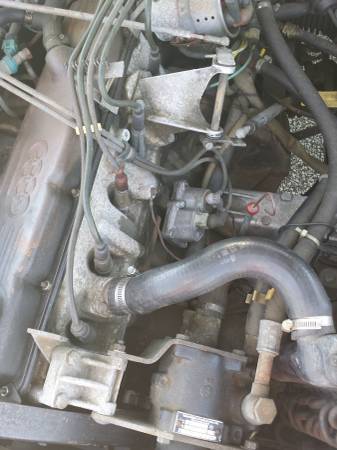 Aside from pretty bad math, the seller discloses enough that the asking price isn't very outrageous. What is outrageous is the green on green with a side of green, showing that you only need to wait approximately 20 years for fashion trends to come back around as this was nearly the same color configuration offered on the C5 Allroad in Highland Green Metallic. You've heard of "Darth Vader's personal car" and "God's Chariot"? This is clearly Kermit's Commuter. It's ugly, but unabashedly so and that makes it come full circle and makes to cool again. The condition and maintenance justify the price for the right party, who admittedly will need to really want a clean early gas Audi 5000 which is very green. So, basically 3 people in all of the U.S.. But then, consider what Kermit would say…
It's not that easy being green
Having to spend each day the color of the leaves
When I think it could be nicer being red, or yellow or gold
Or something much more colorful like that

It's not easy being green
It seems you blend in with so many other ordinary things
And people tend to pass you over 'cause you're
Not standing out like flashy sparkles in the water
Or stars in the sky

But green's the color of Spring
And green can be cool and friendly-like
And green can be big like an ocean, or important
Like a mountain, or tall like a tree

When green is all there is to be
It could make you wonder why, but why wonder why
Wonder, I am green and it'll do fine, it's beautiful
And I think it's what I want to be
Thanks to our reader Dan for sending this one our way – awesome spot!
-Carter