Well I'm not going to lie: I'm not crazy about the brown. Now that we have that out of the way, this is a phenomenal example of one of the finest BMW e28 tuner cars there is. It enjoys a full restoration and a very tasteful list of departures from stock.
Check out this H5S, one of 5 believed to be imported, on BringATrailer.com: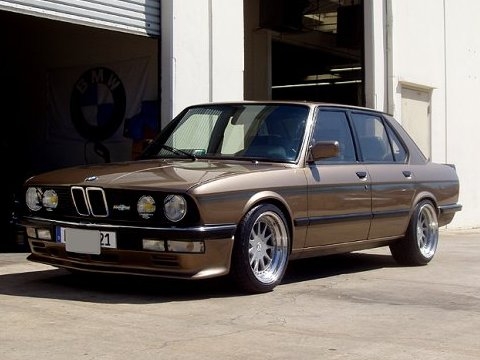 This 1987 Hartge H5S has been extensively restored by the current seller including restoration of the engine compartment with the engine removed. When the car was re-painted its original color with all glass and trim removed, the plastic side skirts, lower rear valence, and decklid spoiler were also discarded. Those components tend to make M535i and tuner E28s look horrible, so this car really comes together nicely as a result. Most recently it won first place at the Central Coast BMW CCA Concours last month in Monterey. It is available in Southern California for $45k obo.
$45k is a chunk of change, but as one of the BaT commentors mentions, is there anything in the current BMW model range that you'd rather have for that money? Me neither!
dc