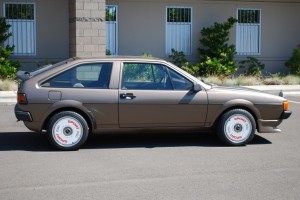 I haven't seen a second gen Scirocco this clean since high school, and that was nearly 20 years ago! This car belongs to my buddy Josh from Sports Car Shop in Eugene. In addition to only having 65k miles, this car is immaculate. Josh is a particular guy and keeps his rides spotless. He shopped all over the world to put together the great period correct aftermarket parts and the result is quite stunning.
Check out the listing on VWVortex for this 1984 Scirocco:
Need to sell my 1984 scirocco thats been sitting in my garage, but hardly gets driven. Garage is getting taken over, so it will not have a space to sit anymore.

miles: 65,xxx original

exterior:
zender front air dam
zender wind splits
zender gtx rear spoiler
zender badgless grill
factory original paint
scirocco mudflaps front and rear
relayed OE euro headlamps
OE euro bumpers front and rear, look new

interior:
NOS zender steering wheel with momo hub, also have OE wheel
3 gauge panel where ashtray and single gauge were
OE golf ball shift knob
radio delete panel, but still have factory radio that works perfectly
factory fog light switch hooked up to the inner headlights
new scirocco script floor mats
interior is pretty much flawless

wheels and tires:
zender sport wheels 15×7
zender sport discs in white and black
conti sport 195/45r15 tires (maybe 100 miles on them)
25mm H&R wheel spacers

suspension:
bilstein sport struts with H&R sport springs (maybe 100 miles on them)
neuspeed front and rear sway bars
neuspeed front and rear strut bars, rear is a early triangle bar

engine:
abd intake pipe
TT cam
TT adjustable cam gear
K&N air filter
new radiator, system filled with factory g11 blue coolant
recent tune-up and oil change
OE under hood foam due to the current stuff being hard and brittle
Some of these parts are simply unobtainable, no matter the market or price. I applaud Josh for selling this car complete and not giving in to parting it out. Someone is going to score a great ride for $4k!
Good luck with the sale Josh!
dc