Here's another beautiful e28 M5 for sale, and this one has only covered 44k miles!
1988 BMW e28 M5 For Sale on Roadfly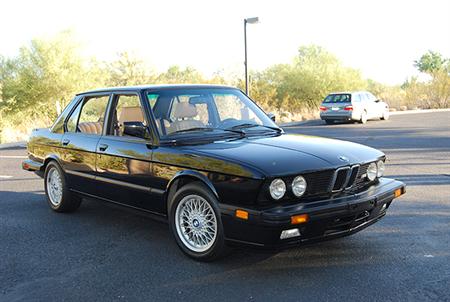 quote from seller's listing on Roadfly:
This is an Excellent example of the legendary 1988 M5. Original, Unmodified, Unaltered. 41,000 miles. Excellent Condition inside and out. Zaino High Gloss Polish. Excellent Interior, well-nourished. Factory Recaro Seats, Custom Mats, Factory Alloy Wheels, Yokohama Tires.
So with the asking of $25k, has the e28 piggybacked the recent swing in values the e30 M3 now commands? And correct me if I'm wrong, but I'm pretty sure there were a lot less e28 M5's imported compared to the e30.
Check out other BMW's posted on GermanCarsForSaleBlog!
dc
Update: This post is out of date and the item listed is probably not available any more. Why not take a look at the BMW M5's and parts that are currently for sale!
[AffomaticEbay]1988 BMW m5[/AffomaticEbay]