While the European E28 M5s are cool and come in lots of colors and trim, I love the history of the North American M5. To ship them across the pond, BMW just loaded them up with every option, painted them all Schwarz and sent 'em over. Some could see the homogeneity as a negative, but with only 1340 on the continent, rarity is never an issue.
Other than aftermarket modifications, the one unique feature you might find on E28 M5s is black interiors. While almost all came with Natur leather inside, all 71 of Canada's allotment and 30 of the US cars came with black interiors. I dig my Natur, but there's no denying that a black interior completes the Vader effect. There's plenty of debate on the boards as to how much this rarity can influence the value, but the general consensus being that there are other factors that are more important in an M5's value. Today's example looks clean but has a few needs that must be taken into account.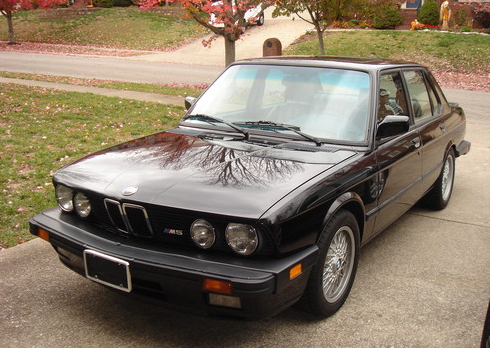 As you know this vehicle is very rare model of old BMW. Running condition is still very good. However some function are repair required to be condition. I have two fun repair listing now. One is replace odo meter small plastic gear that broken on this August when I push od meter reset. I had drive around 400miles. I have replacement part already and attache when I sale. The other repair is Self Leveling System in rear shock unit. Other functional equipment are working good. I have to move to other country in next year. I hope this vehicle sale to big BMW enthusiast——. Thank you.
Much, much research needs to be done before you buy this M5. The valve cover spans a few main questions:
– Why/when was the cover painted red? Was the engine rebuilt in its 158k miles, or did someone just think red was cool and did it real quick while the valves were being adjusted at their regular interval?
– Do the maintenance records exist to ensure the valves have been taken care of?
– Is it a Canadian or US car?
The rear suspension will be a costly fix and is likely a main reason the seller is deciding to pass it on. The reframe here is that you'll get to choose the suspension set up you want to take its place. The odo gear is an easy fix for a little money.
This could be an awesome car, made slightly more awesome by the rare interior. But at 158k miles, if it hasn't been rebuilt yet, it will probably need to be some time in the 50k miles. Mostly, you just want to know as much as you can before you get into an E28 so that it's not total money pit, or if it is, you're prepared for it. The lack of information is probably why just 3 people have bid it to $6,750, below reserve and well below the $9k BIN. E28 M5s are inching upwards, but unless there are some great answers to the above questions, somewhere between $8k and $9k seems right.
-NR