The E23 7-series gets a little less love than the other 80s BMW body styles and is a little too old to get more attention than the epic E38. Today's Euro 745i Turbo should change all that, as it's one of the cleanest BMWs I've ever seen, period. Not officially offered in the US, some 745s made it over thanks to the rise of the Grey Market in the 80s. Replete with the 249hp M106, Executive package including water buffalo interior, and clean Euro bumpers, this Burgunrot beauty looks like it came straight off the showroom floor. As it should, with less than 12k miles on the clock. A beautiful mix of supersized E21 and E28, this is as sporty as a 7-series has ever looked.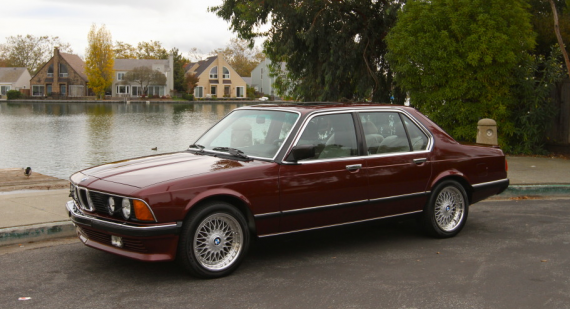 Selling for no reserve…

Rare and indeed one of the best 745 turbos for sale in the country. Over 20k in receipts done over past few years. Previously owned by a BMW fanatic and superbly maintained. Fully restored and perfect. Reducing my private collection.

This is the executive edition equipped with 3.5 liter straight 6 cylinder factory turbo with automatic transmission. The executive edition was meant to be chauffer driven and includes rear electric reclining seats, rear radio controls in armrest, rear window shade and Buffalo Hide leather. Color is beautiful Burgunrot metallic with tan Buffalo Hide. It has been professional repainted and its an amazing paint job. Looks factory and high quality. All trim and bumpers were removed.

This Euro 745i Turbo has very desirable Euro features like Euro front and rear bumpers, Euro grill with Euro headlights and headlight wipers, BBS front and rear spoilers, 17 BBS style 5 wheels completely restored and new Vredestein 215/45/17 tires. The bumpers are still new and perfect chrome and rubber trim. Purchased new from BMW dealer. It also has a Magna flow exhaust.

Recent work from 2008-2012 includes:

10/2012 Repaired AC system and recharge $450
5/2012 Remove and install new upgraded turbo GT35/K27, timing cover gasket, fan clutch, fan blade $2065
7/2011 Full and complete professional repaint $5460
6/2011 New Vredestein Ultrac sessanta tires $851
2/2011 New plugs, replaced antenna, p/s hose, throttle return spring, check for leaks $798
1/2010 Remove and install new Euro bumpers and trim, hood shocks, brackets $3428
1/2010 New battery $116
8/2010 Replaced pitman arms, installed driving lights, repaired malfunctions on dash $1213
12/2009 Front bumper restoration $1445
3/2009 Remove install new lower power steering hoses $160
3/2009 New windshield, new back glass $1183
7/2008 Install new headlights, replaced heater hoses and coolant, tie rod assembly, control arms, idler arm, brake hoses,wipers, install spoiler, strut mount $3739

Total with receipts $20,908

This car has been well sorted and is a pure pleasure to drive. Starts right up and runs perfectly. AC blows ice cold. All windows, door locks, sunroof, dash and odometer work fine. The dash computer never worked. People take notice and give me thumbs up all the time. Its a 7 series classic with factory turbo and pretty fast from its period. It was one of the top sedans in the 1980s.

Car is registered in Seattle, WA and has clean title. It currently does not have a Catalytic convertor and will be sold as is. Not for sale in California.
Holy moly. What inspired the seller to go no-reserve eludes me, but it provides the chance to have a beautiful piece of 80s German rare that would be decently quick and mind-blowingly luxurious. I want to nap on those buffalo seats. Seventeen bids have pushed it to $7k with 3 days left. With so few miles and every option box ticked, it is worth a bit more than that. I love this car.
-NR