Warning!
This post is in our archives. Links in this post have been updated to point to similar cars available to bid on eBay.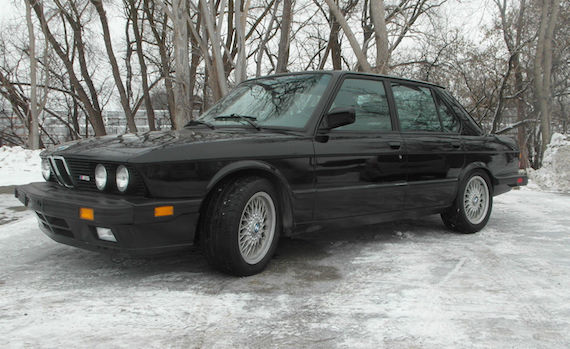 Though personally invested, I'm still skeptical of the recent prices we've seen E28 M5s being listed for. It seems like reasonable examples were going for high teens just a few months ago, yet all of a sudden it seems any clean sub-150k mile example is going for over $30k. Today's example is one of the rare Canadian models with the all-black interior, which is a fun idea but much less appealing (to my eyes at least) than the tan interiors present on the other 99%. It has just 124k miles and appears to be in good working order, but it's not like the shockingly clean examples we've featured recently. It's lived through 4 owners and the maintenance history is disappointingly lacking. The E28 community seems to express a collective "meh" when black-interior cars are brought up, but some like the color and rarity. Have E28 M5 prices really gone up 100% over the last year?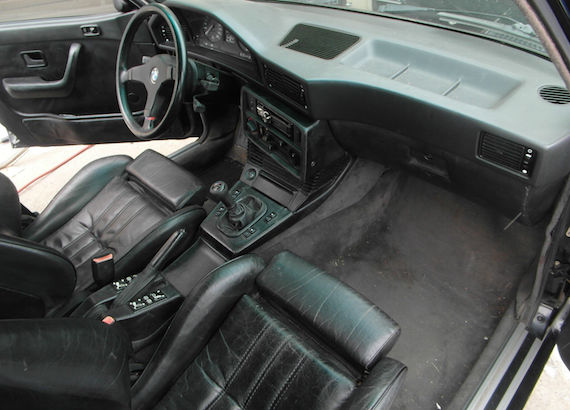 Year: 1988
Model: M5
Engine: 3.5 liter inline-6
Transmission: 5-speed manual
Mileage: 124,000 mi
Price: $31,500 OBO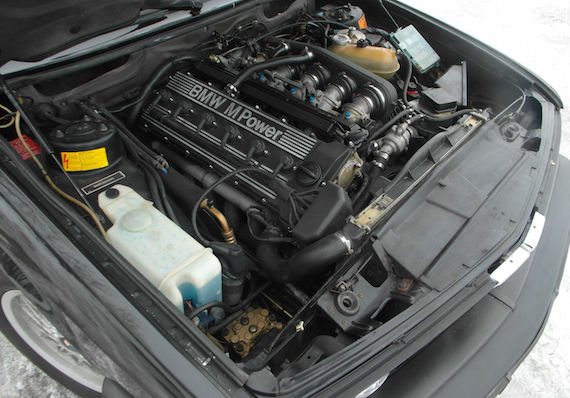 Hi everyone, what is for sale here is a nice canadian spec black on black e28 m5. If you are here i guess you already know how rare e28 m5 are but if you don't here are some quick highlights ;
~1300 cars in north america
~100 black leather interior in north america
~100 canadian spec car
~was the fastest sedan in the world back in the days

I purchased this exemple here from a local customer in good rust less condition (he wanted to sell because he didnt use it much and wanted to build a new hot rod) but it needed some attention. apart from me it is a 3 owner car with a clean, no damage carfax.

first owner 87-96
second 96-08
third 08-14

The third owner got it in a trade for his hot rod, he got it at 186000 and in 6 years only did 12000 km. during the summer i drove around 2000 km.

The 3rd gear was grinding at higher rpm, fixed this by replacing it with a 80k km getrag out of a e30 m3 (non dogleg). quicker ratio, smoother and less noise were the benefits of switching to this transmission. the car had a dot-r transmission that i could include in the sale if you want to get it rebuilded but if you have already driven an e28 m5 I think you will like the switch to the e30 m3 transmission.

The car had missing fog lights, both were purchased brand new.

It has a new oem left rear shock and a new gaz tank. Self leveling system is working fine !

COMPLETE flush of every single liquids in the car.

Brand new spark plugs.

Ac is blowing cold!

The car has NO rust, and wear a mostly original paint. PLEASE keep in mind this is an old car of course it has some imperfections. its not a concours car but it has no rust and the clear coat is not faded. (i have 80+ pictures of the exterior available)
the paint had some rock chips and were repaired, in my opinion, not in the best way. the lower valence has some history to it, a crack and some scraping marks. if it is really a concern for you i will have it repaired and repainted. i dont think its a problem but that's just me. the vin numbers all match.

Hood mechanism works great.

The wheels are the original one, yes they are faded they have never been restored.

Everything inside the car works apart from both head rests. ac/heat, radio, electric seats, sun roof, windows, computer(no dead pixel, accurate reading), mirrors, cruise control etc… it all works!

The car has NO check engine everything is properly working. I can send you pictures of the engine with valve cover off. It's in perfect condition (no wear on the cams)

I have no receipts from previous owner for valve adjustment/timing chain components. I had the car checked at a local bmw garage they said nothing was wrong with the engine, no concern for the next km's. pictures of the engines are available, it has NO leaks. I got a compression test done on the car. all the reading were between 180 and 190 (pictures available).

The powersteering, while turning hard, is a little noisy.I would say normal wear but I prefered tell it upfront. It works nice and doesn't leak even with this small noise.

iacv has been changed, starter has been rebuilt.

Handbrake works good.

Bushings are all in good working order.

Brakes are 80% front and 50% back.
the brake lines are all in good working order, from what i can see they all have been redone, the right way.

The original radio has been changed for a pioneer,an original radio is included in the sale. Power antenna works properly.

Leather condition ; dash has a 1 cm crack facing outside the car on the middle air vent, and thats it. the leather is really flexible and in good condition, the only flaws in the seats are 1 piping crack on driver seat and 2 piping crack on passenger seat. the ///m stickers on the emblem on the front seats have some wear. there is also some wear on center console etc… nothing major just normal wear on the leather.

The cluster screen has a small crack in the bottom left and right corner.

The cigar lighter is a bit loose, the ring that holds it in place is missing.

It has an aftermarket cold air intake. if its a concern i can most likely find a solution to that.

The car seals are all in good shape, there is no water leak anywhere.

This is the cleanest, best working condition old bmw i ever come across in person apart from a 50k km first owner e30 m3.

I HAVE NO PROBLEM EXPORTING THE CAR. i have an account to export the car and ship it to you.
I WONT SELL the car sight unseen with wire transfer. you want the car find the time to come see it, i feel i have been honest with ad so please respect this condition. it is an old car and we dont have the same expectations, i want to make sure the sales goes well and i feel its better in person. i will help you out, pick you up at the airport, refer you to my shipper, bring the car to whatever place you want to get it inspected by(in an enclosed trailer) the car is located 20 minutes from the airport. if you want to inspect the car yourself, i have shop with lift and every tool you need.

You feel this is alot of money? yes it is but i dont think if you keep it for a long time and maintain properly you could loose a single penny. those cars are on the rise and e28 m5 are one of the rarest motorsports car ever produced. just like e30 m3, carrera rs, soon they wont be affordable

You could drive the car home, i can give you a free set of winter tire, i would not. if you are crazy enough it will make it im pretty sure, made a 500km trip and had no issue at all.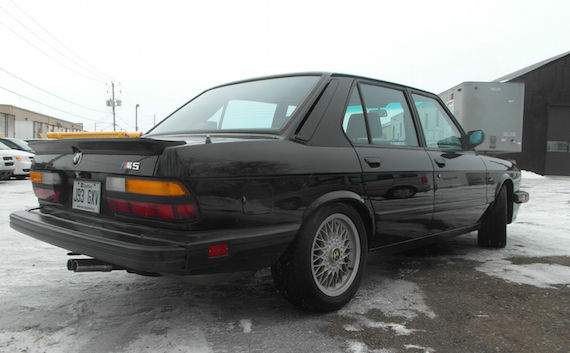 We can attribute (if not forgive) the seller's grammar and spelling to being Québécois…
Maintenance history is all-important for E28 M5s, and the lack thereof is as black a mark on this sale as the leather on the seats. The seller is indeed honest and it sounds like a solid car, but the asking price is massively optimistic. Even without history the car will appreciate, but you can't ask people to pay that up front. Dropping the price $10k would seem like a nice price to me, but if M5s keep coming up for this kind of cash we'll all need to readjust our perception of their market.
-NR