We've featured a few black-interior E28 M5s here on GCFSB, from both the 70 allotted to Canada and the 30 given to the US. I like the rarity of these cars, but prefer the more-common Natur interior.
Today's M5 looks pretty clean with the standard wear and tear on the interior but a straight body and decent paint. With just 100 black-on-black M5s to choose from in North America, any time one comes up is significant for those on such a specific hunt. 190k miles sounds like a seller who knows a rebuild is coming and wants to pass on the effort and money required. I like the car, but the sparse listing that raises more questions than it answers is not befitting any BMW, let alone a rare-option E28 M5.
Year: 1988
Model: M5
Engine: 3.5 inline six
Transmission: 5-speed manual
Mileage: 310,000 km (~190,000 mi)
Price: $8,500 starting bid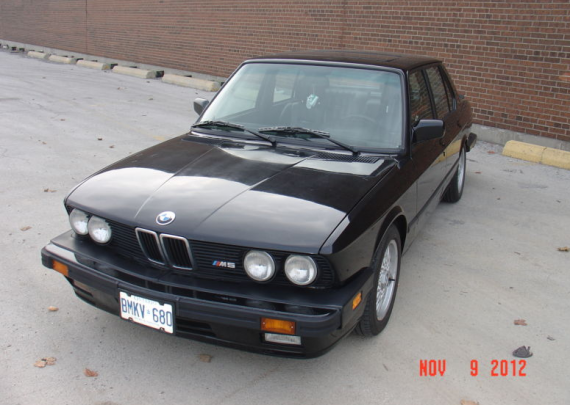 Rare 1988 BMW M5 E28, fully loaded, black on black, Canadian car, located in Toronto, only 80 came to Canada. First generation M, hand maded quality from Germany back then, car is in good condition, runs good, shifts good, body good, no accidents, 8 out 10 condition. Car has 310,000 km (car is Canadian there for speedometer is in km). Only needs AC charge, sunroof sliders, and rear springs to be perfect.
I traveled across the country to buy my M5 because the owner offered up every little piece of information and document I could have ever wanted, explaining the needs and demonstrating that he loved and respected this car and wanted it to continue to be loved. Unfortunately, I get no such vibe from this seller. From the poorly framed pictures to pathetic ad copy, less is certainly not more here. He even rolls out the dreaded "AC Charge" claim. And for the rear springs, is the self-leveling suspension still there and just shot, or does it have new rear suspension that needs springs? Regardless, this black-on-black has the unfortunate stink of money pit. I think something closer to $6,500 would be a fair price for someone who was ready to commit time and energy to making this the gorgeous rare example it should be.
-NR