One of my favorite grand touring coupes, the 850CSi is the rarest of the E31 8-series cars with only 225 making it to North America. The 850CSi was the top of the heap performance wise, with the 375 bhp 5.6l V12, and a 6 speed manual gearbox, these cars shot to 60mph in the mid 5 second range, these cars were essentially the failed M8 project in plain clothes.
This black beauty for sale in Lebanon, Tennessee is a well cared for example of the quintessential '90s grand tourer.
Year: 1994
Model: 850CSi
Engine: 5.6 V12
Transmission: 6-speed manual
Mileage: 54,000 mi
Price: $54,995
1994 BMW 8-Series 850CSi on eBay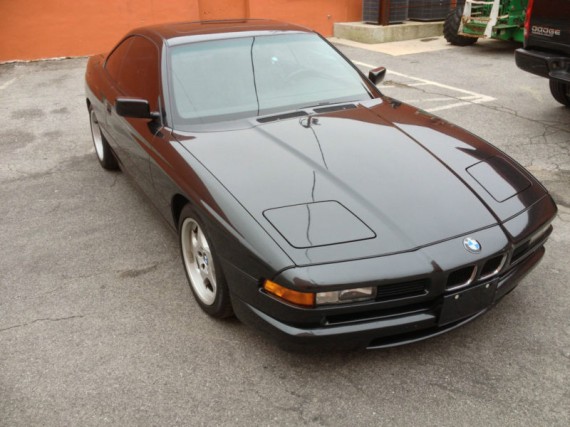 I am selling my 1994 850csi BMW serial # 00021, one of the lowest serial numbered 850csi in existence. This car has been inside my commercial building and is driven maybe 2 times per month. It is in excellent condition with all services kept up to date along with a new clutch installed last year with only 200 miles on it. It is very reliable mechanically and physically in great shape. This car has been pampered and needs a person who will treat it as such. This car is all original inside and out and never been wrecked or painted on. The lowest first runs on the assembly line and the last runs are the more collectable in value. The car is soon to be in the antique category and will be highly appreciated by collectors. This car is sold as is with no warranties implied. Car will be for sale locally, therefore I reserve the right to end auction early if sold prior to eBay auction ending! This car shows extremely well for an 18 year old original car! Remember this is not a new car and does have normal age and wear on it!  Thanks and good luck on a great car!

PS. I have had many questions about the head liner in this car, it is perfect which I have provided pictures! Also for those who have asked about this car having a cassette player, the multiple disc CD player is located in the trunk from the factory which I have provided pictures, everything works fine! The tires have very little wear on them.
This is the car that myself and many others lusted over in the '90s. Even if it was a sled, and did 0-60 in 12.8 seconds, it wouldn't have mattered as it's one of the most beautiful cars BMW has ever produced. I'm amazed to see an 850CSi for sale in this shape, as they are rare to begin with. Add in the fact that it only has 54K miles, and suddenly the $54,995 price tag almost seems reasonable…I said almost. Putting all of the lust aside, and the rarity aside, my judgement is clearing up, and the $54K price tag seems a little bit in the stratosphere. After looking in to prices, and what these are selling for, I believe that the right BMW geek with deep pockets will want to snatch this up, however I would love to see a price tag in the $35K to $40K range. That is still way above market value, but reasonable considering the rarity and condition of this car. As always with cars like this, it's not like you can just go to the dealer and grab one. When the opportunity presents itself, you have to pay if you want to play.
-Brian