The R107 Mercedes-Benz SL is possibly one of the most well recognized German cars of all time after the Volkswagen Beetle. Living an impossibly long life – almost 20 years – this two seater was the standard bearer of Mercedes-Benz open air motoring for my generation. These roadsters moved the SL concept closer to the luxury end of the scale, but they were still capable, well-driving vehicles. For sale in Nashville, this 560SL spent most of its life around retirees in Florida.
Year: 1988
Model: 560SL
Engine: 5.6 liter V8
Transmission: 4-speed automatic
Mileage: 33,211 mi
Price: $26,800 Buy It Now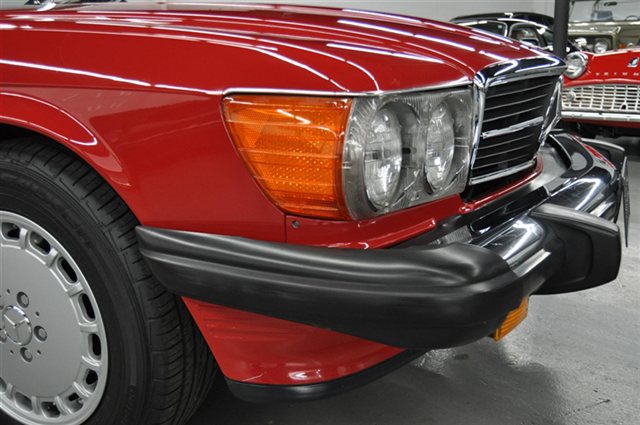 This is a two owner Palm Springs California 560SL. I bought this car directly from the second owner who had bought from his friend the first owner, both of which lived in a stereotypical retirement community in Palm Springs. The car is very near perfect! The pictures reflect the actual condition of the car. Better than the cosmetics is the run and drive, it feels, acts and reacts like a well serviced, pampered 560SL, no wandering down the road, no pulsating, no extra thumps and bumps, it feels just as they did new in 1988.

The paint is near perfect, the interior is perfect (seats have never been dyed), carpets are not soiled, dash has no cracks, ashtray has never been used.This car comes with a much desired jumpseat. The spare has never been out and on the ground, the plastic tool roll cover has never been opened so tool roll is complete and never used. I had a prepurchase inspetion performed before buying, the items picked were such minor things as "spare tire is old," well yes, I guess so, it has never been pulled. The engine is dry, tires are near new, wheels are without scuffs with a finish that looked as they did when new. The only thing showing any age or wear is the original softtop window has the patina of age but top is flawless. If you have been looking for an exceptional example of a classic 560SL, contact me at 615-971-4409.
Values for late model R107s have been creeping up, with the best examples fetching into the upper reaches of the $20,000 range. There are a lot of low mileage 560SLs out there, so to be the best, it truly has to be exceptional. I'm not sure if this could be considered the best one on the market, but it's up there. Still, if the buyer could negotiate a little off, it would be a better buy. But, in comparison to other vintage SLs, these R107s are a bargain.
They say you should never meet your heroes, but the first time I slipped behind the wheel of a late model 560SL, I was hooked. The build quality was impressive for a car with its roof hacked off and the V8 provided quick acceleration, but nothing too violent as to detract from the car's serene, cruising nature. Fuel economy on these can be a bit brutal, but they are great cars for those who want style and durability in one package. When you are behind the wheel of these cars, they feel as if they were hewn from one solid piece of steel. No wonder it was called "Der Panzerwagen."
-Paul