After a long hiatus, the BMW 6 series coupe returned in 2004 to mixed reviews. While it was generally regarded as a decent drivers car, the looks received mixed reactions. Some liked it, while others lamented it strayed too much from the much loved E24 6 series and aped a lot of the quirky traits of the recently introduced 7 series. Shortly after the coupe was launched, a convertible followed, with a canvas roof with an interesting flying buttress design at the rear window.
This 650i for sale in Michigan is another prime example of steep depreciation in the luxury car arena. However, for those wanting a big more of an edge, this one has the rather uncommon 6-speed manual gearbox.
Year: 2008
Model: 650i
Engine: 4.8 liter V8
Transmission: 6-speed manual
Mileage: 39,442 mi
Price: $37,995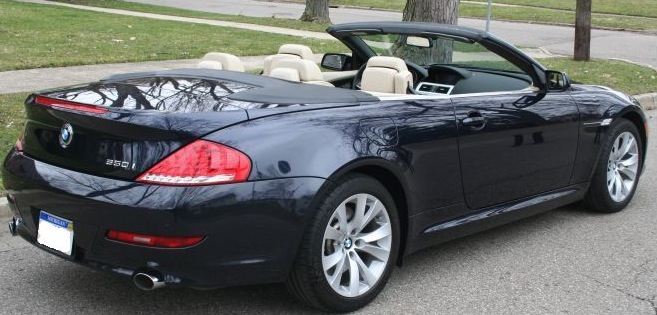 This sale is for the 2008 BMW shown in the photos below, The car is in good shape and working condition, the car has had all of the factory maintenance completed to date. The 650I is a great auto, fantastic German engineering and handling. The tires were replaced last June with Michelin Pilot Super Sport 245/45/zr18xl tires. This one will be missed. There are plenty of photos below for your search. The car was inspected by an independent inspector when I purchased the BMW in January of 2012 with no accidents or mechanical issue.

This is a buy it now sale with no waiting for an auction. There is a $500.00 non refundable deposit due at time of purchase. This car is a local pickup, we do not ship autos. This sale is open to the continental United States only, we do not sell outside of this area (please don't ask). If you have any other questions please feel free to email me. Thanks and good luck.
I like the recently introduced F12/F13 6 series a bit better than this E63/E64 6 series, but that's not saying much. I won't go as far to say that Chris Bangle is a bad automotive designer, rather, beauty really is in the eye of the beholder. However, I do think a lot of enthusiasts were disappointed simply because BMW was at the peak of their game in the 1980s and 1990s in terms of vehicle styling. For a lower mileage 650i of this vintage, expect to pay anywhere between $30,000 to $40,000 depending on the options, of course. This car will probably appeal to a select few, given the three pedals, so I'd suspect the price isn't doing it any favors. If this car could be had for under $35,000, it would be well bought.
-Paul