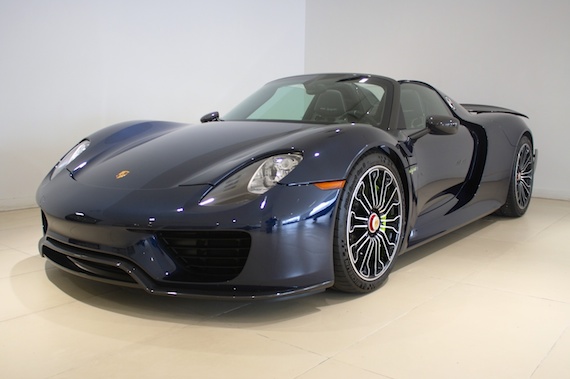 When most people think about hybrid vehicles, images of haphazardly placed Greenpeace bumper stickers on oddly shaped compact sedans come to mind. Today its a different story, with hybrid emblems gracing small Toyotas right on up to the flagship of the Porsche range, this 918 Spyder. The 918 Spyder took over as the cost-no-object sports car in the lineup, but it was so much more than the Carrera GT. Unlike the Carrera GT, however, the 918 Spyder was a leap forward in terms of technology. With a 4.6 liter V8 and twin electric motors front and rear, this car puts down a total of 887 horsepower to the pavement. For those well heeled enthusiasts who missed out on procuring one new, this 2015 918 Spyder Weissach Edition for sale in New York City offers up a second chance at this state of the art supercar.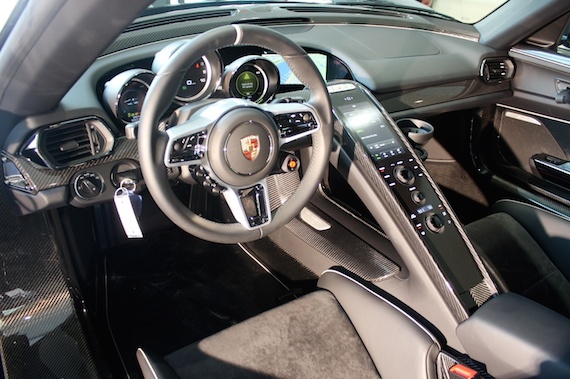 Year: 2015
Model: 918 Spyder
Engine: 4.6 liter V8/twin electric motors
Transmission: 7-speed PDK automatic
Mileage: 561 mi
Price: $1,649,000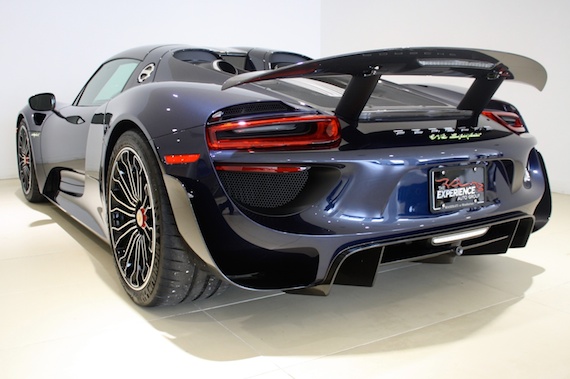 2015 Porsche 918 Spyder Weissach Package Maserati of Manhattan is thrilled to present this amazing Porsche 918 Spyder Weissach Package. Finished in Dark Blue Metallic over Black Leather and Alcantara with Silver Accents, the 918 Spyder Weissach has been driven very few easy miles by one previous owner. The balance of the Porsche Factory Warranty is in effect and the 918 Spyder remains in like-new condition. Do not miss the rare opportunity to own a part of Porsche History as only 918 will ever be built, and less than 300 in the US. They are sold out! This 918 Spyder has been specified with the Weissach Package (Weight Reduction: Lighter Brakes, Ceramic Wheel Bearings, Titanium Chassis Bolts, Additional Aerodynamic Aids, $84,000), Front Axle Lift System ($10,500), Seatbelts with Accent Stripes in Silver ($1,800), Carbon Fiber Floor Mats with Silver Piping ($1,725), Burmester High-End Surround Sound System and Storage Compartment, Stone Shield, Two-Zone Automatic Climate Control, HomeLink, Multifunction Sport Steering Wheel with Rim in Leather, Seat Pads for Lightweight Bucket Seats, and Alcantara Seat Centers. The German hypercar offering is the Porsche 918 Spyder. The successor to the legendary Porsche Carrera GT, the 918 Spyder has upped the ante with even more technological prowess. A high-revving motorsport-derived 4.6L V8 is paired with twin electric motors to create one of the most incredible sports cars ever conceived. All-Wheel-Drive ensures unflappable traction in the most demanding situations and is mated to a sophisticated 7-Speed Dual-Clutch Transmission. A lightweight Carbon Fiber body shell and advanced suspension aid its race-car like handling. This is the future! If you are in the market for a Porsche 918 Spyder with Weissach Package, call or email us today. It will not last!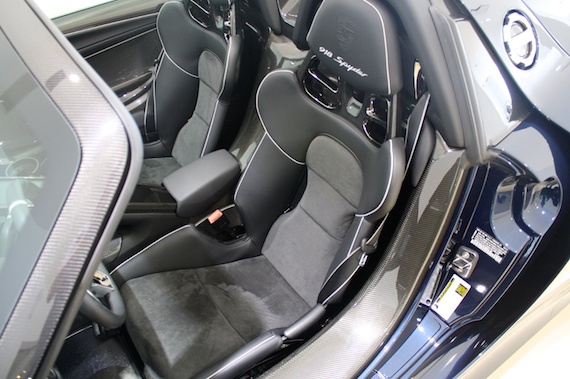 By the end of 2014, Spyder production was sold out. Like other limited run exotics, this means that you won't be getting a deal on one anytime soon. The 918 with the Weissach Package that we see here had an original base price of $929,000. At over $1.5 million, this is a drastic amount of appreciation in not much time. One amusing fact about the 918 Spyder is that it was eligible for a tax credit due to the size of the lithium ion battery employed in the energy storage system. I'll always be a bit old school when it comes to cars. Air-cooled Porsche 911s are some of my favorite classic sports cars. But when a car comes along like the 918 Spyder that can do 0 to 60 mph in 2.2 seconds, you have to respect the technology behind it. We're looking at the future, here.
-Paul