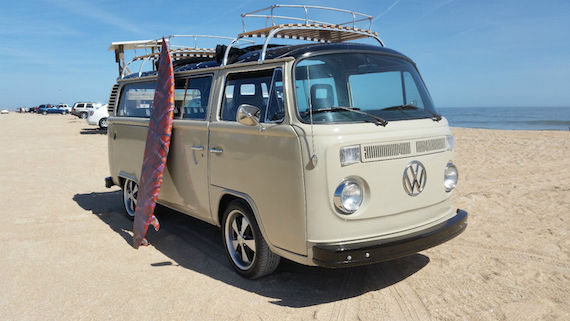 Few things say "summer love" like a ragtop VW Bus, elevating the free-love van to the next level by opening up the whole roof like the tin can that it is and creating huge apertures allowing for the sun to flow in and your favorite herbal vapors to flow out. This bus has been beautifully restored with a level of modification that helps it look exceptional without going over the top. The exterior looks perfect in tan and black over Porsche Empi wheels and is backed up by a 2.0-liter Porsche motor. The interior nicely flips the color scheme for black leather and tan piping on a limo-style dual couch setup in the back, creating a very inviting space to chill. The tasteful and detail-oriented restoration means the seller is probably looking for a hefty price, but in return for the value of several bricks of contraband you'll get one of the nicest T2 Buses we've seen.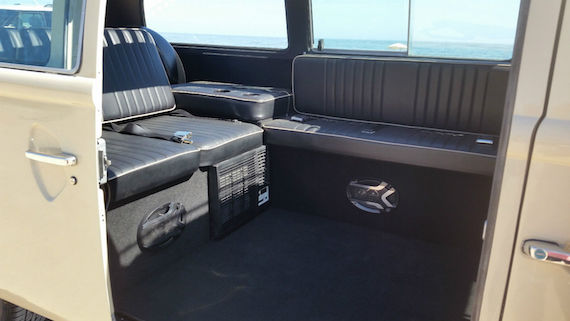 Year: 1976
Model: Bus
Engine: Porsche 2.0 liter flat-4
Transmission: 4-speed manual
Mileage: ~0 mi on restoration
Price: Reserve auction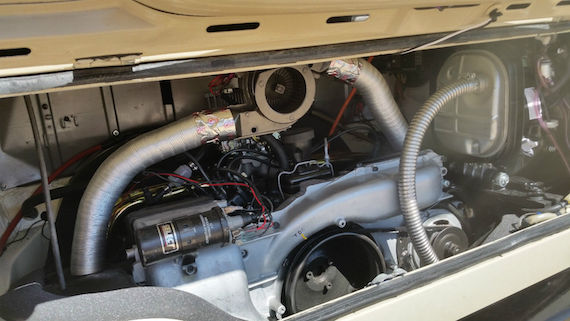 Over 400 man hours spent on restoration by experienced Volkswagen builders. Make this bus your show car, daily driver, or both! This is a great opportunity to invest in an iconic piece of history that continues to increase in value. This 1976 Volkswagen Bus began its restoration with us as a running daily driver, accident free with minimal dings, complete, licensed and registered.

RESTORATION

Completely disassembled inside and out, down to a shell and power washed. All parts were inventoried and inspected for functionality and appearance. 90% of the original German parts were refurbished and reused as opposed to replacing them with a lesser quality aftermarket part usually made in China.

BODYWORK & PAINT

Entire bus was sanded. Any dings or scratches were repaired. Coats of "Fill-Primer" were applied to even out the body, sanded and prepared for paint. This bus was painted with quality DuPont automotive base coat/clear coat products. The roof and bumpers are painted in black, body is tan. Then entire bus was painted with several wet coats of clear.

EXTERIOR

After paint has cured, the body was wet-sanded with 1500, 3000 and 5000 grit sandpaper and machine polished for ultimate shine. All parts new and refurbished are carefully installed. All rubber seals and gaskets were replaced with new. Some but not all new exterior parts include; side mirrors, taillight lenses and housings, turn signal lens, large roof rack, handles, bumper pads and more. Wheels are brand new stunning Porsche EMPI 17" rims with brand new low profile tires. All glass windows were professionally installed with new seals. Front door windows, wings, trim, flaps and seals are new. All new body/door seals are also installed.

INTERIOR & UPHOLSTERY

Floor is also coated with undercoating, new plywood installed then covered with high traction area black carpet. Seat stands, rear cargo and all side panels are covered with a flexible automotive black carpet. Dashboard and components were restored and dash repainted and reassembled. Door panels are new black vinyl. Stereo is a Sony CD player with aux port and two 6 x 9 speakers mounted in the rear seats. 4 new black lap belts in the rear and 3-point belts in front. New floor mat, kick panels, sun visors, handles, etc. Upholstery was done in house with new foam and leatherette vinyl perforated and pleated black tops, solid black sides and accenting tan piping. Cargo seating is limo style wrap around with middle cup holder. Rear bench seats lift up to provide plentiful storage underneath. Ceiling is dual rag top finished with bamboo and black slats.

UNDER CARRIAGE & MECHANICAL

Entire under body was power washed and completely sealed with automotive rust preventative undercoating. All mechanical and electrical components removed in dis assembly are carefully inspected, tested and either repaired or replaced. Some, but not all, new components include; misc. steering, brakes, axle, shifter and suspension components as well as throttle, clutch, heater, and brake cables. So much more work went into the important mechanics of this bus there is too much to list, but feel free to ask any questions.

ENGINE & TRANSMISSION

Powered by a 2.0 Porsche Boxer motor which was disassembled and rebuilt. Then meticulously reassembled with many new parts and components including new carburetor and air cleaner, battery, spark plugs, seals, etc. Motor is bench tested, then installed, inspected and road tested 100+ miles.

EXTRAS

This bus has our patented custom built air conditioning system and generator. For more information on how it works visit our website and check out the video. Limousine style booth seating. Double rag top that spans nearly the entire roof. Large and small roof racks. And more………

For years we have loved rebuilding and restoring old classics and take tremendous pride in our work and finished products. It gives us remarkable satisfaction to be able to take a 40 year old relic and put it back on the road to be enjoyed by all for many years to come. These VW buses are a great investment and the rate at which they are increasing in value is striking.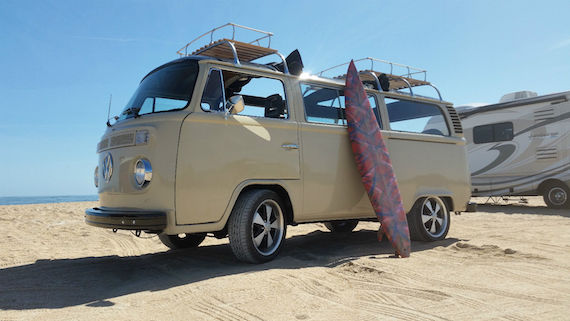 The only things that would make this van more appealing would be sleepability and the removal of the wood-slat roofracks – a popular addition but they just never look good to me. It's been done right inside and out and is a great chance to have an amazing Bus – if a convertible toy van is worth more to you than a brand new GTI.
-NR