Warning!
This post is in our archives. Links in this post may have been updated to point to similar cars available to bid on eBay.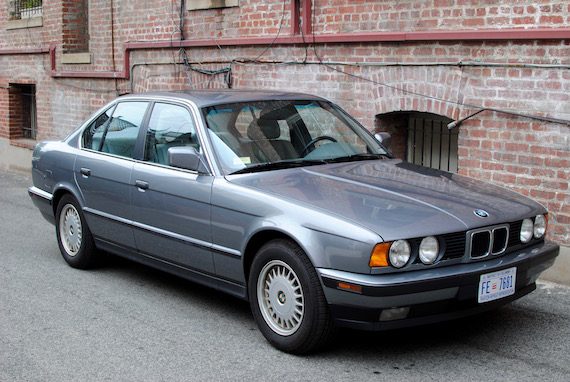 The time has come for me to part ways with my E34, and I'm reluctantly putting it up for sale. As readers of my posts will know, I've been on the hunt for a W126 Benz for a while now. A lovely example has fallen into my lap, and living in DC without off-street parking makes keeping both cars impractical. Hence the sale. It would make me very happy if it went to a fellow enthusiast looking for a reliable and cheap commuter, so I've written it up for today's post.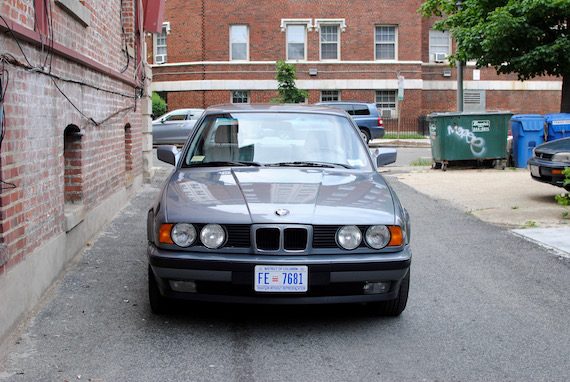 Year: 1991
Model: 525i
Engine: 2.5 liter inline-6
Transmission: 5-speed manual
Mileage: 110,000 mi
Price: $3,900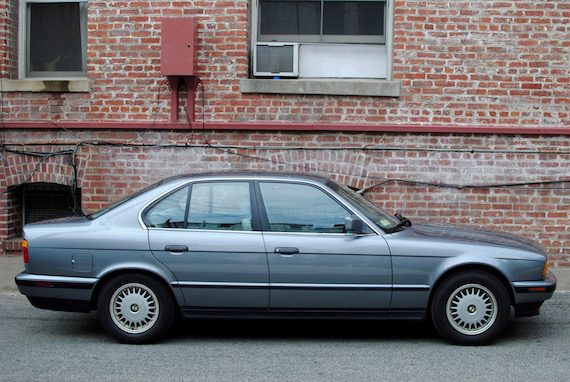 For sale is my 1991 BMW 525i with a 5-speed manual transmission. Mileage is currently at 110k but it will creep up because it's my daily driver. Clean title, no accidents, all body panels are original and laser straight, no rust. Car is completely stock except for a Sony stereo. Asking $3,900.

Highlights:
110k miles
5-speed manual transmission
2.5 liter straight six M50 engine
A/C, heat, electric windows, sunroof and seats all work
Two sets of wheels/tires included (one winter set, one all-season set)
Clean, clear title with maintenance records
Just got an oil change
Not mint but daily driver quality

Background:
I am the third owner. I bought the car in February 2016. The first owner was a doctor in PA who sold it to his neighbor, a BMW enthusiast/collector who used the car as a daily driver for about 10 years. I bought it from him. I have a folder full of receipts and documents, including the original window sticker, all books and manuals.

I would not hesitate to drive this car across the country right now. In fact, I have been using it for a super-long commute for the last year and will continue to do so until the day it sells. It has never let me down, failed to start, made any weird noises or given me any cause for concern. I bought it precisely because I was looking for an interesting yet reliable daily driver, and it hasn't disappointed me.

I'm only selling it because I really miss my old Mercedes and would like to get back into another one (I'm a German car enthusiast).

Mechanical:
This car has the six cylinder M50 2.5 liter non-VANOS engine in it, reputed to be among the most reliable engines BMW ever made. The car steers, pulls, shifts gear and sounds exactly as it should. I have always used 93 octane gas (as directed) and routinely get 27-28 MPG on the highway according to the onboard computer. It has no mechanical needs. The only issue I am aware of is a slight oil leak at the timing cover. The mechanic I spoke to said it was not significant enough to warrant fixing.

Wheels/tires:
Currently on the car are 15″ Style-32 wheels (15×7 et 20, correct E34 spec and quite uncommon) mounted with Firestone Winterforce tires. This is their third season, I just put them back on this week ready for the winter.

Also included with sale are a set of 15″ "Style-2" wheels (15×7 et 20) with Michelin Premier All-Seasons mounted on them. These are the wheels/tires shown in the pictures, taken earlier in the year. They were used for about 20k miles before I switched them out for the winter set this month, so they have plenty of tread left and can be put straight back on the car if you don't need the winters.

All rims are straight with no curb rash.

Exterior:
The exterior color is granite silver (granitsilber). The paint looks like glass from 10 feet away but up close and in direct sunlight it shows wear commensurate with age, with tiny lines emerging in the clearcoat. There are rock chips on the front bumper and leading edge of the hood commensurate with age and miles.

The paint flaws don't show in the pictures I have uploaded. You have to be looking at the car in person in bright sunlight and very closely to notice them. It really isn't that bad considering the car is 25 years old, but those expecting a show car should move on.

I have priced the car accordingly.

Interior:

Light silver gray (silbergrau-leder) leather. There are a few marks and scuffs but they are relatively minor. The worst wear is on the driver's seat (pictured). There are no rips or tears. There are some minor stains and marks on the headliner which I haven't bothered to attend to. The headliner is also beginning to sag. The vinyl on the front interior door cards is beginning to become unglued from the door panels – this is a common problem on the e34 5-series. The rears are fine.

Accessories:
Heat, A/C (converted to R134), electric windows, sunroof, electric seats all work as they should with the exception of the driver's headrest which doesn't move up and down at the moment. The motor definitely works, since you can hear a buzzing sound when you press the button, so I think a cable has just come off track (easy fix according to internet, just haven't had time to do it). All dash display pixels work.

The car is equipped with a cold weather package which adds heated front seats (they work, nice for the winter) and limited slip differential. I installed a Sony headunit with USB/Aux connections. The stock headunit and radio code to get it working are included with sale.

I have tried to describe the car as accurately and honestly as possible. Please bear in mind that it is 25 years old and not perfect. I encourage you to come and view it for yourself. I am happy to drive the car to a local mechanic of your choice for a pre-purchase inspection (at your expense).

Car is sold as-is, where-is, with no warranties express or implied. Email, text or call to arrange an appointment to see it.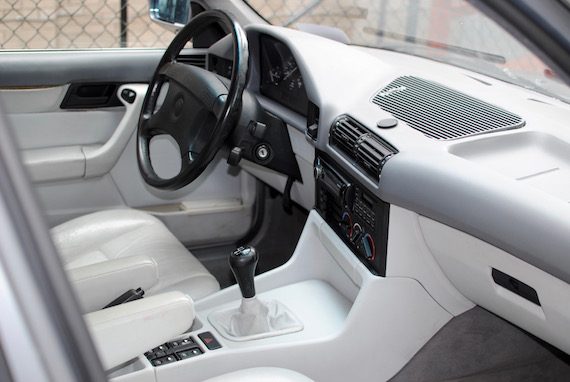 As I mention in the ad, the car a few minor cosmetic flaws, but is mechanically sound and has proved an extraordinarily reliable, cheap and satisfying car to drive that has soldiered through my commute with aplomb. The car is currently wearing 15″ style 32 wheels with winter tires, but the stock wheels with all-seasons (shown in the images, currently in storage) are included with the sale. The car starts, stops and drives as it should.
Feel free to get in touch via the CL ad (or drop a comment below) if you have any questions or want to come and have a look. I'm located in the center of DC and would happily show you the car (and buy you a beer).
– Craig