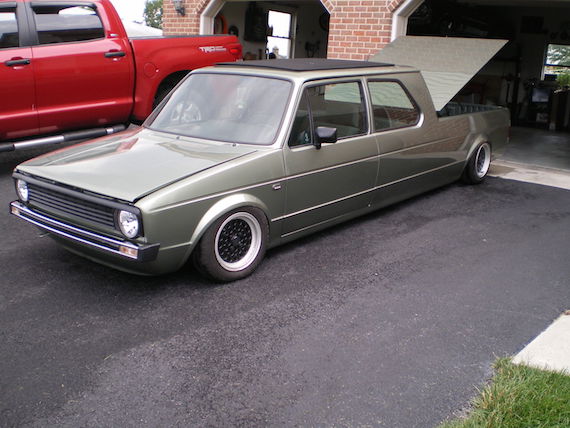 This crazy, custom Rabbit Pickup popped up a little while back but the auction ended before I was able to get it up here. As the seller states at the end of the ad, clearly this truck was NOT built for speed or performance, but to be a wild-looking showpiece. Stretched and slammed with countless custom touches, there is some outstanding craftsmanship, though the interior leaves a bit to be desired. While I love the grey-green exterior that puts a slight mellow on the exterior aesthetics, I think he was going for a similar look inside that ended up just looking kind of faded and old. I love that ragtop though. Overall this is just a weird personal challenge completed that will turn heads wherever it goes, even if it goes rather slowly due to an awful turning radius and meager diesel power.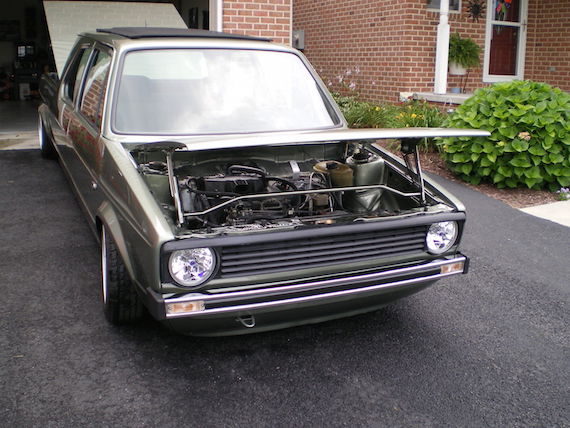 Year: 1983
Model: Rabbit Pickup Custom
Engine: 1.5 liter diesel inline-4
Transmission: 5-speed manual
Mileage: N/A
Price: $11,000 OBO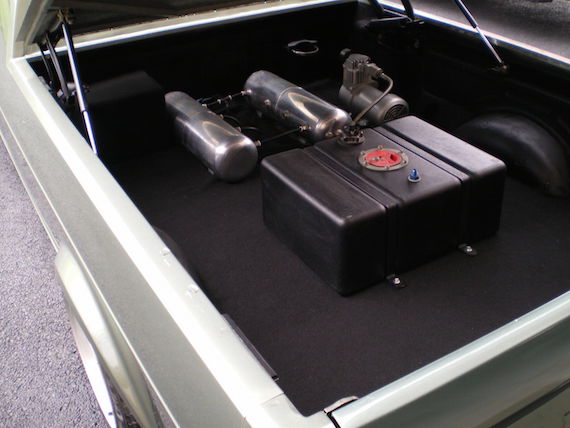 1983 vw truck custom build, air ride suspension, Shaved door handles with electric door poppers, stretched to 12′ wheel base, used as many vw parts as possible, for that reason if anything needed replaced it was easily available. As seen in 2 of the pictures both strut towers have been raised by 2 1/2″ and reinforced as to give the truck a lower resting position when all air is out of the air struts. Sliding rag top, custom built tilt forward hood hinges, custom built rear bead cover, all metal, not plastic or vinyl, new carpet, recovered vw seats, new door panels made out of thin plastic and then covered with matching fabric. new euro bumper up front, custom roll pan on the rear. inside bed has been finished on the floor with a 1×1 frame work as to cover the air lines, then covered with black speaker box material. The fuel cell is 8 gallon, moved that to the bed to make room for the 4 link suspension and air bags. When building this truck there was square tubing and boxed tubing used in any cavity as to reinforce the structure, All windows are vw, no special cut glass. There is some things that need to be finished, There is not a currently working stereo, Head unit is in and i do have some other stereo equipment that will go with. The battery has been moved to bed as to help clean up the engine compartment some. The fuel gauge is not hooked up. I'm sure there is some other small things that i haven't thought of. This truck does run and drive. This truck was not built for SPEED or PERFORMANCE, built just because I could. Thanks for checking it out. Serious inquires only PLEASE.
Anyone that drives this is sure to get thumbs up, confused looks, and props at a VW show, but it's hard to imagine anyone but the builder showing it off. There's more room to mod – a better interior, a different engine, etc. – but people will always ask how you stretched it, and you'll have to say "well… I didn't." Hence the problem with selling projects as funky as this. The craftsmanship and looks probably deserve something close to the $11k asking price, but who's going to pay it?
-NR