Here is a good driver canidate for those looking to get into the Mercedes Cosworth game.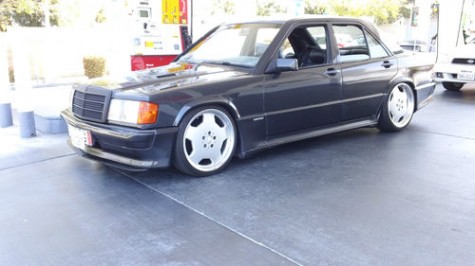 This 86 has 153,000 miles and isn't really pure investment grade car, but a nice classic you can feel good about driving.
The super, high revving, 16 valve, Cosworth four pot, in this case is mated to an automatic, which will keep the price even more affordable than those running the dog leg 5 speed. The earlier 2.3 liters with high mileage also seem to not bring as much as the later 2.5 so perhaps a deal is to be had here. Timing chain issues were addressed in the 2.5.
The 185 horsepower on tap is more fun and better utilized with a manual, but this will still make a nice cruiser.
This car has a more aggressive stance thanks to H&R lowering springs and some staggered 18 AMG rims.It also has a blacked out grille.
I'd recommend an inspection on this since there is minimal description and photos from the seller.
Currently the bidding is up to $6,000 with the reserve not met.
~Evan