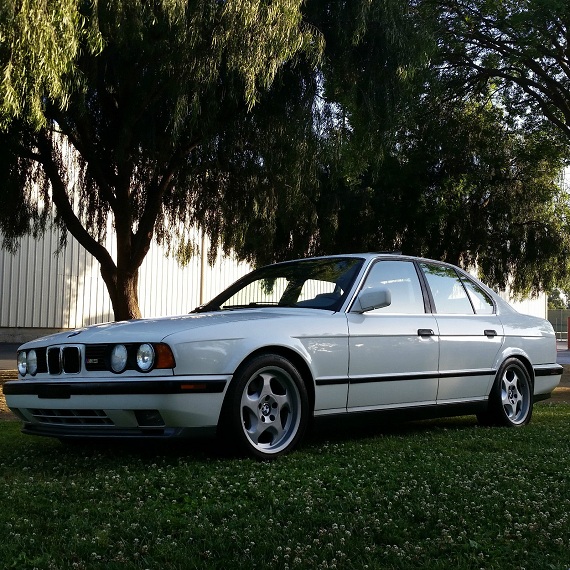 Notably absent in last week's M5 Double Take was the middle model E34. Often overlooked unjustly, the E34 is a great looking car that retains the title "last of the handbuilt M cars" – something that appears in nearly every advertisement. But if it's cliche, it's also a testament to the solid nature of the E34. Couple that slightly more luxurious and isolating cabin to the incredible S38 powerplant, and it's a natural winner. Prices on this middle run super sedans have begun to creep up, but many have remained quite attainable – especially if you're willing to accept an example with higher miles. Today we have two seemingly clean higher mile examples; which would be your pick?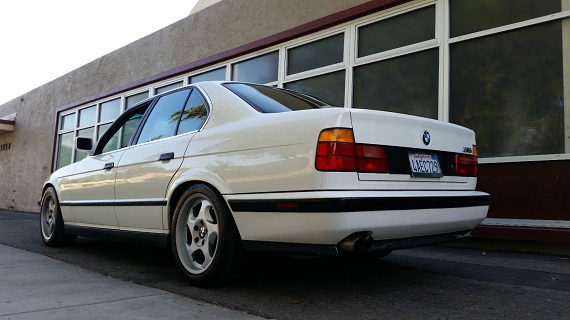 Year: 1991
Model: M5
Engine: 3.6 liter inline-6
Transmission: 5-speed manual
Mileage: 165,733 mi
Price: Reserve Auction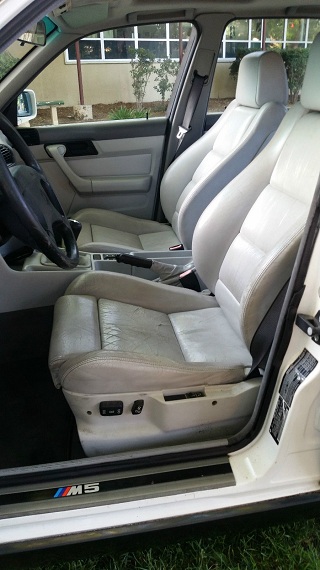 Up for grabs is one of the last hand built BMW's ever made. Sad to see her go but I'm sure the next enthusiast will enjoy her just as much as I did. This m5 is 1 of only 1,296 that were sold in the US in 1991. Any fan of BMW knows how rare these cars are which is why it is so hard for me to let go. Mostly stock with a few basic mods. HR Sport Springs, Bilstein shocks, drilled rotors front and rear, Continental Extreme Contact tires 235/45 with about 90% tread left.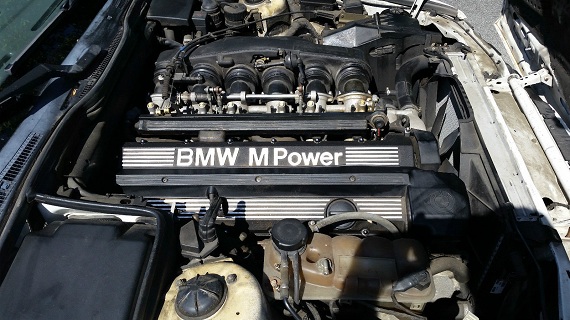 Like most of the M cars, most of these E34s seem to be lightly modified from stock. I believe this car should have had the turbine wheel covers originally, but most enthusiasts probably like the switch to the throwing star covers. The non-budget tires are a good indication that expenses weren't spared, but glaringly absent from the description is the disclosure that this car has a salvage title from 1999. At 8 years old, this M still would have been worth a fair amount, so either it was a theft recovery or serious accident that took it out. Then there is a long period where it covered very few miles – only around 1,000 over 4 years. For a relatively expensive machine like this, I'd want to know what happened here. It may not rule it out for purchase, especially since I like the white/dove combination, but a careful PPI is certainly in order here. This car isn't going to be a museum piece anyway with higher miles, so a branded title for a driver isn't the worst thing in the world – presuming the repairs were made properly. Too scary for you?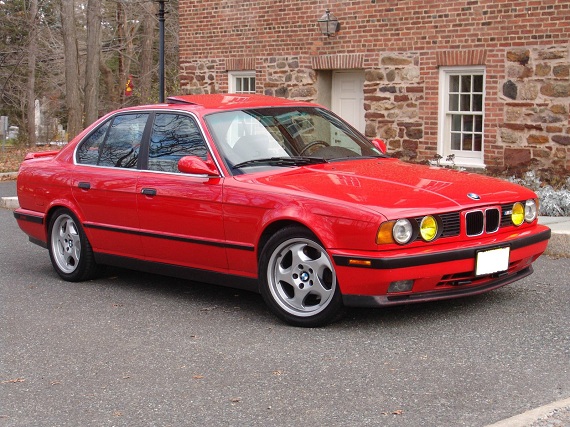 The E34, like the rest of the M5s, generally attracted enthusiast drivers who took very good care of their cars. Hence, a model such as this now pushing 200,000 miles looks like it only has half that accrued. It's one of the attractive things about the M5 that would make me less concerned to pick up a higher mile example than, say, a 7 series with similar mileage. Take a look at this bright red example: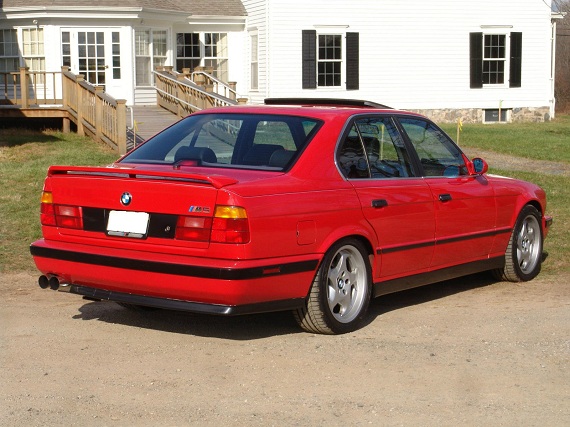 Year: 1991
Model: M5
Engine: 3.6 liter inline-6
Transmission: 5-speed manual
Mileage: 185,000 mi
Price: $14,500 Buy It Now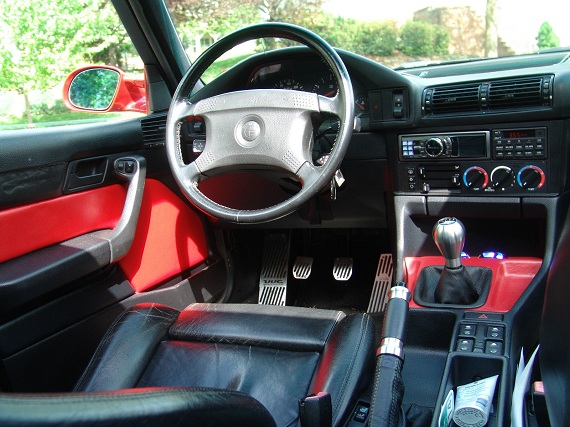 Red Exterior, Black w/Red Leather accents interior, 185K miles.

"The car is in very good condition, no rust, no vehicular accidents, clean title, Air Condition system has been completely rebuilt 2 years ago including all components and lines. The car gets praise at shows and on the street for being in impeccable condition. I have had her professionally detailed through my ownership, and no expense has been spared in the maintenance of this hand-built example of the finest of BMW M Saloon cars.In terms of drive and feel, I have concentrated on making sure that there are no leaks (common to a 23 year old M car) from the engine, and that all suspension components are fresh and tight. The feel of the car on the road is suprisingly light and agile for a 3500 lb. sedan."

I will entertain any reasonable offers. It is more important for me to find a collector who can appreciate the
car, then wait for the highest and best offer. Meaning . . . I am completely reasonable about the value of the car and will let the market decide.

I have owned the car for 16 years, and I have done my best to keep it as close to showroom condition, but drive it as well.
It moves like a bat out of hell, and I have done some very tasteful mods all detailed here:

I have all my service records in a folder about an inch thick, and can email summaries to anyone interested.

The highlights:

MECHANICAL:
– AC Schnitzer suspension (load leveling intact) with Koni adjustable Sport shocks in the front
– Completely rebuilt AC (every component replaced including AC lines)
– Eisenmann Race Exhaust, cats removed
– Lightened Fly Wheel, race clutch
– Racing Dynamics strut tower brace
– EAT Mark D-Sylva chip
– S38 B38 Cam Sprockets
– 20mm rear anti-roll bar
– UUC short shift kit
– Fresh tires

INTERIOR:
– Custom Interior door panels with Red Leather accents (to repair the issue with Vinyl not adhering to panels with age)
– UUC RK Magnum stainless steel shift knob
– UUC stainless steel e-brake handle

EXTERIOR:
– Rear Spoiler
– M mirrors
– 1993 M5 hood with wider double-kidney
– professionally detailed, ding free, rust free

ELECTRONICS:
– Upgraded HID lights
– Alpine head unit with iPod connectivity, upgraded speakers
– Integrated K40 Front and Rear Radar/Blinder Laser Jammer (can be removed, will reduce asking price to $12,500.00)

Working from home I just do not drive her as much as I used to, shame to see her sit in a garage.
I have loved this car in a way that only a car enthusiast can understand, and I just think she is
better in someone else's hand that can really drive it and appreciate it.

It is a fantastic touring car, great for long trips, and it turns heads and gets "thumbs up" all the time.

Just contact me at arbifox at hotmail if you are interested, it is the best way to get in touch.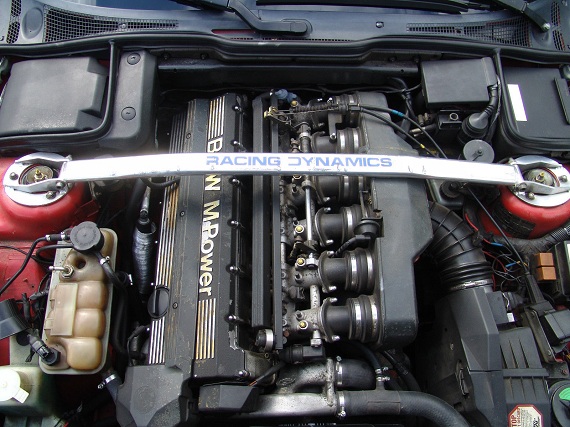 Did you know the E34 M5 was hand built? Just checking if you're paying attention. This example, like the last, isn't stock but has some desirable upgrades. I especially like how that exhaust fits the rear without looking too monstrous; fitting with the character of the M5, it's subtle aggression and I bet it sounds great. Like the white car, the wheel covers have been updated to the throwing star models, as has the hood to the later wide grill setup. I could do without the rear spoiler and colored lights, but neither is a deal breaker. Inside, the red accents are a bit much for my liking but overall condition is certainly quite good considering the 185,000 miles covered. This car, without further knowledge of the white car's problems, is certainly the one to buy with documented history and service records. At $15,000, it's certainly a car that can be bought on a reasonable budget and run without fear of wrecking the value of a lower mile car.
-Carter